For a long time, those in the Internet of Things (IoT) industry have been waiting for the day when connected solutions are rolled out en masse – transforming society in the process. At this year's Mobile World Congress Shanghai, there's a genuine sense that we are another step closer towards realising this, as next generation LPWA solutions in licenced spectrum demonstrate advances in agricultural, industrial, home and smart city sectors.
One of the most exciting concepts in the IoT narrative so far has been the smart city, a truly connected environment where countless services and devices intelligently communicate in order to improve almost every aspect of urban life.
Advances in city lighting is one element of the smart city that many experts expect could be implemented sooner rather than later. China Mobile, lighting solution specialist Philips Lighting and Huawei, are actively exploring and validating intelligent street lighting solutions based on NB (narrow band)-IoT. In their demonstration, the NB-IoT solution connects Philips' street lamps to achieve power saving, lamp management cost reduction and city safety improvement.
Farsite Communications and Huawei are also showcasing next generation waste management with their Innovated nPod solution, a sensor which allows for remote monitoring of the level of waste in any given rubbish bin or dumpster. These sensors can be easily mounted and are currently deployed in Singapore on the GSM network and will be transitioned over to NB-IoT when the technology is rolled out.
Ericsson are showcasing next generation LPWA vehicle tracking with their Extended Coverage feature, improving coverage in the challenging locations such as basement/underground, and rural/remote areas. The Extended Coverage feature will provide +15dB coverage increase on CAT-M devices. Outdoors, this has the potential for a sevenfold increase in the achievable coverage area. Perhaps more importantly, this extra sensitivity also enables indoor signal penetration to reach deep within buildings to improve support for the many IoT devices like smart meters that may typically be placed underground.
Attendees of the GSMA Innovation City will have the opportunity to experience how people can monitor their pets, with the Huawei, Ovphone and u-blox NB-IoT pet tracking demonstration. This NB-IoT solution is a pre-standard tracker for pets which will allow pet owners to check the location of their pet from their smartphone, tablet or computer. The tracker will send a notification to your phone if your pet leaves a geo-fenced area. The application can also track how much activity your pet has had throughout the day.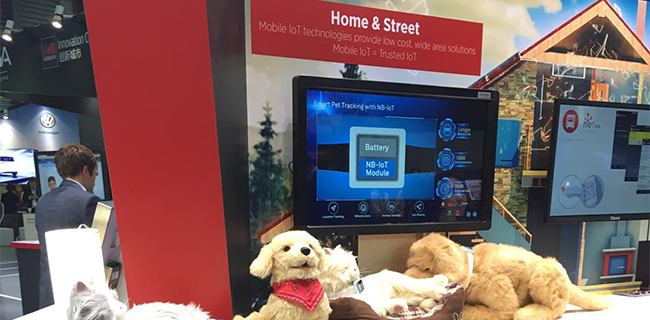 In the agricultural sector, AT&T and Ericsson, are demonstrating water quality monitoring. Ericsson, working in collaboration with the city of Atlanta, the local Riverkeeper organization and AT&T to trial a new solution (LTE Cat 1 + PSM), which could enable local stakeholders to cost-effectively and remotely measure and monitor the quality of source water along the entire 430 miles of the Chattahoochee river, which flows through the suburbs of Atlanta. More than four million people rely on the river for their drinking water.
Those interested in experiencing these cutting-edge solutions can do so by visiting the GMSA Innovation City at Hall N3 Stand A40A in the Kerry Hotel, Pudong.