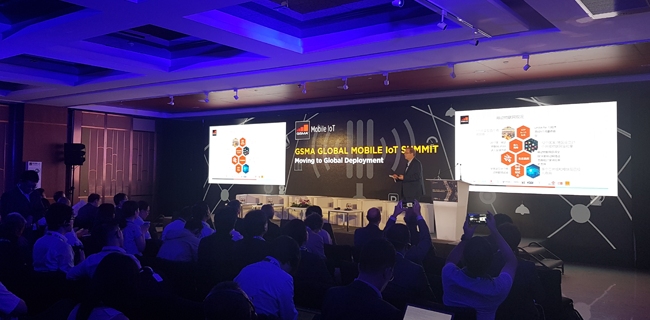 Operators Deliver the New Commercial Era of Mobile IoT
Presentations from the event can be found below
Shanghai: Industry experts gathered on Tuesday to discuss progress in Mobile IoT's implementation: how operators and the wider industry have successfully deployed commercially available Mobile IoT networks, and their plans for the immediate future. There was consensus througout that we are now at the point of Mobile IoT's true emergence onto the mass market.
The GSMA's Head of Internet of Things Programme Graham Tricky opened the session with an announcement that, following 56 successful pilots over the last year, Mobile IoT has become a commercial reality: Mobile IoT networks are now being rolled out across the world.  China is among the countries most appreciative of Mobile IoT's potential to revolutionise services, in both the public and private sectors.  As Mr Tricky pointed out, China Telecom alone operate over 300,000 base sites, and China as a whole is estimated to have around 486 million of the total 3.1 billion Low Power, Wide Area (LPWA) connections.
With the advent of LPWA, mobile operators can now offer the low-cost, low-maintenance connectivity required to connect vast numbers of devices economically.  Mobile IoT's deployment of LPWA in licensed spectrum provides this cost-effective functionality in the most secure and reliable form available, which has driven the Internet of Things' dramatic recent expansion.  As President of IoT Solutions at Huawei explained, "among all our offerings, among the most important is security".  With a '3 + 1' security solution – whereby data is protected by three layers of technological security, plus one human layer – Huawei is among many in the ecosystem enjoying the growth made possible by the confidence IoT technologies are now able to promise.  "The Mobile IoT ecosystem is very important – we have more than 400 partners in it.  And with NB-IoT we can further reduce costs, helping us step up our base this year in commercialisation."
The rapidly increasing opportunities for commercialisation in Mobile IoT were acknowledged by speakers across the industry, with KDDI's Takuya Sawada describing it as "one of the hottest topics in our industry – KDDI will start Mobile IoT commercially within this fiscal year, beginning our LPWA network with LTE-M, and possibly then NB-IoT."  China Telecom too are adding NB-IoT compatibility to their existing LTE-M capabilities, which their Chief IoT Expert Wang Yi announced is now "the biggest coverage in the world."  Opportunities within the Chinese market are of course immense. Madame Huang Yuhong, the Deputy General Manager of China Mobile's Research Institute, was emphatic: "China Mobile will prioritise Mobile IoT in its strategy – we really cherish the IoT subscriber, currently over 100 million based on current networks." With more than 680 million users in total, we can expect to see this number rise significantly as Mobile IoT picks up speed over the coming year.
General Manager of Shanghai Unicom Mr Shen Hongbo described how, with the launch in May of their NB-IoT network, the operator is targeting of 3 billion connections in the near future.  With over 2,700 base stations now in operation in Shanghai, demand is expected to mushroom, as consumers become increasingly conscious of the advantages offered by smart city applications.  Mobile IoT is therefore the new gateway to growth: "We have to rely on IoT to grow our business" stated Mr Hongbo, outlining plans to support IoT innovators through a lab bringing together 40 partners.  The GSMA has been at the forefront of enabling such collaborations, having created Mobile IoT Innovators, an R&D scheme supported by 65 operators and vendors at the GSMA. There are already more than 500 projects being facilitated in this way, with 160 here in China.  The benefits of collaboration are now highly evident: Niu Xuguang, Smart Application Product Director at Haier, estimates that "market growth rate is at 50% now – there is very large potential here now."
While developments in China were of particular interest here in Shanghai, markets in North America and Europe are at no less crucial a juncture.  Vodafone's NB-IoT Forum Chair Luke Ibbeston was very clear: "when it comes to LPWA, we do believe NB-IoT is the right decision, and this was led from our customers; we're a global leader in IoT, and it's one of the fastest revenue growth areas we have."  With launches in Spain and the Netherlands already achieved, "Vodafone's main strategy is to get the technology deployed as quickly as possible – to connect every machine, and to improve people's businesses and lives." Cameron Coursey, VP Product Development at AT&T, was able to confirm that Mobile IoT is now fully launched in the United States, with LTE-M deployment expected in Mexico by the end of the year.
So what challenges remain? "In order to kickstart the ecosystem, the first thing we need to do is to have the certification in place," suggested Nick Taluja, VP Worldwide sales at Sequans Communications.  This can however, he suggested, be done "within a few months."  With the architecture in place, the final steps necessary can now be taken to ensure consumers enjoy seamless service across different technologies.  Angel David Garcia, Chief Business Architect at WING Nokia agreed that "standardisation is key – the GSMA and the industry are doing a huge job in this."  There was consensus that the industry is now ready to bring the extraordinary range of benefits Mobile IoT has to offer – from agricultural and leisure uses, to applications in shipping and transit – to consumers over the coming year.  This remarkable achievement of collaboration, on the part of operators and their industry partners, is now on the verge of yielding commercial reward to all whose work has made it possible.  We expect the Fifth Mobile IoT Summit in the United States to witness accounts of striking success from the year ahead.
Presentations
5-Gianfranco De Feo, Pietro Fiorentini
Back