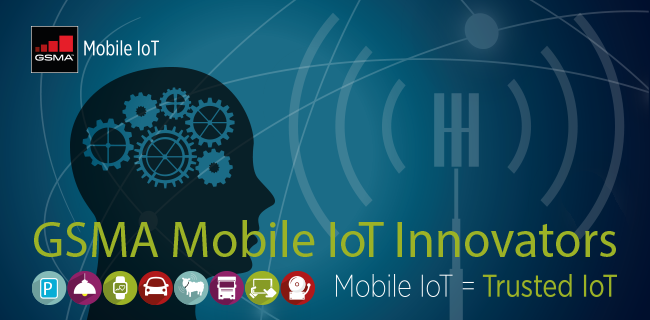 Rapid Growth of Mobile IoT Innovators Underscores Power of LPWA in Licensed Spectrum
Having reached over 540 members since 3GPP's standardisation of Mobile IoT technologies in June 2016, the rapidly expanding community of Mobile IoT Innovators is becoming one of the largest and most diverse alliances in the LPWA market.
Composed of a variety of developers, manufacturers and many other horizontal and vertical companies, the Mobile IoT Innovators are using NB-IoT (Narrowband IoT) and LTE-M (Long Term Evolution for Machines) to create dozens of new services that will transform urban and rural life. Currently, 545 of these companies are working with either NB-IoT, or both NB-IoT and LTE-M.
Despite the community's relatively short existence, the Mobile IoT Innovators are quickly forming the basis for the mass-market penetration of LPWA solutions following multiple commercial deployments of the two technologies earlier this year. The secure and reliable networks afforded by NB-IoT and LTE-M have quickly resulted in the development of a slew of new IoT solutions such as smart utility metering, environmental monitoring, logistics tracking, smart lighting and smart agriculture.
Both technologies are already having a profound impact across the globe. For example, China's bicycle sharing platform Ofo has adopted NB-IoT to improve the 'smart locking' of each bicycle. Instead of relying on 2G networks, customers can now unlock bikes by using NB-IoT to connect to the Ofo app. Unlike other network technologies, the relatively low cost, long battery life and improved coverage enabled by NB-IoT is allowing Ofo to make wholesale improvements to its fleet.
Home appliance company Haier has also adopted NB-IoT into its products to create a new line of next generation goods for the smart home. The long battery life and low data requirements of Haier's homeware made the new network technology ideal for transmitting behavioral data to its cloud platform. This data is then used to create a customised living service, making the home safer, more comfortable and energy efficient.
RM2, a leading supplier of pallet solutions, is using LTE-M to fundamentally improve its services, and as a result, is setting a new standard for the logistics industry. By sealing a cellular module inside one of the legs of their composite pallets, they have enabled customers to track pallets' position, status and movements online. RM2 selected LTE-M because, like NB-IoT, the technology can penetrate deep inside buildings, containers and refrigerated units, while consuming very little power – the modules inside the pallets could last for a decade without needing to be replaced.
The speed with which these transformative solutions have been developed and deployed is an indication of how straightforward it is to securely integrate NB-IoT and LTE-M into the IoT, and an insight into the huge market potential of Mobile IoT. With market confidence in the two technologies now firmly established, we can expect the Mobile IoT community to continue its strong growth, resulting in the delivery of a vast and diverse selection of low power devices and services.
The GSMA Mobile IoT Innovators community is helping to build a vibrant ecosystem around licensed spectrum LPWA by providing an easy way for members to keep up to date with the latest industry developments, share case studies, participate in Q&A's with technical experts and access other exclusive information designed to stimulate innovation and add value. For more information on the Mobile IoT Innovators, including the full list of members and resources that help accelerate the deployment of Mobile IoT solutions, please visit https://www.gsma.com/iot/mobile-iot-innovators/
Back