Towards the Autonomous City: All you Need to know About Smart Cities During MWC
The simple and easy retrofitting of IoT solutions is enabling cities to develop according to their needs and concealing the rapid pace of change that is happening before us
What does it take for a city to become truly 'smart'? The answer to this question depends on where you look, for the IoT is transforming cities in vastly different ways. As always, they are evolving to suit the needs of their population within the limitations of their environment and design, but due to IoT connectivity, they are now able develop at far greater speed.
Take for example, the city of Tainan in Tawian, a city in which all development is built around the principle of preserving the integrity of its ancient centre. Here, smart traffic, digital health, mobile commerce and disaster control solutions have all been retrofitted so subtly that the scale of change is barely perceptible.  Implementing this integrated city-wide project is Taiwanese operator Far EasTone, who is now transforming its business by adding smart city management platforms to its portfolio of services. Like its national counterpart, Chunghwa Telecom has diversified its business to include smart city services. Earlier this week the telco announced an MoU with telecoms infrastructure provider, Nokia, to deliver 5G and new Mobile IoT technology, NB-IoT, to the country's cities.
The fact is, operators are crucial in marshalling the many technology partners needed to form smart city solutions, and are successfully positioning themselves as such. Central to this is their flexibility – they are able to offer a diversity of services without making huge changes to their overall network strategy or the way they are operating their assets. They are also naturally, very attractive partners by virtue of their ability to use mobile to capture data. Orange's recent partnership with the city of Barcelona has shown how this can be effectively use location data to aid with the management of crowds by redirecting people away from congestion. The operator is also transforming this into a commercial opportunity as well; informing the city of the busiest routes and using roaming data to feedback the behaviour of certain nationalities, has enabled a better understanding of where to place products and services.
Across the Pacific, AT&T are stepping up their Smart City offerings, and are able to provide a broad array of services and hardware to cater for the various needs of different cities. Their recently announced partnership with GE to supply smart city lighting via their Intelligent Node confirms as much. A central feature of their showcase in Mobile World Congress' GSMA Innovation City, it can, amongst other things, detect gunshots, monitor air pollution, aid traffic management and can be easily retrofitted to existing street lighting. It is already being adopted by major cities across the U.S. including the city of San Diego, which has made an agreement to install 3,200 Nodes in the city by 2018.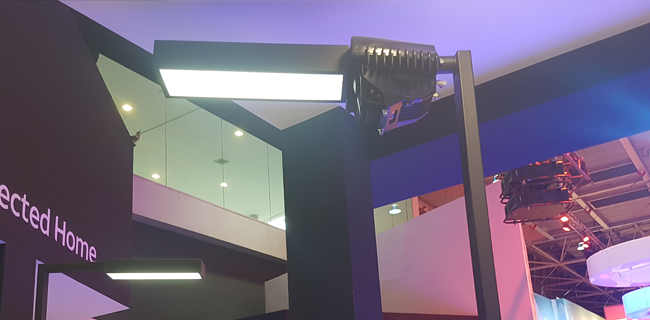 At yesterday's industry seminar, IoT Elements: Bringing the Smart City to life, Mike Zeto, AT&T's General Manager for Smart Cities, outlined a new and more noticeable fashion in which we can expect cities to advance: drones. For Zeto, this technology has evolved well beyond 'line of sight usage'. Deliveries, management of power lines, building inspection, firefighting, traffic management and public safety are but a few of applications of unmanned air vehicles, and can all be enabled or significantly enhanced by cellular connectivity.
This is perhaps, an indication that more perceptible changes to our cities are underfoot. Moreover, an increasing number of city planners are increasingly furnished with the knowledge they need to accelerate the delivery of smart cities solutions. Take for example, the Royal Borough of Greenwich in London, which is committed to becoming truly 'smart.' The Council's in-house smart city team 'Digital Greenwich' is progressing a range of projects including adult social care, autonomous mobility, advanced connectivity and authentication for mobile services.  It sees the IoT as a tool that could transform the way each city operates, shares data and interacts with citizens. In the process of trying to implement such solutions, such organisations are in turn, collaborating with global technology partners and working to create standardised smart city frameworks that can be easily replicated anywhere on the globe.
Undoubtedly, collaboration is the key to unlocking the potential of Smart Cities. Yet, as more solutions are researched and deployed, the opportunities for this increase. Incoming technology such as Mobile IoT (licensed LPWA) has all but set the record for the speed at which it has united the broader telecoms industry, and in turn has greatly accelerated the pace at which developers are able to discover new applications.
For more information on how the GSMA and operators can assist with implementing Smart City solutions, please visit: http://www.gsma.com/IoT/smart-cities/. For policymakers looking to improve their understand of Smart Cities please visit our IoT knowledgebase for Policy & Regulation: http://www.gsma.com/IoT/iot-knowledgebase/ 
Back