Handbook competition policy in the digital age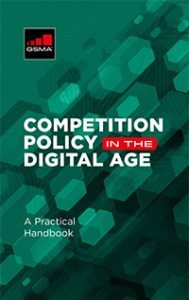 How Growing Digitisation Impacts Competition Policy.
Four key trends are changing the landscape in the communications industry:
1. Communications are converging;
2. Internet apps are breaking down the integration between mobile networks and mobile services;
3. The digital age is data centric;
4. Control of customer data and content has become a significant strategic advantage.
Additional competition by Internet players in the market needs to be properly considered when defining and assessing markets. Competition authorities and regulators need to adapt traditional categories of competition policy assessment to the digital age. Lawmakers need to focus on the future of regulation.
Competition policy can be defined as "the set of policies and laws which ensure that competition in the marketplace is not restricted in such a way as to reduce economic welfare". In this Handbook, the term refers to both government policy and the formulation and application of competition law and economic regulation
to the communications sector. Empirical and theoretical analysis indicates that the pro t maximising strategy of firms in a position of market power may lead to distortions of market outcomes, to the detriment of consumers. In this Handbook, we explore the contradictions of a system where services in competition with each other are now regulated differently, due to recent momentous market dynamics that should be understood better.