Next-generation wholesale roaming
Increasing international data flows and the preparation for 5G and IoT, have made it crucial to improve existing roaming practices. So, mobile operators, get ready for faster, more transparent, secure and accurate international wholesale roaming transactions. Since the GSMA is rolling out a range of next-generation roaming services.
These will significantly streamline and automate business processes, while safeguarding the underlying ones in place today. Specifically, clearing, rating, charging and settlement for improved revenue assurance. At the same time as mitigating errors and disputes. Saving you time, effort and money. Moreover, creating greater trust between everyone involved. Join the GSMA eBusiness Network and come on board.
Overcoming the challenges through digitisation
Although a necessary function of the mobile industry, wholesale roaming is typically expensive and cumbersome to administer. The main pain points? Chiefly, resolving disputes and manual sub-process overheads. Not to mention, fraud and payment issues among a complex network of roaming partners. All of which is greatly improved by updating the underlying exchange technology.
GSMA is the caretaker of wholesale roaming billing, the charging principles and related technical specifications. Therefore, it's well placed to facilitate the digital transformation of these processes, on behalf of the industry.
Facilitated by the GSMA eBusiness Network
The digitisation is being enabled by GSMA eBusiness Network. In essence, a blockchain-based telco network that helps operators and their industry partners conduct business together more efficiently. As well as preparing them for the 5G and IoT era, effectively future-proofing their businesses. GSMA Roaming Services is the first suite of solutions to come out of this network.
Video
Wednesday 27 Jul 2022 | Customer Success Story | Roaming Services |
Hear how the GSMA eBusiness Network can streamline roaming negotiations, with the GSMA Negotiator service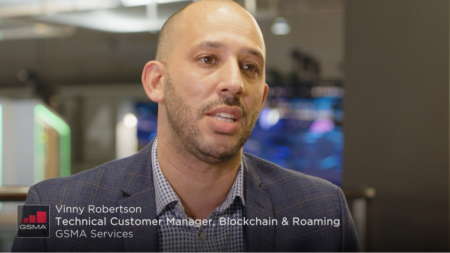 More Information
What's beneficial about this next generation of wholesale roaming services?
GSMA Settlement and Negotiator are two applications available today via our blockchain-based eBusiness Network. They offer:
Greater automation of roaming billing and settlement processes
Therefore, faster inter-operator roaming settlement
Furthermore, fewer disputes, due to the creation of a single source of truth
Also, reduced fraud, thanks to near real-time receipt of roaming CDR information
Hence, a more secure and trustworthy roaming settlement solution
As well as the ability for roaming departments to deal with the increased complexity of IoT and 5G within existing infrastructure
How does an operator business work with the GSMA eBusiness Network?
GSMA Settlement and Negotiator are two applications available today via our blockchain-based eBusiness Network.
Firstly, the operator can deploy their own node or nodes using the guidance, configuration details and assistance provided by GSMA. The network leverages open-source components and we provide additional code and resources to support the roaming and settlement services. For this option, the operator can integrate directly into the GSMA eBusiness Network — with on-premises or operator cloud-deployed infrastructure.
Secondly, GSMA offers a node as a managed service. Reducing the time and expertise required to integrate with GSMA eBusiness Network. This comes with all the configuration, software stack and other tools. So operators can join the network quickly and easily.
Alternatively, GSMA offers various roaming and settlement-related services. Allowing operators to use the network who are not yet ready to integrate their systems directly — via a suite of compatible hosted applications.
For all options, the operator node (either the operator's own node or the GSMA Node Service) is configured within the GSMA eBusiness Network, through the cryptographic details shared (e.g. digital certificates).
Roaming Services
Related Services