Spectrum Pricing in Developing Countries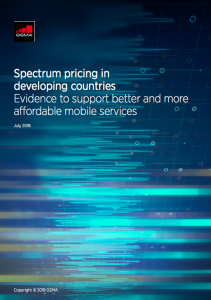 Better spectrum pricing policies are needed in developing countries within Latin America to improve the economic and social welfare of the millions of people that remain unconnected to mobile broadband services, according to a new report, 'Spectrum Pricing in Developing Countries', released by the GSMA today. The study reveals that spectrum prices in developing countries globally are, on average, more than three times higher than in developed countries, when income is taken into account. This high spectrum pricing is a major roadblock to investments in new services and technologies, and therefore, a deterrent to increasing mobile internet penetration.
Authored by GSMA Intelligence, the study also found that governments are playing an active role in increasing spectrum prices to maximise state revenues from spectrum licensing. High spectrum prices are linked to countries with high levels of sovereign debt, and alarmingly average reserve prices in spectrum auctions are more than five times higher in developing countries than in developed, once income is accounted for. The report also identifies a link between high spectrum prices and poorer coverage, as well as more expensive and lower quality mobile broadband services, all of which hinder the take-up of services by consumers.