The Mobile Economy Latin America and the Caribbean 2018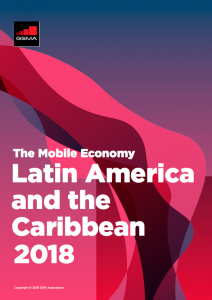 4G is set to overtake 3G as the prevailing technology in Latin America by the end of 2018, according to a new GSMA report published at the Mobile 360 Series – Latin America event in Buenos Aires this week. The study – 'The Mobile Economy: Latin America and the Caribbean 2018' – outlines that 4G networks will account for the largest share of the region's connections (38 per cent) by the end of the year, up from just 8 per cent three years earlier.
With 4G also reaching critical mass in terms of coverage (82 per cent of the population), operators will be investing substantially in network upgrades to support accelerating smartphone and data use, setting the path towards the 5G era. 4G is forecast to account for almost two-thirds of total connections by 2025, by which point the first 5G networks in the region will have been deployed in major markets such as Brazil and Mexico, accounting for 8 per cent of total connections in the region.