Between 15 and 20 April 2019, the GSMA Ecosystem Accelerator team, represented by Gregory Omondi and Maxime Bayen, was in Abidjan, Cote d'Ivoire, with two objectives in mind. Firstly, to work with two of our portfolio start-ups based locally. Secondly, to participate in the GSMA Mobile 360 West Africa Conference. The week also presented opportunities to engage with several local ecosystem stakeholders. As usual, we thought we'd share a few insights, detailing these six packed days.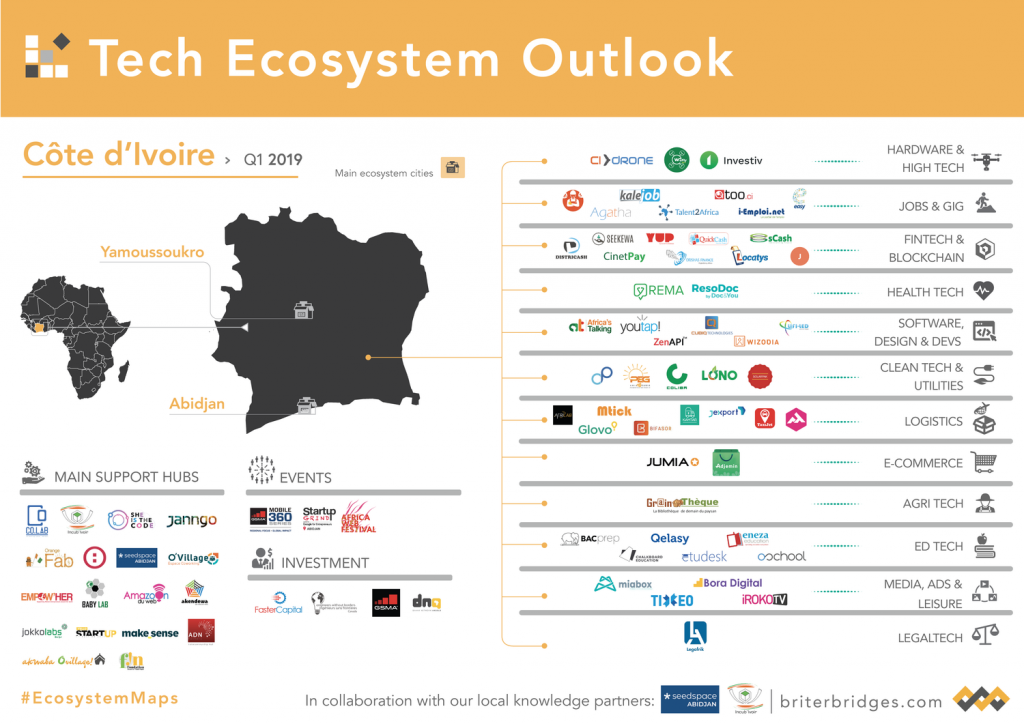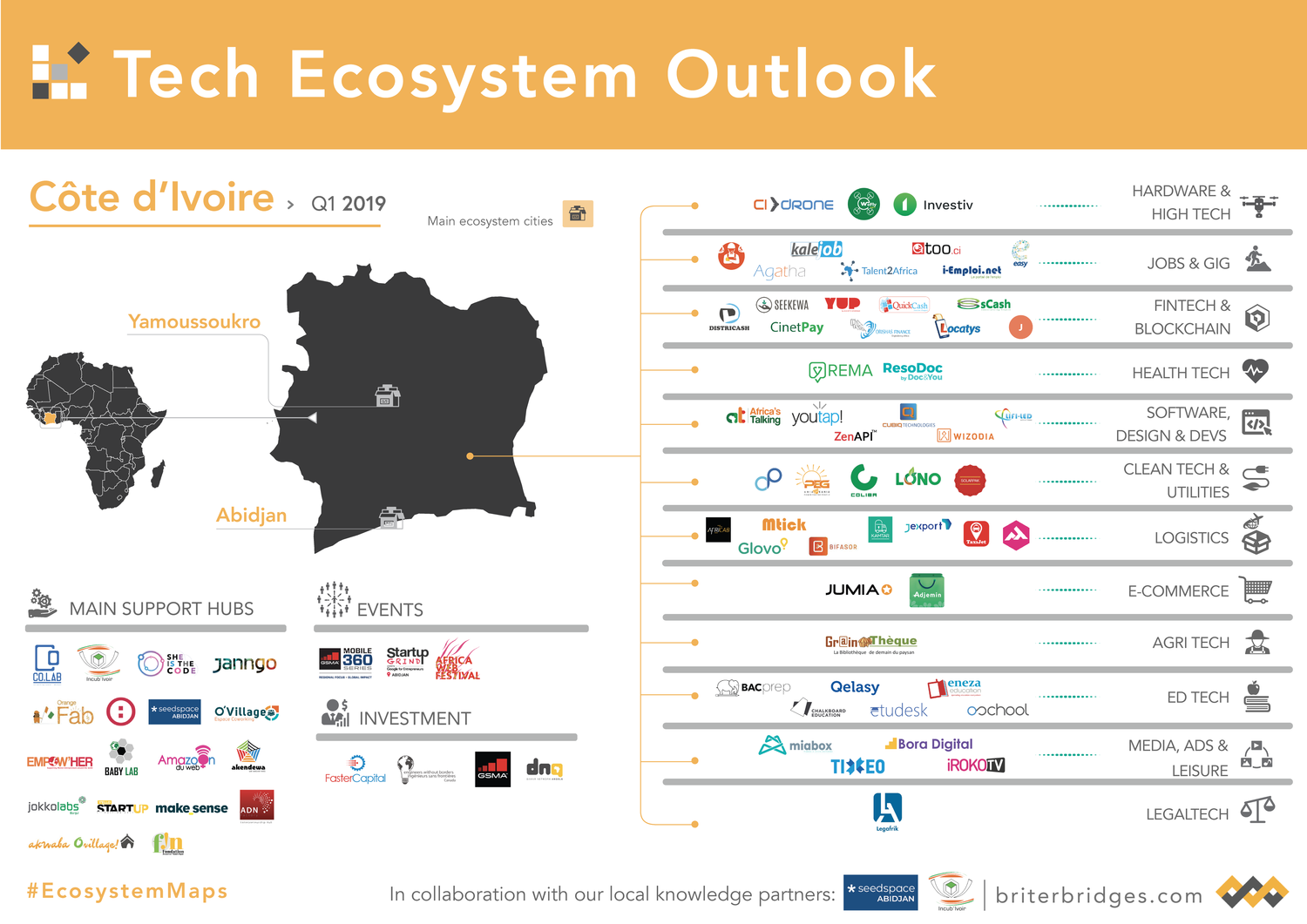 Cote d'Ivoire Tech Ecosystem mapping by Briter Bridges
Building hyperlocal tech-enabled solutions to tackle local challenges
With just around $2 million of funding received by local tech start-ups in 2018 according to VC firm Partech, Cote d'Ivoire remains a nascent tech ecosystem only now entering the top 20 African markets in terms of funding. However, this young ecosystem hides a couple of very promising tech ventures, most of which have a common specificity: they are using mobile and digital technologies to offer hyperlocal solutions tackling local socio-economic challenges. Case in point are two local start-ups, which had the opportunity to pitch on the Mobile 360 West Africa event stage: Keiwa is an accounting and stock management mobile-based solution for local MSMEs while Chez Nous ("at ours" in French) is a digital marketplace that matches local cooks (at home or restaurants) to customers.
At more mature stages, the same aim at offering locally anchored solutions applies. This is the case for two Ecosystem Accelerator portfolio start-ups operating in Cote d'Ivoire and funded by our programme since November 2018: Eneza Education and Coliba.
Eneza Education, operating under the product name of iEduk and also funded by the TRECC Programme, is a educational content subscription service for children in primary and secondary schools in Côte d'Ivoire. Developed in-house by local teachers in each field (Mathematics, French, English, History, Physics etc.) and aligned with the national curriculum, students can access lessons and assessments on any mobile phone via SMS with a daily, weekly or monthly subscription. iEduk was launched in January 2019 and already reached over 3,500 cumulative users on the platform. Among these children using the service are close to 150 pupils aged 9 to 16 from the small city of Adzope, where their parents are farmers within the Cocoa cooperative of Cayat. Through a partnership with Nestle, the children were given a free access to iEduk content based on the promise from parents that their children would attend school every day. While most of their parents are unfortunately illiterate, it was very promising to speak with three users: Clotilde, 15 years old, who uses iEduk mainly for mathematics and wants to become a doctor, and Benjamin, 14, who likes to study History on iEduk and wants to become a minister, or with Esther, 15, who dreams of becoming a pilot.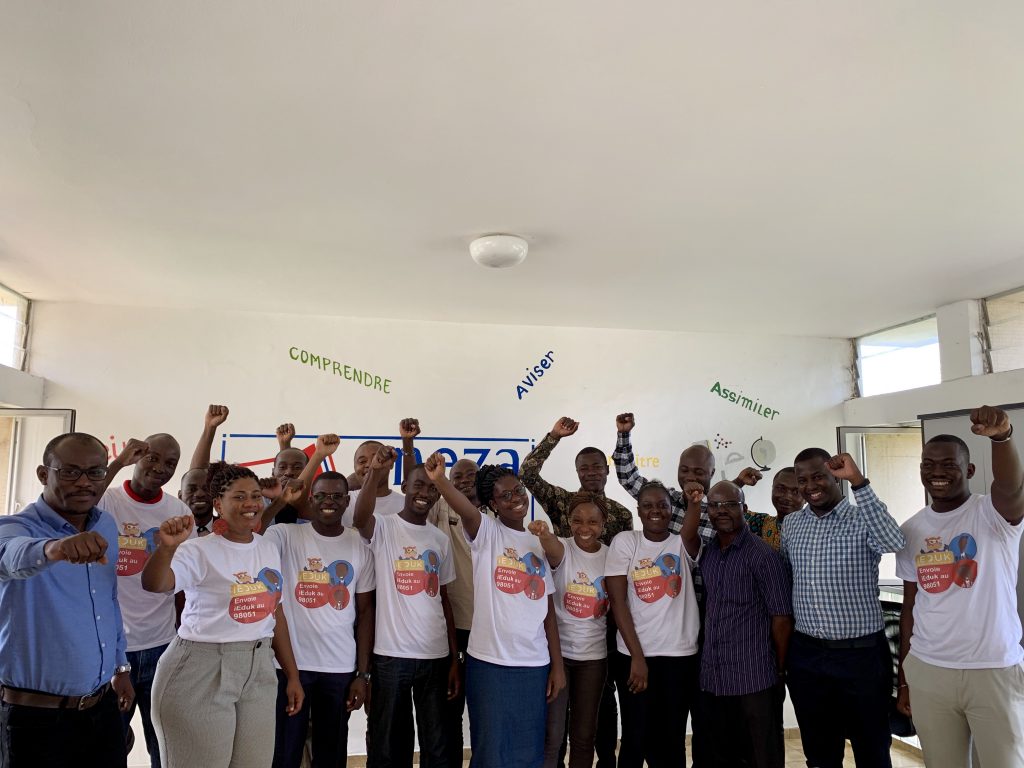 The start-up Coliba, is a solution aiming at collecting and transforming plastic waste in Cote d'Ivoire. The start-up is working through the entire plastic recycling value chain. Coliba team collects plastic waste from households and businesses through a mobile app and a 40+ strong team of employed collectors, sorts and cleans the plastic at Coliba's facility. The team transforms the clean plastic into pellets and re-sells these pellets to local or international buyers who use them to create new goods. As Coliba now collect plastic bottles from over 3,000 monthly active users on the mobile app and recycle up to 2 tons of plastic a day, the start-up tackles no less than 3 local challenges: protecting the environment by avoiding for tons of plastic waste to end up in the nature, creating a mindset change among the population by incentivising them to recycle, and fighting unemployment by formalising the waste picking business. The task ahead is significant as 200,000 tons of plastic waste are generated each year in Cote d'Ivoire, but as one of the women working at Coliba sorting centre mentioned: "It's difficult, but it's not impossible!". Stay tuned as we are working on Coliba case study video to be published in the coming weeks.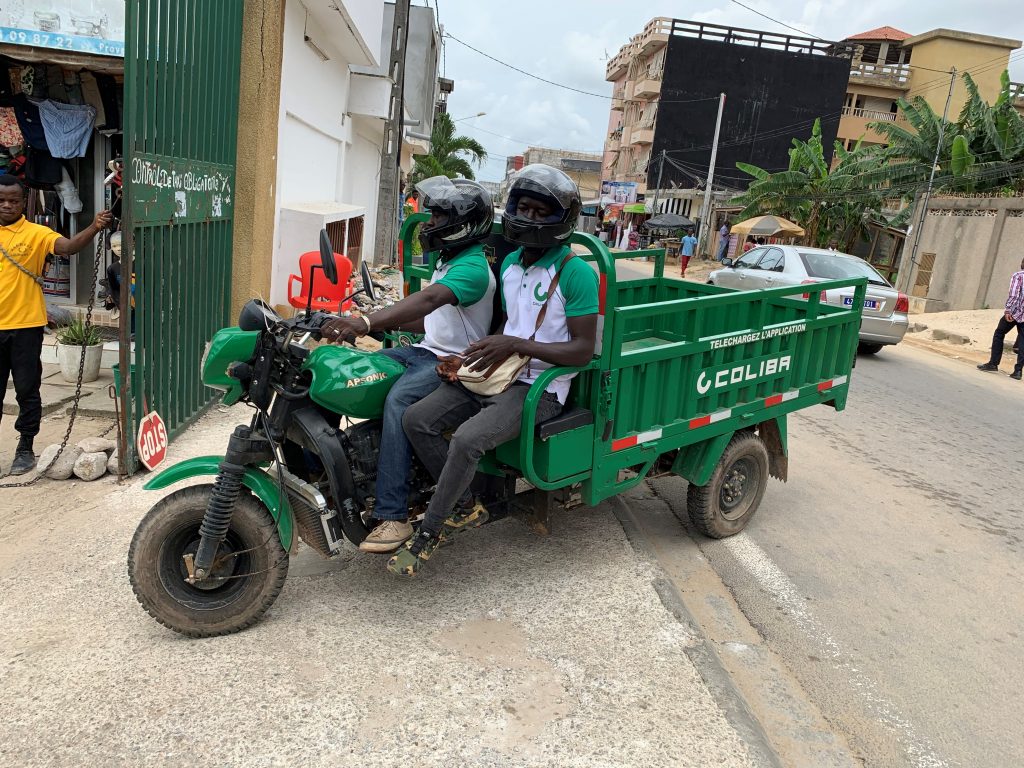 Understanding the central role played by mobile operators in the ecosystem
In October 2017, MTN Business Cote d'Ivoire launched the programme Y'ello Startup aimed at supporting young local tech entrepreneurs and identifying future business partners for MTN.  Now in its second edition, the programme offers start-ups funding, office space, as well as access to technical support from selected mentors and coaches, including MTN staff. In addition, the start-ups gain access to MTN Ivory Coast's USSD, SMS and mobile money APIs.
The two aforementioned start-ups Keiwa and Chez Nous are part of this second cohort supported by MTN while the start-up Coliba was in the first cohort. Coliba and MTN have now build upon this initial support by putting in place a strong co-branding and commercial partnership. Households that recycle plastic bottles through Coliba mobile app are granted MTN data credits, allowing them to access the internet on their mobile phones.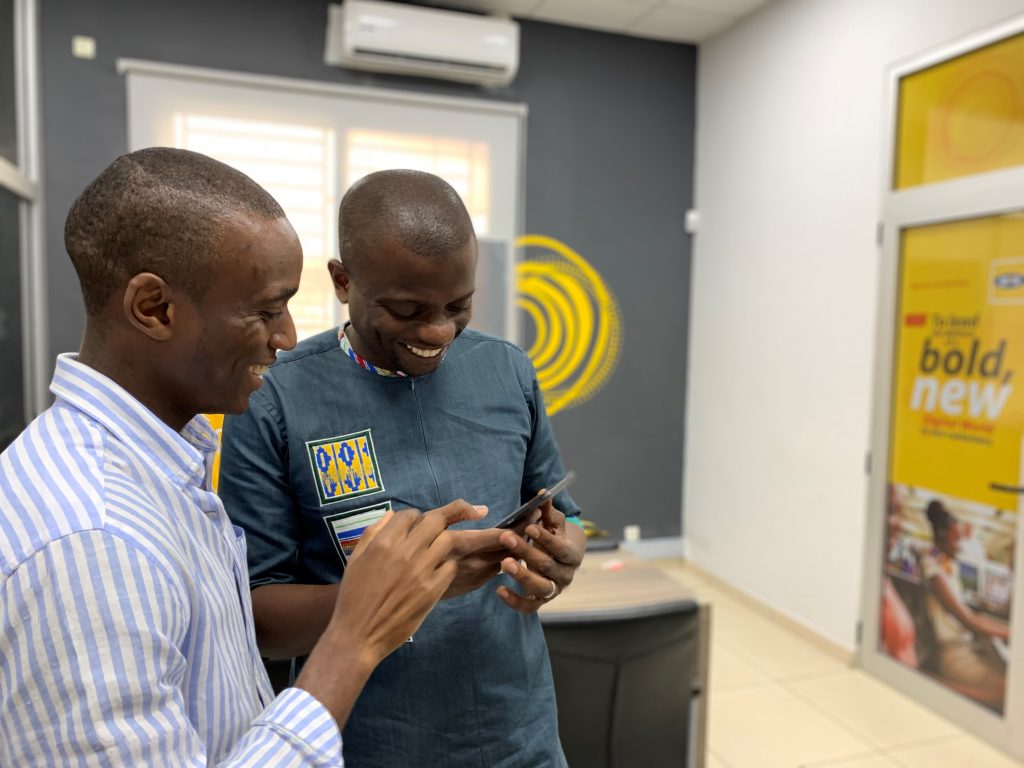 Coliba co-founder Genesis Ehimegbe and MTN Business Marketing Manager Idriss N'DAHO
Similarly, the start-up Eneza Education (iEduk) is working hand in hand with Orange Cote d'Ivoire who have opened their SMS and billing APIs (which allow iEduk users to access the content and pay through their prepaid mobile phone credit) against a revenue sharing agreement.
These examples illustrate the desire for mobile operators to increasingly join forces with the local start-ups ecosystem. A message reiterated during the GSMA Mobile 360 West Africa conference where Orange Cote d'Ivoire Strategy and Development deputy director Catherine Assanvo as well as Habib Bamba, Chief Digital Officer stressed that Education, Access to energy, Agriculture, Transportation were at the heard of Orange local strategy, in close collaboration with local entrepreneurs and start-ups.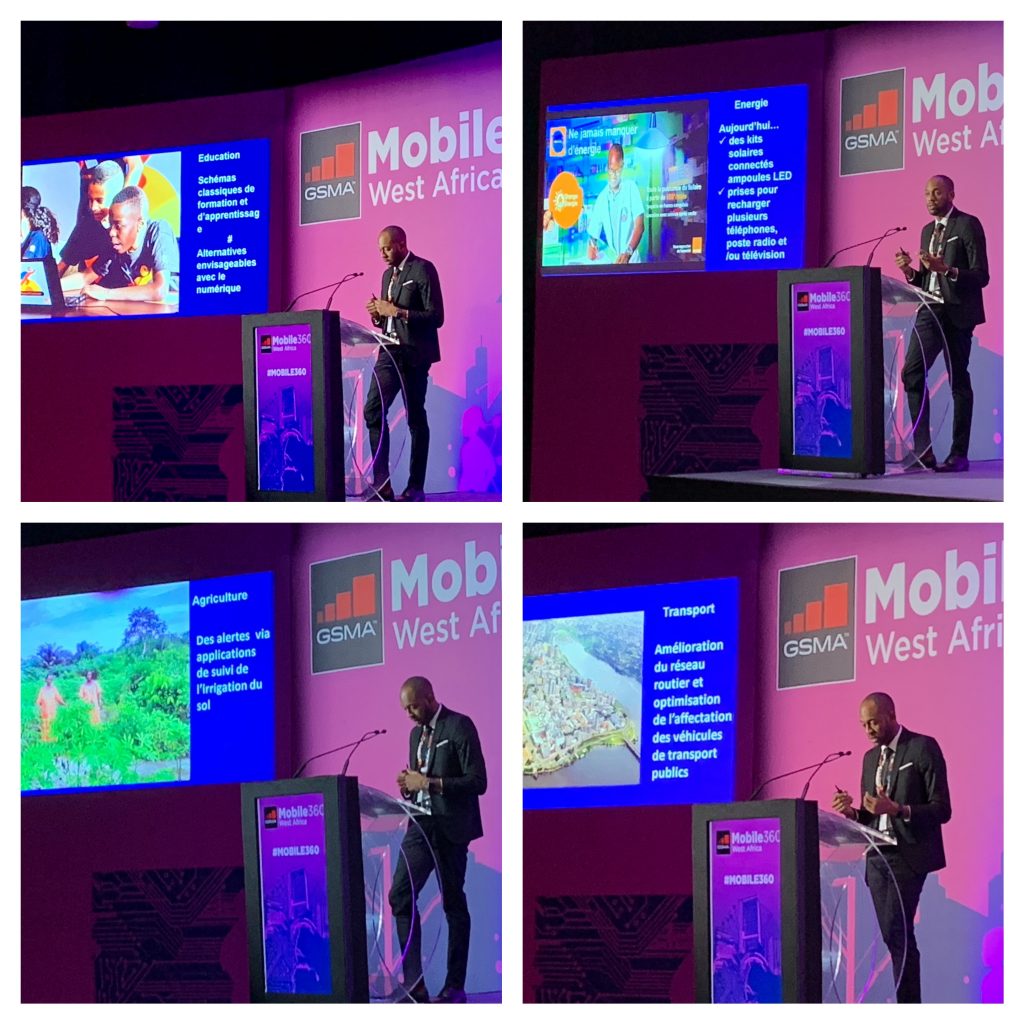 Habib Bamba, Chief Digital Officer, Orange Cote d'Ivoire
Among the assets mobile operators are increasingly opening to start-ups to allow them to scale, mobile money holds a special place. The way users are leveraging mobile money in the country is shifting. As shared by Etienne Ardon, MTN General Manager Mobile Financial Services, in 2013 payments and credits represented only 3 per cent of the MTN mobile money transactions volume (97 per cent was transfers, deposit and withdrawals), in 2018 these figures jumped to over 20 per cent. Meanwhile the number of MTN Mobile Money active users has tripled from 1.5 million  to 5 million in the last three years. This unlocks new areas of potential for collaboration with local start-ups as MTN is opening their mobile money APIs dubbed "MoMo APIs" as well as other platforms to the ecosystem.
Looking ahead: The future of the ecosystem beyond 2019 and Cote d'Ivoire
Throughout the week, our discussions with local accelerators like MTN Y'ello Startup or Seedspace Abidjan, with local impact investors like TRECC or Comoe Capital, as well as with development institutions active locally like the AFDB headquartered in Abidjan, have allowed us to take away two clear trends. Firstly, the number of support organisations local start-ups can leverage is increasing (3 of the 5 highlighted organisations didn't exist in the country 2 years ago). While we could only count 5 active tech hubs in Cote d'Ivoire back in 2016, our 2018 mapping of the ecosystem shows that there are now at least 13 accelerators, incubators and co-working spaces active in the country. Secondly, although not all local start-ups have the "codes" or speak the same "language" as international venture capital investors, the talents, innovative solutions and opportunities to invest in local start-ups are there for those ready to come meet them and do their homework.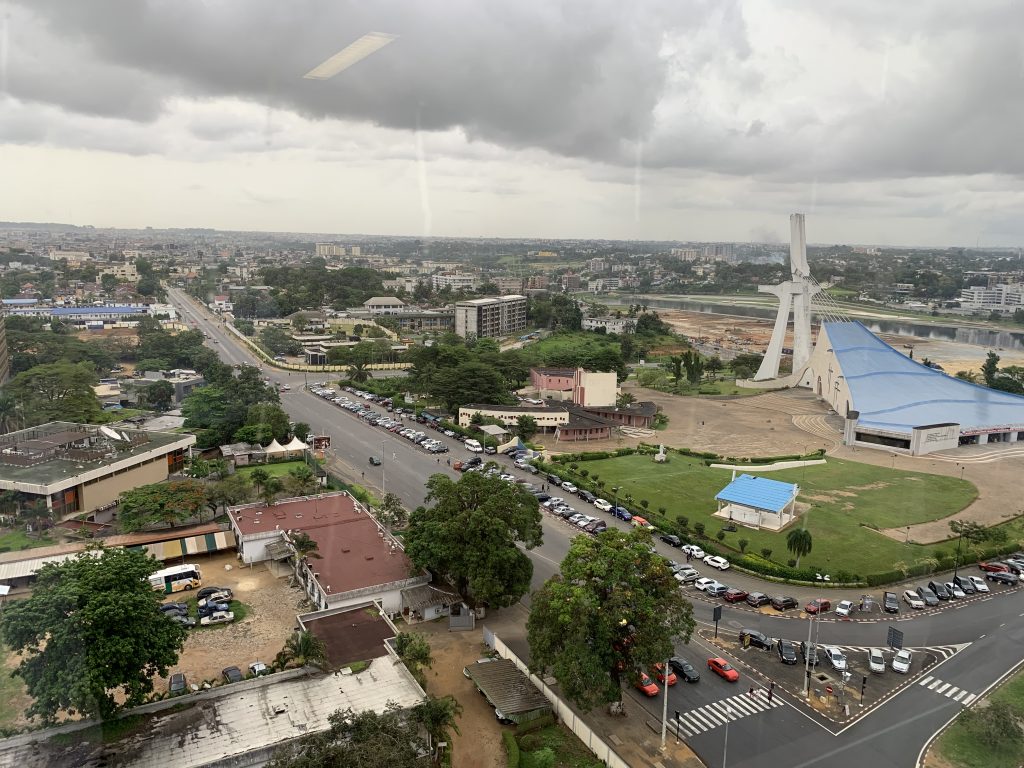 This later point resonates for ecosystems across the West Africa region and especially Francophone West Africa.  Beyond Coliba and Eneza, four of the GSMA Ecosystem Accelerator portfolio start-ups from this region were invited to pitch their solutions to the Mobile 360 – West Africa audience: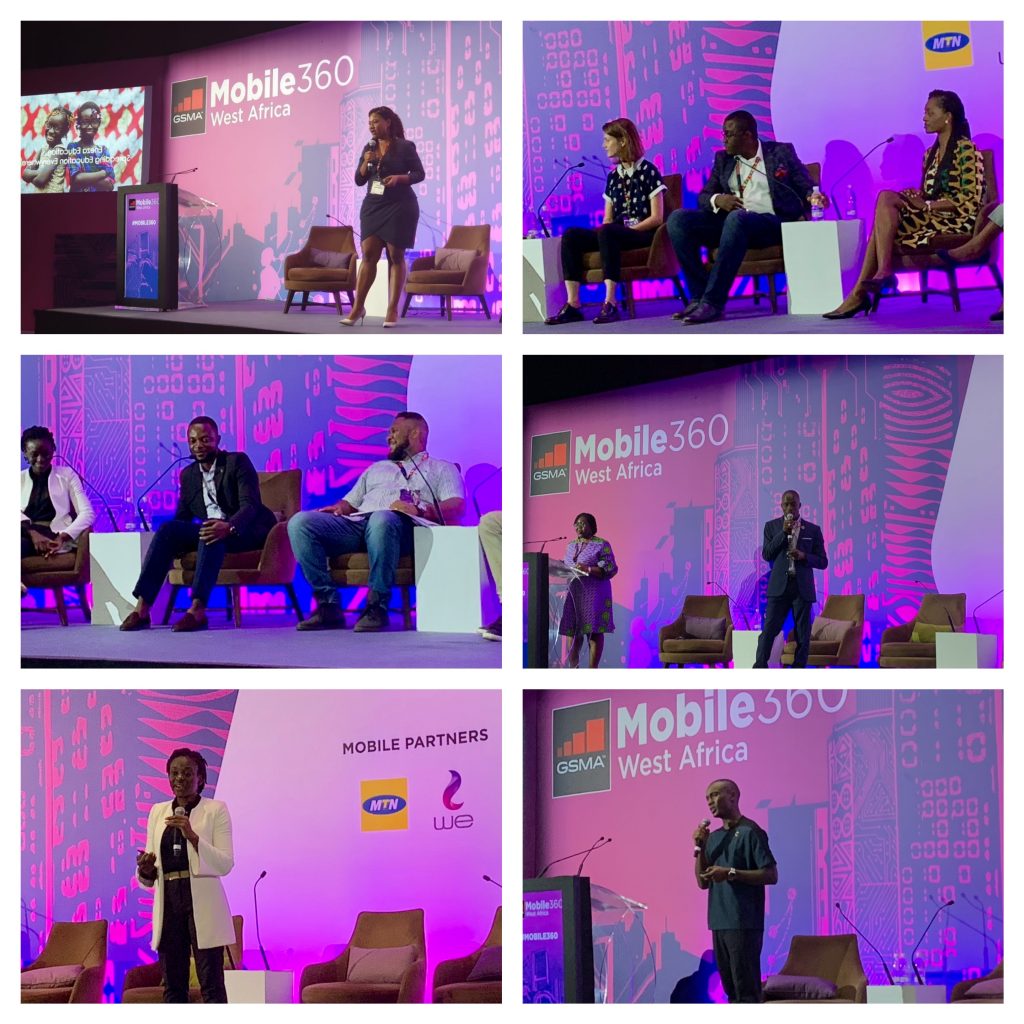 Eneza Education, Farmcrowdy, GiftedMom, SudPay, Kea Medicals and Coliba at Mobile 360 West Africa
To conclude this blog post, we would like to thank the teams of Coliba, Eneza Education, MTN and TRECC for their availability and support throughout the week.
The Ecosystem Accelerator programme is supported by the UK Department for International Development (DFID), the Australian Government, the GSMA and its members.