In our first blog from the climate finance series, we explored climate finance from a mobile and digital technology lens. This blog takes the discussion forward and summarises key takeaways from the new GSMA ClimateTech flagship report – Digitally Enabled Climate Finance.
Watch the report launch webinar featuring speakers from the UNDP, UK Foreign Commonwealth and Development Office, Airtel Africa, 4RDigital, CoSustain and KCIC Consulting where we discussed the topic of digitally enabled Climate Finance:
---
Climate finance is conventionally described as the flow of financing towards climate change adaptation and mitigation activities. It is central to accelerating climate action and ensuring vital funds reach the communities that need it most.
However, many stakeholders are still trying to understand what climate finance actually includes, why climate finance is useful to communities, how different actors can build a tight ecosystem that sustains change, and which resources (technologies, financing, technical assistance) can catalyse impact. In particular, the role of mobile and digital technology has not been well-defined, despite its potentially transformative role in climate finance.
With these questions in mind, the GSMA has launched a new global landscape report which explores digitally enabled climate finance. It dissects the various perceptions of climate finance and how these further impact its access and delivery. The report showcases the possibilities of how different tech solutions, ranging from mobile money and satellite imagery, to the Internet of Things (IoT) and blockchain, can catalyse lending, credit modeling, and the development of bankable climate projects.
Our research found that perceptions of climate finance remain contested
The working definition of climate finance of this report is "financial flows towards climate adaptation and mitigation initiatives." However, there are divergent outlooks on climate finance, influenced by sector (public vs. private), institutional roles, mandates, and sources of financing, among other factors. This has implications on the level, quality and priority of investment in climate change.
Why does climate finance need to be 'digitally' enabled?
The Sustainable Development Goals call for "Leaving no one behind", yet evidence shows that climate financing does not reach the most vulnerable communities as a bridge to SDG 13 on climate action. These communities face difficulty accessing finance from financial institutions and other sources. On the other hand, financial instruments are not adaptable to specific contexts as regulations mostly guide them.
This is where digital technology becomes a driver for change.
"Digital technology is uniquely placed to disrupt and accelerate climate finance. This flagship report by the GSMA showcases models and best practices for how mobile and digital technologies can ensure vital funds reach the most vulnerable people and communities. Doing so demonstrates the opportunities for transformative technologies to help counter the climate crisis."

David Woolnough, Deputy Director Research,
Tech & Innovation, Foreign, Commonwealth & Development Office, United Kingdom
Our research found that the use of mobile and digital technology in climate finance is still in its infancy. However, there is widespread agreement that it needs to be better integrated to safeguard data quality and increase impact. Digital technology is uniquely placed to accelerate climate finance, as:
An intermediary between financial sources and vulnerable communities, for better access to financing through loans and grants via mobile money for adaptative climate efforts,
A medium of establishing transparent and traceable systems,
A tool for collecting precise data, which is important in making climate finance decisions, and
An enabler for vulnerable communities to participate in the carbon market.
How can digital technology strengthen climate finance?
Our research takes the first steps to address the gap in understanding of the types of climate finance and models that are ready for digital innovation. Deep dives into different technologies and business models included in the report offer more in-depth analysis and considerations to strengthen future climate finance interventions. This includes: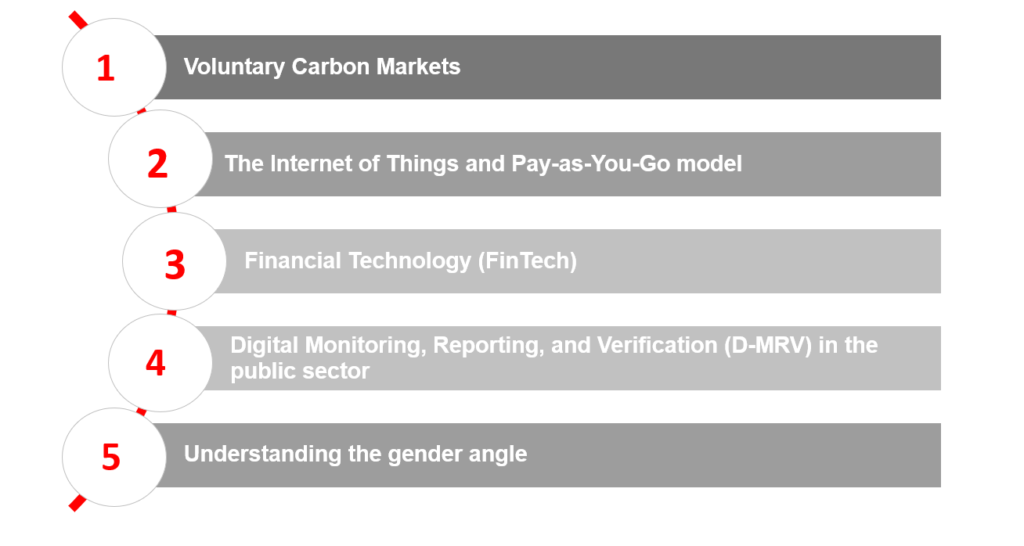 Source: GSMA ClimateTech Report (2023) – Digitally Enabled Climate Finance
Looking ahead
There is still much to understand in how digital technology can enable climate finance; we are at the beginning of a long and exciting journey. For a problem as complex as climate finance, everyone – including governments, innovators, civil society, academia, mobile network operators and the most underserved communities – should have a place at the table to contribute innovatively.
We invite you to collaborate further on the models and explore new trends and tales that could build on the existing report as highlighted below: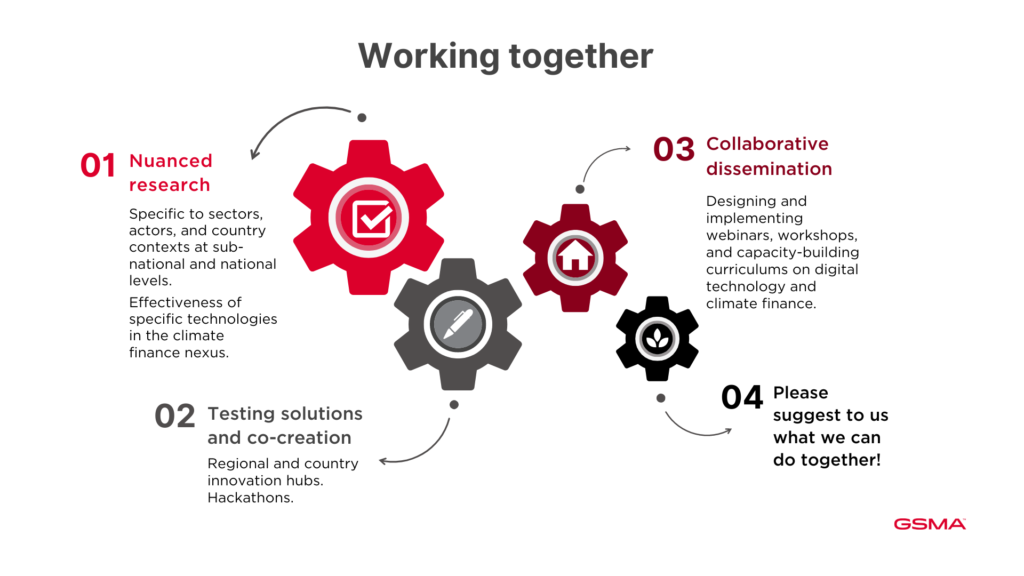 Download the digitally enabled climate finance report here.
Reach out to the GSMA ClimateTech team for more information and requests here.
This initiative is currently funded by the UK Foreign, Commonwealth & Development Office (FCDO), and supported by the GSMA and its members.