If you speak to people in the Philippines about the country's disaster risk, their main concern isn't the 20+ typhoons that pass through each year, (this is not to say their impact isn't devastating, Typhoon Haiyan in 2014 cost over 6000 lives). The worst case scenario for the country, and a scenario for which authorities are now preparing, is an 8.0 magnitude earthquake in the Metro Manila area. The metropolitan area is home to more than 11.8 million people and accounts for 37 per cent of the country's GDP. It is predicated that a quake of 8M could cost 30,000 lives and injure just as many. It is feared that the country would be crippled physically and economically, both in the immediate and long term.
Following earthquakes in Ecuador and Japan in April, it was serendipitous that a number of earthquake preparedness drills were already planned to take place across the Philippines in recent weeks. There is a common understanding that more must be done to increase the country's resilience and that it's not a case of 'If' an earthquake strikes, but 'When'. Unfortunately I've seen this before. We conducted an earthquake preparedness and capacity building workshop in Kathmandu, in mid-April 2015. At this event someone told us about a common saying in Nepal regarding earthquakes; 'It should have happened yesterday. We were expecting it today. It'll probably happen tomorrow'. Just 5 days later the 7.2 magnitude quake struck Kathmandu valley. This just goes to highlight that whilst we can predict these events we can never be sure of quite how much time there is to prepare for them. A report on the Nepal MNO response can be found here.
Fortunately the right steps are being taken in the Philippines. A number of organisations including the National Disaster Risk Reduction & Management Council (NDRRMC) and the Philippines Disaster Resilience Foundation (PDRF) continue to engage both the public and private sectors in increasing resilience and undertaking preparedness activities. The recent NDRRMC drill, the first of 4 to take place in 2016, took place at the Clark Airbase located approximately 60 miles North of Manila. Clark will play an important role as Emergency Operations Centre if a major quake hits Manila in the future. Selected for its transport links, accessible via air and sea, the drill simulated the hours following an 8.0 magnitude earthquake.
Once the sirens had stopped and people emerged from under tables and chairs, the response groups set to work demonstrating the processes they would undertake in a real-world situation, setting up emergency communication channels and liaising with the regions across the country to establish status reports. A short while later the secretary of state arrived via helicopter from Manila to head the response operations and hold a mock coordination meeting. Importantly these drills involve the national mobile network operators, Smart Communications and Globe Telecom.
"Communications as aid plays a crucial role during disasters. By providing emergency communication links, Smart is able to help government and humanitarian agencies coordinate and deliver more effective relief efforts to affected communities," said Ramon R. Isberto, head of Public Affairs at Smart.
Staff from Smart set up a dedicated line to support the humanitarian coordination efforts, as well as Libreng Tawag 'Free call' stations that would be available to the public. Updates on the network status were fed into the emergency coordination meeting.
"Our satellite services are a viable alternative to traditional fixed and wireless communications during extraordinary events especially when other infrastructure like power facilities are down," Isberto added.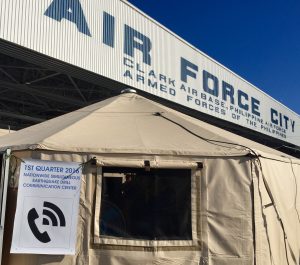 The following day, another 100 miles North of Clark a different drill was taking place. This simulation exercise, the last part of a weeklong Community of Practise workshop organised by UN OCHA, focused on putting participants through their paces in the hours following a disaster. The CoP is comprised of more than 40 organizations including the United Nations, INGOs, CSOs, telcos and media (humanitarian and mainstream).
"More than just enhancing the Community of Practice (CoP) on Community Engagement strategic (preparedness) and operational (response) in-country capacities, the main goal of the simulation exercise is to improve innovations on two-way communication mechanisms and accountability platforms as well as enhancing community participation avenues and common service partnerships within its inclusive members" says Gil Francis G. Arevalo, Humanitarian Affairs Analysts at UN OCHA Philippines.
Aftershocks, protests and power outages were all challenges the teams had to face as they attempted to establish emergency communication channels and develop an understanding of the needs on the ground.
"The role of telcos, especially within the Philippine minimum preparedness and response actions, has expanded by more than just providing or prepositioning its capacity on free SMS, calls and battery charging to the affected communities. It has played a proactive role within the CoP in advocating for the inclusion of questions related to information needs and preferred communication channels of the affected communities" said Gil.
Simulation exercises are critical for private sector companies, as well as public authorities. Developing and maintaining a robust and resilient business continuity plan will require that companies constantly review and update their plans, testing both their systems and staff. Our programme recently published a report on Business Continuity Management focused at building disaster resilience into mobile networks.
It will be critical that as these simulation exercises, public and private, continue in the Philippines they increasingly go beyond public demonstrations and really strengthen the ability and capacity of businesses, populations and first responders to respond effectively. They should also be dynamic, pushing organisations and individuals to deal with cascading events. If we can be certain about one thing it's that by their very nature disasters will not follow pre-determined plans and so being prepared for a multitude of scenarios is crucial.
At the GSMA we continue to work with operators Smart Communications and Globe Telecom, as well as with the Emergency Telecommunications Cluster, to identify areas for future capacity building and support.