The fight against COVID-19 has seen vaccine development moving at a fast pace, with more than 170 different vaccines in trials as of November 2020. While developed markets are preparing for the vaccine roll-out, the LICs are dealing with an already existing immunisation crisis, whereby millions of people are exposed to vaccine-preventable diseases such as measles, whooping cough, flu or polio. Moreover, the supply of vaccines is hampered by the lack of reliable vaccine-related data and patient records, as well as the difficulty to serve remote communities. Mobile, particularly when combined with frontier technologies, can centralise vaccine and healthcare data, deliver alerts to families and bring vaccines to isolated areas. This blog explores how mobile, among other tools, can address the immunisation gap in LICs by strengthening the vaccine supply chain.
Challenges in immunisation supply chains in LICs
Disparities in immunisation coverage and equity in LICs are attributable to supply deficiencies and demand challenges.
The vaccine supply chain in LICs suffers from a lack of funding, which directly impacts the governments' abilities to strengthen the supply chain's infrastructure and develop effective methods of collection and analysis of critical data linked to vaccinations.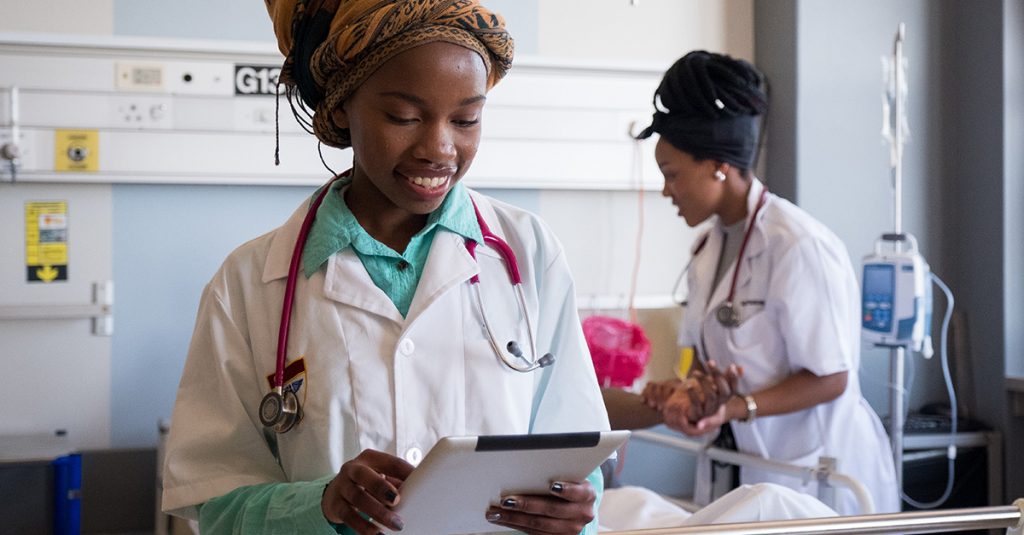 Furthermore, vaccine demand is challenged by the inability of healthcare providers to assess the vaccine need and generate efficient alerts to the families. Patient records are often non-existent or registered via paper-based methods. As such, more than one billion people worldwide lack formal identities, with 80 per cent of whom live either in Sub-Saharan Africa or South Asia. Similarly, about one in three children in low- and middle-income countries (LMICs) have no formal ID due to a lack of registration at birth. Moreover, the lack of an efficient communication system hampers the ability of healthcare providers to alert the families regarding appointments.
Consequently, while immunisation prevents two to three million deaths globally, 1.5 million people die from vaccine-preventable diseases yearly, with the majority of those deaths occurring in LMICs. Moreover, as of July 2020, 19.7 million children are unprotected by vaccination. Almost half of these children live in the African region.
Figure 1. Children un- and under-vaccinated (millions). Un- or under-vaccination is measured through the lack of DTP-3 in this analysis. Source: The World Health Organization
Mobile and frontier technologies help address immunisation gaps
To address the problem of lack of identification and poor immunisation-related data, several stakeholders in healthcare and the ID domain have combined forces to develop biometric digital IDs. As a case in point, Simprints has deployed a mobile-based biometrics solution that links individuals to their health information. Simprintshas health and humanitarian projects in Kenya, Tanzania, Bangladesh, Nepal, Uganda and Zambia, reaching 400,000 beneficiaries to date. Simprints partnered with Gavi and NEC in 2019 to deploy mobile-based biometric IDs involving fingerprint identification that created, for the first time, digital identities for children aged one to five. The biometric record runs on a mobile app that helps health practitioners assess vaccination needs while alerting families about appointments.
Similarly, Simprints and the government of Bangladesh signed an MoU in February 2020, under which the company will support the 'Digital Bangladesh' initiative by deploying its technology to perform biometric verification of up to a million expectant mothers and children. While Simprints' biometrics solution can help address some of the identification challenges, there are some privacy concerns, calling for an awareness of the local standards and regulations modalities. This could hinder Simprints' expansion ambitions.
Other organisations use frontier technologies to deliver vaccines to remote health centres. In April 2019, through support from UK Aid, Zipline partnered with Gavi and UPS Foundation to deliver vaccines to remote communities in Rwanda and Ghana via drones. This partnership enables health facilities to order vaccines via Zipline mobile app, which are delivered within thirty minutes. Drones facilitate timely and accurate delivery, while mobile applications help track vaccine stock and delivery status. Drones can become cost-effective when used as a complement to existing delivery systems. As of May 2020, Zipline delivers 160 different medical products (such as vaccines, blood and personal protective equipment) and is contracted to serve close to 2,500 health facilities across Rwanda and Ghana.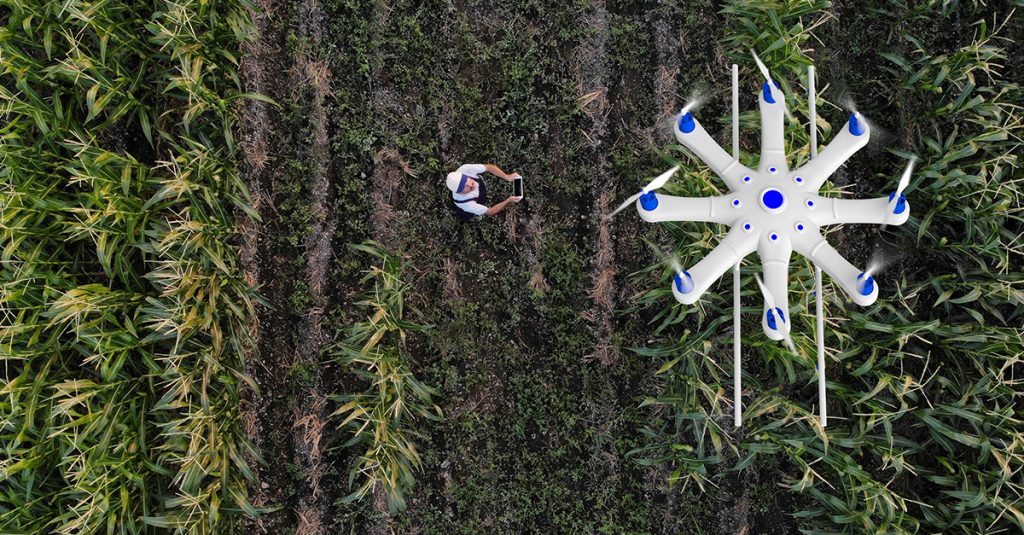 Mobile is at the centre of vaccine cold chain optimisation. Most vaccines need to be transported and stored at an optimal temperature throughout the cold chain for safety and effectiveness. To counter this challenge, vaccine vial monitors (VVMs) are applied to over 600 million vials of vaccines in LMICs each year, helping to deliver three billion doses. Our blog 'IoT applications in the fight against COVID-19', includes examples of Vodafone, Controlant and eVIN using digital technologies for cold-chain optimisation.
Beyond the cold chain, mobile is leveraged to strengthen the supply chain holistically and build resilience. Vodafone worked with Gavi to increase the vaccine coverage rate by improving information flows along the supply chain (such as in Mozambique). Mobile is used to monitor stock levels, ensure vaccines are stored safely and to deliver SMS alerts to parents – either to alert them of their appointments or inform them about the importance of vaccines. This partnership is beneficial for both parties. Vodafone claims that the partnership "helps solve the financial equation to scaling up mhealth solutions in Africa", while Gavi benefits from Vodafone's technology and experience in LICs.
Similarly, Gavi leverages Orange's technology and expertise to overcome barriers to childhood immunisation. In 2018, Orange partnered with Gavi and the Ministry of Health in Côte d'Ivoire to develop the M-Vaccin app to raise awareness of immunisations among parents. The app helps healthcare workers enrol pregnant women and newborn babies, to create vaccination records and monitor their appointment schedule by sending text and voice messages in local languages. The project partners intend to scale M-vaccine to reach 800,000 caregivers in Côte d'Ivoire.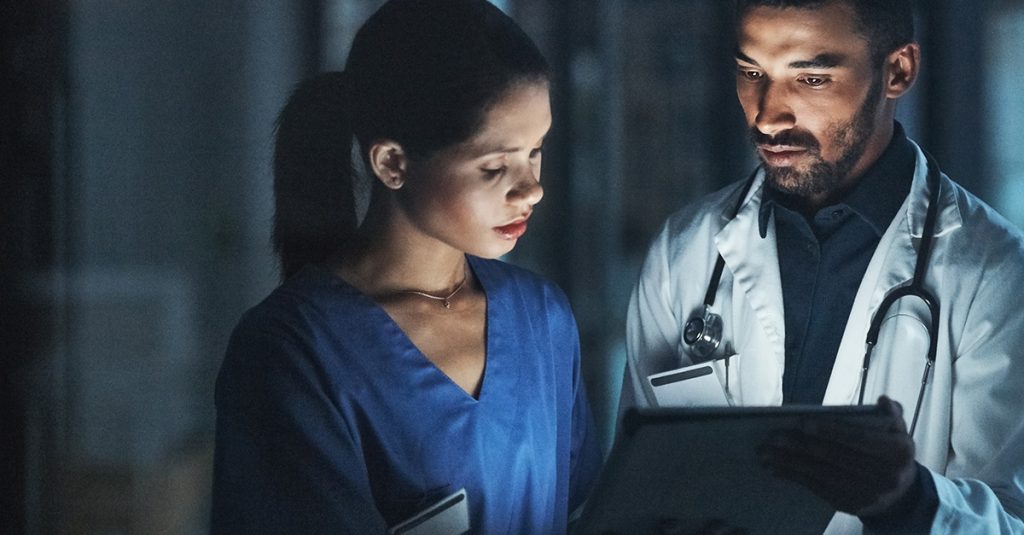 Leveraging technology alone is not enough
Leveraging mobile as a tool to improve immunisation equity requires key stakeholders to develop solutions tailored to the markets, implement market tests and train the health workers who will use the technology. For example, M-Vaccine deployment required the stakeholders to map out each step of the vaccine delivery, to ensure that the app addressed Cote d'Ivoire's needs, and gathered feedback from health workers. Orange also provided training to health workers to enable them to use the app efficiently and monitor the results.
Collaborations between governments, the private sector and NGOs are important to develop sustainable solutions that are also compliant with local regulations.
Mobile can serve as a tool to strengthen the vaccine supply chain by optimising the cold chain monitoring and creating effective alert systems for families. In tandem with frontier technologies, mobile can help build reliable patient records and reach communities that would not otherwise benefit from immunisation programmes. Although our blog highlights the potential for mobile interventions to enhance vaccination coverage, more studies assessing the impact of those solutions in LICs will be needed to guide evidence-based policy and practice in these markets.
---
The GSMA Mobile for Development (M4D) Central Insights Unit is an initiative supported by the UK Foreign, Commonwealth & Development Office (FCDO), the GSMA and its members.