In March earlier this year, we launched our Biometrics for All (B4LL) asset – a multimodal biometric showcase for enabling digital service providers to test different biometric solutions for multiple use cases in emerging markets; all using a safe environment. (More details can be found in our launch blog here).
At the time we launched B4LL, the voice-based identification element within it was fully developed and we demonstrated its use for multiple use cases within a simulated call centre scenario. We had promised at the time that more biometric modalities would soon be added to B4LL and that we would be in touch when that was completed.
Today, we are delighted to announce the launch of our full Biometrics for All application (or B4LL app), which includes not just the voice-based identification element we had developed earlier but also face and fingerprint recognition capabilities.

B4LL includes not just the voice-based identification element, approached in our call centre developed earlier, but also face and fingerprint recognition capabilities.
B4LL – Mobile Application
The aim of the B4LL app is to enable digital service providers to test various biometric modalities and use cases they are interested in, which can be simulated within the B4LL environment. We want to reduce the challenges for adopting biometrics, allowing a better understanding of which kind of biometrics and what type of solution would better fit in your business purpose.
B4LL targets the use of biometrics in low/middle-income countries. Therefore, our solutions are built to be used on feature phones and low-tech smartphones with a low-resolution camera or no camera at all. For example, the fingerprint solution adopted by B4LL, works using the camera for capturing data, making it possible to be used in low-tech environments where no fingerprint sensor is available.
The interface was built to be simple and objective, simulating an environment of financial services and allowing a better user experience. The user can choose which type of biometrics to use in the registration process or when authentication is required. Other possibilities are also available in the configurations which, when tested, demonstrate the great potential of biometrics.
MULTIPLE USE CASE TESTING CAPABILITY
For the initial demo focused on voice, the intended geography of the project is Pakistan, and we are working with Easypaisa, a leading mobile money provider operated by Telenor Microfinance Bank to demonstrate the value of this asset. Specifically, the B4LL asset will simulate a voice enabled IVR call centre experience for Easypaisa to help it assess the utility of such a technology for its customers and, if found to be positive, to adopt it more widely into its operations.
"B4LL has been a highly useful asset for us to assess the utility of voice enabled biometric verification techniques for our customers and we are delighted to be working with the GSMA Inclusive Tech Lab on this partnership" – Omar Moeen Malik, Head of Digital Payments and Wallets at Easypaisa / Telenor Microfinance Bank.

As with Easypaisa, the Lab is able to customise the IVR call centre element of B4LL to simulate a biometric authentication experience for any use case that a service provider may wish to test before making a decision on whether or not to adopt it in their market.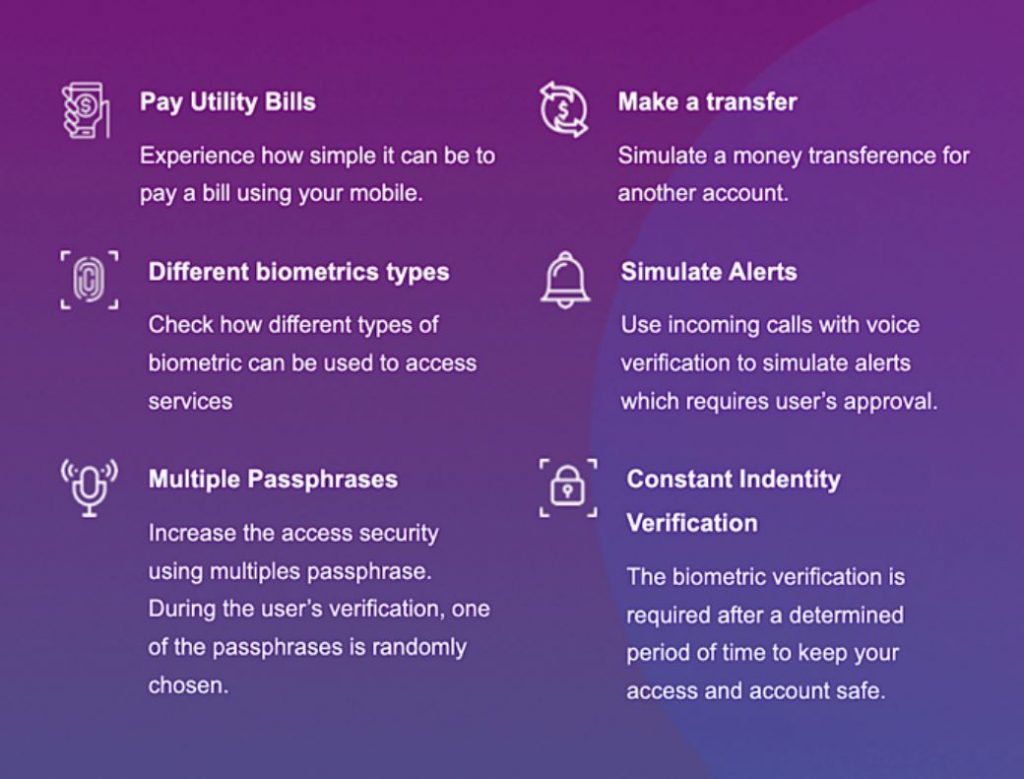 Different markets and digital service providers have different requirements, but B4LL's technical architecture is sufficiently modular to be adapted to varying contexts and simulate the necessary biometrically enabled identity checks specifically relevant to them. The B4LL app is powered by cutting edge technology with modular architecture that can be quickly customised to the needs of any digital service provider to incorporate new use cases or others biometric verification solutions for a particular demonstration.
Our showcase has several use cases covering from the biometric enrolment process to the verification to authorise the access to services. The number of use cases are always growing but we understand that every business is unique and has different requirements. So, we are continuously developing new use cases and customising our assets to meet your business needs and objectives. We invite those interested to bring new ideas for us to implement.
Trusted technical expertise
The GSMA Inclusive Tech Lab team that has developed B4LL holds deep technical expertise in digital identity and will be happy to bring their knowledge to bear on any specific use cases for which digital service providers may wish to test a biometric verification solution.
We understand that adopting a new technology or services can be tricky to navigate, so, besides the technical assets we made available, we can also provide expertise to support you and your team in understanding the impacts of using biometrics and during the adoption of biometrics solutions. Our main goal is to show you how biometrics is available to help you and improve your services.
The B4LL app is now released with some different use cases using voice, fingerprint, and face recognition. We can customise the B4LL asset to your specific needs, so get in touch!
To access the B4LL app, click on this link for Android and this one for IOS and to know more about Ball we invite you to visit our project's landing page.