According to Kampala Capital City Authority's (KCCA) sanitation mapping data from 2017, out of the 1.5 million people that live in Kampala, 94% are not connected to sewer lines for transporting waste away from their residences, as a consequence, they must rely on-site sanitation facilities, such as the pit latrines used by 70% of the citizens. This threatens public health and quality of life as the urban poor (64% of Kampala's population), lack access to safe and reliable emptying services to dispose of faecal waste. As a result, latrines are often abandoned because they are full, broken down or filled with solid waste, which leads to environmental risks and disease outbreaks such as cholera, typhoid and other water-borne diseases.
To overcome the sanitation challenge, KCCA seeks to improve the faecal sludge management (FSM) system by tracking where faecal sludge is collected and dumped. GSMA awarded KCCA a grant in 2017 to upgrade the pilot Geographic Information System (GIS) tracking system. The application works as a platform to connect customers to pit latrine emptying services, and then track service delivery to ensure safe disposal for a cleaner and healthier city. KCCA receives pit emptying requests from customers through its call centre, and connects customers with the nearest pit emptiers. KCCA works with nearly 100 pit emptiers who use a mobile app to record the collection location, transportation and disposal of faecal sludge. The data they collect for KCCA also includes customers' details, amount paid, volume emptied, the type and the location of the sanitation facility (see Figure 1). KCCA has also worked closely with MTN Uganda to support and encourage the pit emptiers to use mobile money as a tool for the pit emptiers to collect and perform payments. This can reduce the friction of doing business in cash and may help pit emptiers to access financial services like savings and loan products.
Figure 1: KCCA's Pit Emptier App Layout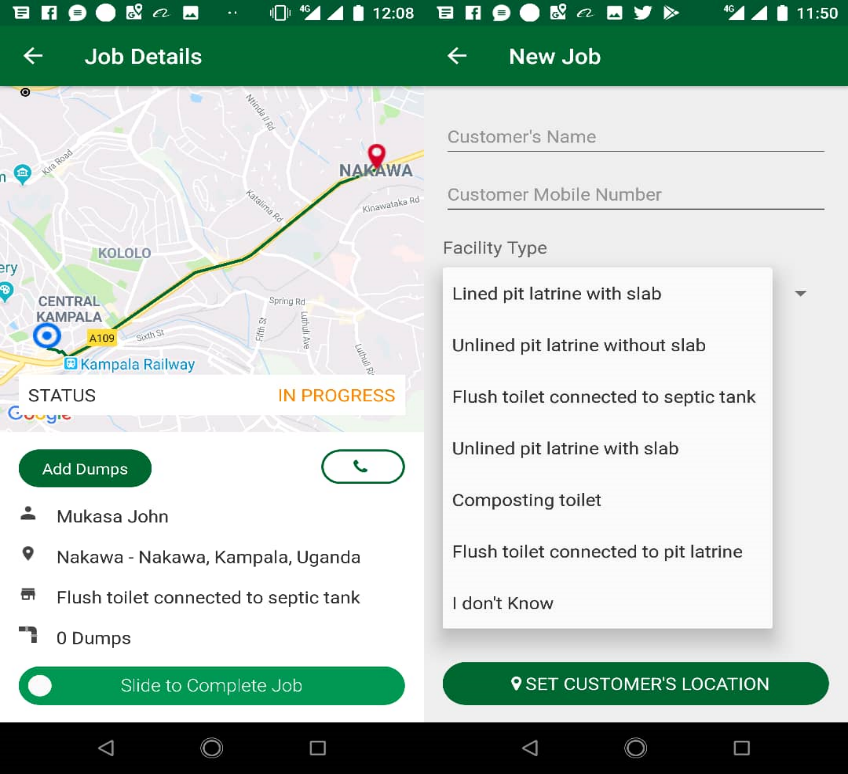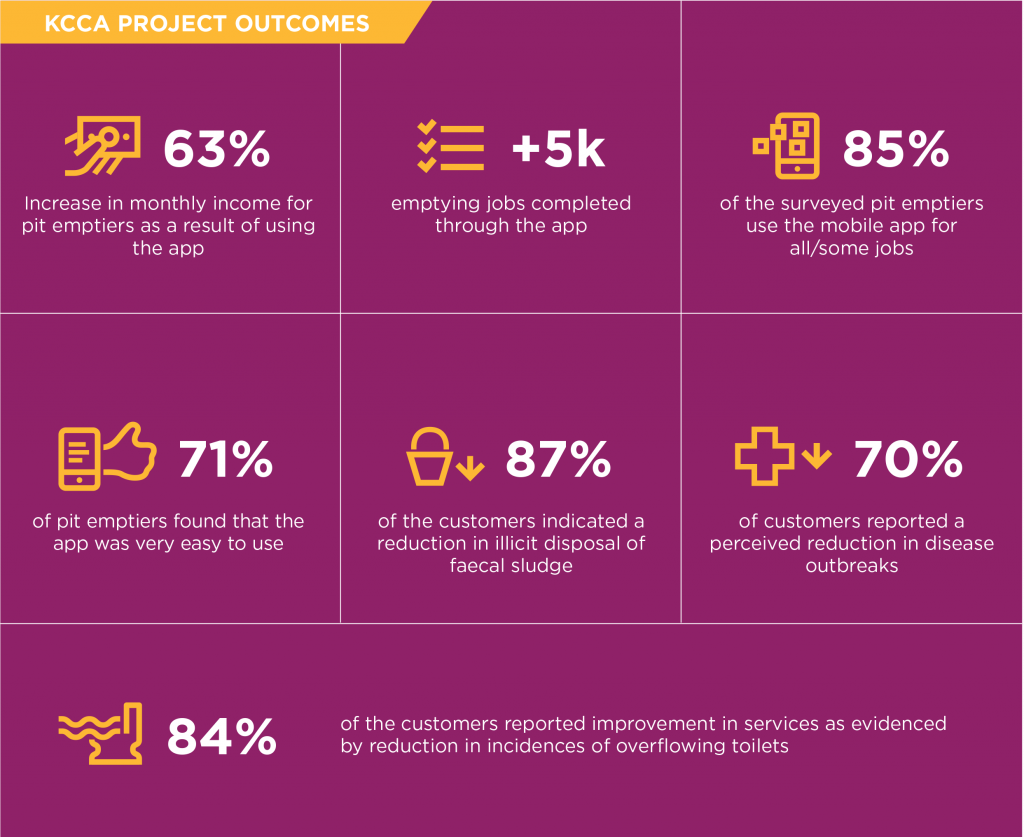 Benefits of Mobile-Enabled Sanitation
1) Real-time tracking of emptying services
Mapping and tracking enable KCCA to monitor and regulate sanitation service delivery in an effort to reduce illegal dumping and ensure safe, affordable emptying services for those who need it the most. It also supports evidence-based interventions, such as increasing awareness campaigns and mobilising pit latrine emptiers in areas with low emptying activity to reduce disease outbreaks. Understanding the geography of emptying patterns also enables KCCA to improve logistics and forecast future treatment needs.
2) Increase in Revenue
" …I have been able to increase my income from the time I started using the App. I send my data and I also ensure that whenever I get a job from KCCA, I do it very well. Some of my colleagues wonder how I keep getting the jobs. It is simple, do a good job and you will be called for more jobs." Pit Emptier
KCCA's app created new avenues for pit emptiers to obtain jobs. Through the app, they maintain client records and contact with past customers. This led to an increase in their business volume. Pit emptiers in particular, increased their average volume of emptying jobs per month from 60m3 to 72.5m3 in our endline survey. Overall, over 60% of entrepreneurs using the app declared to have increased their income collection.
3) Data Collection
By using their historical record of income, pit emptiers can access loans to grow their business. Without proper income records entrepreneurs couldn't access these loans. Furthermore, KCCA sought to formalise the FSM sector to ensure emptying standards are met, businesses are licensed and working within government environmental practices. By the end of the grant project, five pit emptying companies received their licenses from National Environmental Management Authority and 15 licenses are awaiting approval.
4) Improving health outcomes
Throughout the project, KCCA registered several cholera outbreaks across the city. GIS mapping data revealed a strong correlation between areas reporting disease outbreaks and low pit emptying activities. KCCA employed the GIS data to organise behavioural change activities and encourage pit emptying services in areas where cholera outbreaks occurred. Figure 2 below suggests that following this project, 87% of the customers indicated a reduction in illicit disposal of faecal sludge in the communities and 70% reported a perceived reduction in disease outbreaks.
Figure 2: Health improvements amongst KCCA customers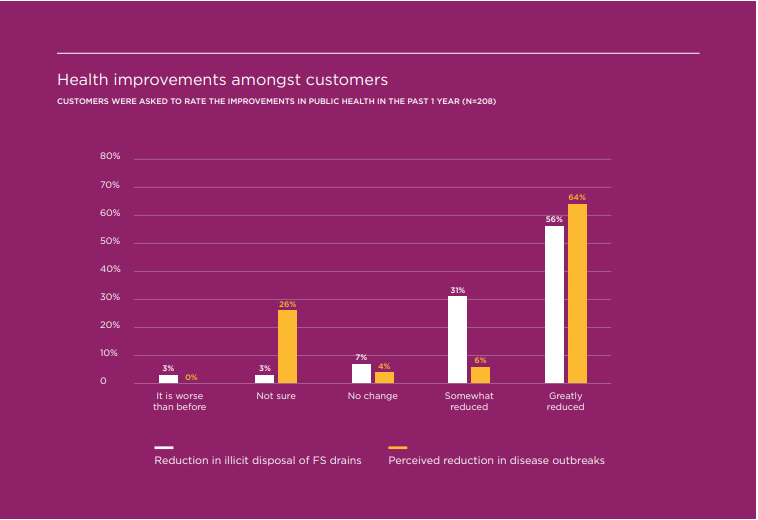 Partnerships with MNOs
KCCA and MTN Uganda developed capacity building programs to encourage mobile money usage in across the FSM value chain. The pit emptiers currently use mobile money to pay the fees when they dump waste at the treatment plant (see figure 3). However, for pit emptiers collecting payment from end users, mobile money is still used infrequently. The reasons for this, and efforts to address them are as follows:
i. Transaction costs: Both pit emptiers and customers preferred cash payments to avoid transaction costs. To deal with this challenge, MTN delivered trainings on MoMoPay – their mobile money merchant service which had zero transaction charges.
ii. Taxation: Pit emptiers feared that KCCA collecting income data through the app would lead to future taxation of the service. KCCA worked with the pit emptying associations to alleviate said fears and educate users on the productive uses of the data collected.
Figure 3 – Frequency of payment modes used by entrepreneurs to pay dumping fees at treatment plant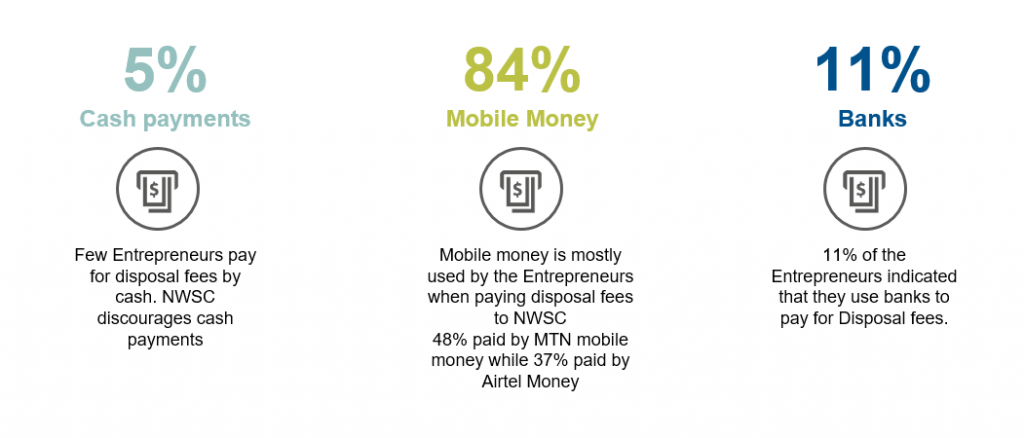 "As a service provider, I have received training, a free phone, data bundles from KCCA which I use to send data. It has helped me widen my knowledge with gadgets and computers and keeping client records" Male, John, KCCA Pit emptier
Future Plans
KCCA received a grant from USAID Grand Challenges program to build on the existing GIS platform to map informal settlements and subsidise emptying pits jobs in the informal settlements. In order to further expand this digital-enabled sanitation solution, KCCA will develop a customer facing app to request the service directly through the app. This will be funded by a grant from the Bill and Melinda Gates Foundation.
KCCA is also in discussions with other municipalities (such as Mityana, Mbarara, Mukono and Wakiso) in Uganda to scale the service and improve sanitation service delivery in these regions. The solution is also being scaled up to expand on other urban challenges such as solid waste management to improve garbage collection and disposal in Kampala.
Overall, this project has demonstrated that a mobile-enabled approach to sanitation can accelerate the deployment of safe, affordable sanitation practices to tackle the challenges posed by urbanisation. The deployment of digital sanitation solutions led to an improvement in income collected by the entrepreneurs as well as the improved health outcomes for the users.
The GSMA Mobile for Development (M4D) Utilities programme is funded by the UK Department for International Development (DFID), USAID as part of its commitment to Scaling Off-Grid Energy Grand Challenge for Development and supported by the GSMA and its members.