Mobile money accounts leapt forward in an exceptional year
2020 saw the number of registered and active mobile money accounts grow to new levels globally, but Latin America and the Caribbean (LAC) had by far the fastest growth of any region. LAC now counts 39 million registered accounts, representing a 38 per cent year-on-year growth, while active accounts reached 16 million, growing by an outstanding 67 per cent – the highest rate since 2014. LAC also continues to be the region with the highest activity rate, with over 40 per cent of all accounts being active on a monthly basis.
Figure 1: LAC registered and account growth in 2020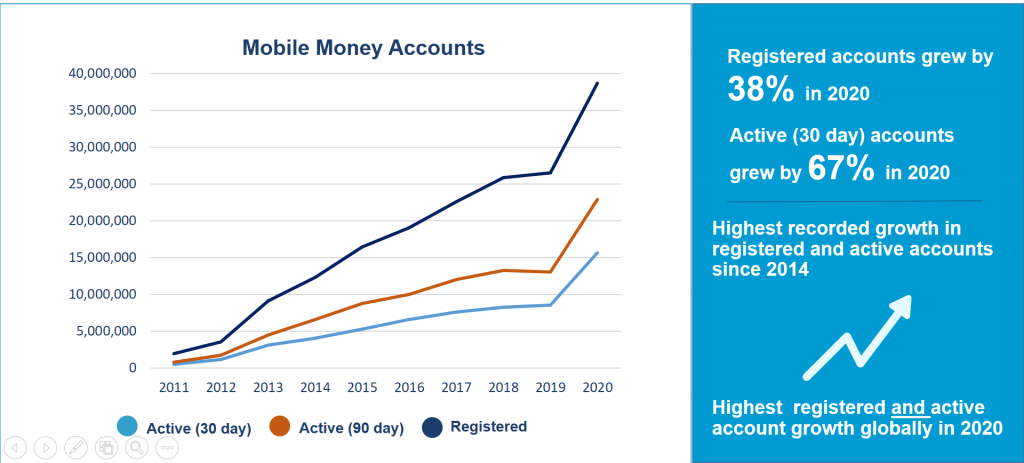 The region's industry was uniquely positioned to help swiftly disburse much needed relief funds to those in need…
This remarkably high growth was partially enabled by the region's widespread use of mobile money to disburse social and humanitarian cash transfers in response to the COVID-19 pandemic, providing a financial lifeline to those in need. While the use of this channel for such relief funds were not limited to the region, LAC had a clear advantage: pre-existing relationships with government agencies, which enabled the quick implementation of large scale government-to-person (G2P) cash transfer schemes. Excluding Cash-in/cash-out transactions, bulk disbursements constituted almost a third of overall transactions in LAC, compared to only about 10 per cent globally.
Figure 2: LAC and global mobile money transaction mix, excluding cash-in/cash-out (Transaction values, December 2020)

…which contributed to reshaping the region's prevailing transaction mix
It is clear that cash transfer schemes largely contributed to the growth of the industry, but they are not the sole factor behind it. Indeed, while the absolute value of bulk disbursements has substantially grown, the share of these transactions in the overall transaction mix of the region has remained stable, with other transaction types growing faster. In particular, the value circulating in the mobile money system (on-net P2P + merchant payments) increased significantly, reaching 11 per cent of all transactions in 2020, compared to 5 per cent last year.
Overall, mobile money transaction flows are increasingly digital as opposed to cash-based (i.e. cash-in/cash-out transactions) with the share of digital transactions growing from 33 per cent in 2019 to 46 per cent in 2020; a direct consequence of uptake and usage reaching new levels, as well as strengthened partnerships. However, this remains behind the global average, with 67 per cent of digital transaction flows.
Figure 3: LAC Monthly value snapshot (December 2020)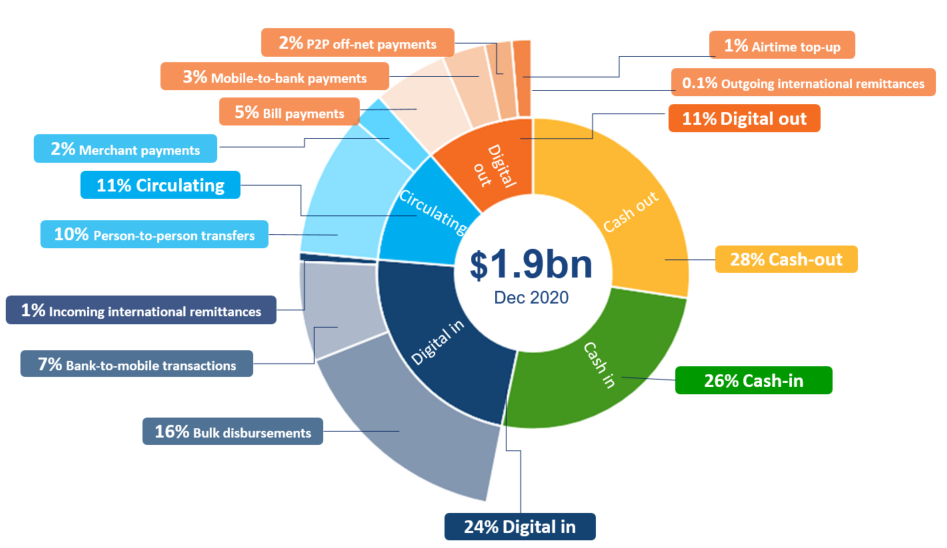 For example, overall person-to-person (P2P) transactions grew by 59 per cent, owing to not only traditional account-to-account transfers, but also to bank-to-mobile (B2M) interoperable payments, which surged by 68 per cent. Furthermore, though coming from a low base the value of merchant payments saw an almost tenfold increase in 2020, partially due to a number of cash transfer schemes in the region limiting the use of disbursed funds to specific purposes, such as shopping for groceries and medicine.
A catalytic year with many untapped opportunities remaining
Despite having experienced the fastest growth of any regions in the number of accounts (registered and active), the mobile money industry in the LAC region still holds many untapped opportunities. With developing network effects due to high account uptake and flourishing partnerships, the share of digital and circulating transaction values could continue growing towards the global average levels. For example, use cases such as international remittances, that have either stagnated or even decreased in the past, have performed exceptionally well this year, as many in the diasporas turned to mobile money to support their close ones in their countries of origin. Yet, mobile money-enabled international remittances still only constitute a share of 0.17 per cent of overall incoming and outgoing flows sent via formal channels.
Figure 4: LAC mobile money-enabled international remittances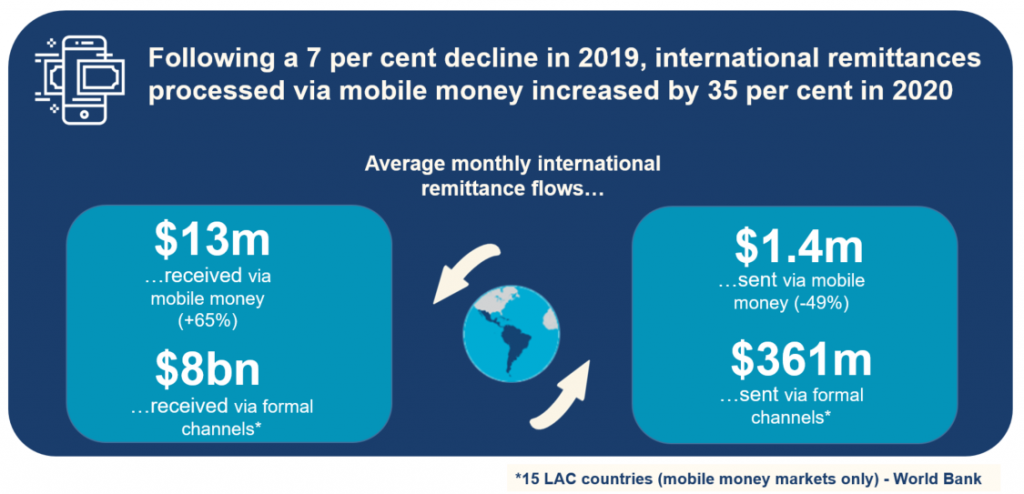 There are clear signs that mobile money providers are making the most out of this watershed moment, by investing in expansion and partnership plans, in a bid to close the financial inclusion gap. Recent examples include Tigo's commitment to invest $250 million in Panama, part of which will be dedicated to operating its mobile money platform in the country and creating a new Fintech hub to expand mobile financial services in the LAC region.