The GSMA's Mobile Gender Gap Report 2019 highlighted that there is a persistent mobile gender gap in low- and middle-income countries, where women are 10% less likely than men to own a mobile and 23% less likely to use mobile internet. The mobile gender gap varies by region and country, but is second widest in Sub-Saharan Africa.
The findings in this blog are based primarily on the 2018 GSMA Intelligence Consumer Survey, which has over 20,000 respondents from 18 low- and middle-income countries, including seven in Africa.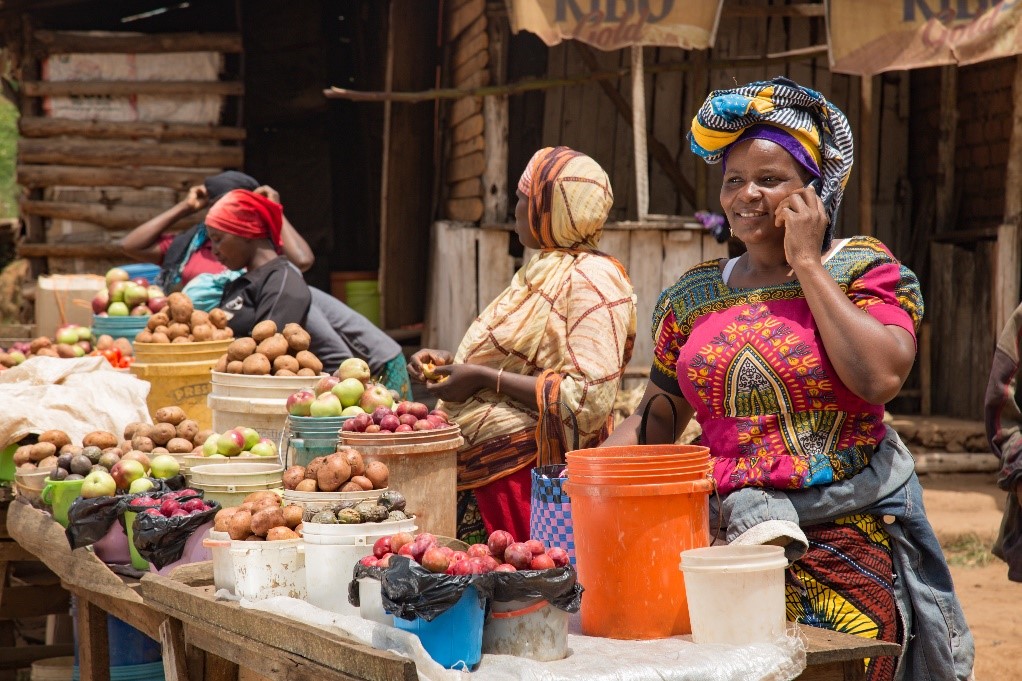 Mobile has had a profound impact in Africa – but women are benefiting less than men
Across Sub-Saharan Africa, 69% of women now own a mobile phone. For the region with the lowest average GDP per capita worldwide, where mobile penetration was only 40% five years ago [1], this represents incredible progress. However, women in Sub-Saharan Africa are still lagging behind men in terms of mobile ownership – they remain 15% less likely to own a mobile phone than men.
Equitable access to mobile is of particular importance in Africa, where observers have been excited by the potential for 'traditional' technologies and services to be leapfrogged by mobile; access to fixed internet is extremely low [2], and mobile money has provided access to financial services to millions of people for the first time. [3]
However, women's lower rate of mobile ownership – while important – does not capture important aspects of the mobile gender gap in Africa. Two dimensions are particularly important: the urban-rural disparity, and the inequality in mobile internet use.
Rural inequalities exacerbate the mobile gender gap
In almost all countries in Africa the mobile ownership gender gap is widest in rural areas. Given that 60% of the population of Sub-Saharan Africa lives in rural areas [4], reaching the rural population will be critical to future mobile subscriber growth in Africa. Understanding and addressing the particular barriers to mobile ownership and use for rural women is therefore essential if the mobile gender gap is to be closed.
Figure 1: The gender gap in mobile ownership in urban and rural areas
Percentage difference in rate of mobile ownership for men and women in urban and rural areas, by country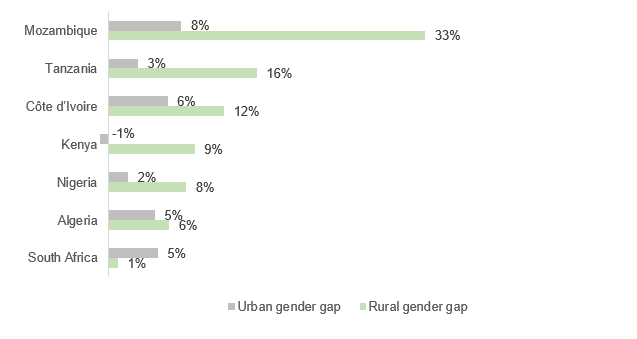 The most important barriers to mobile ownership in Africa are affordability and literacy and digital skills [5]. These issues tend to be felt most acutely by rural populations that tend to be both poorer and less literate than urban ones. Equally, restrictive social norms that can inhibit mobile ownership for women are often felt more strongly in rural areas. It is therefore important to be aware of the disproportionate barriers to mobile ownership that rural populations – and particularly rural women – face.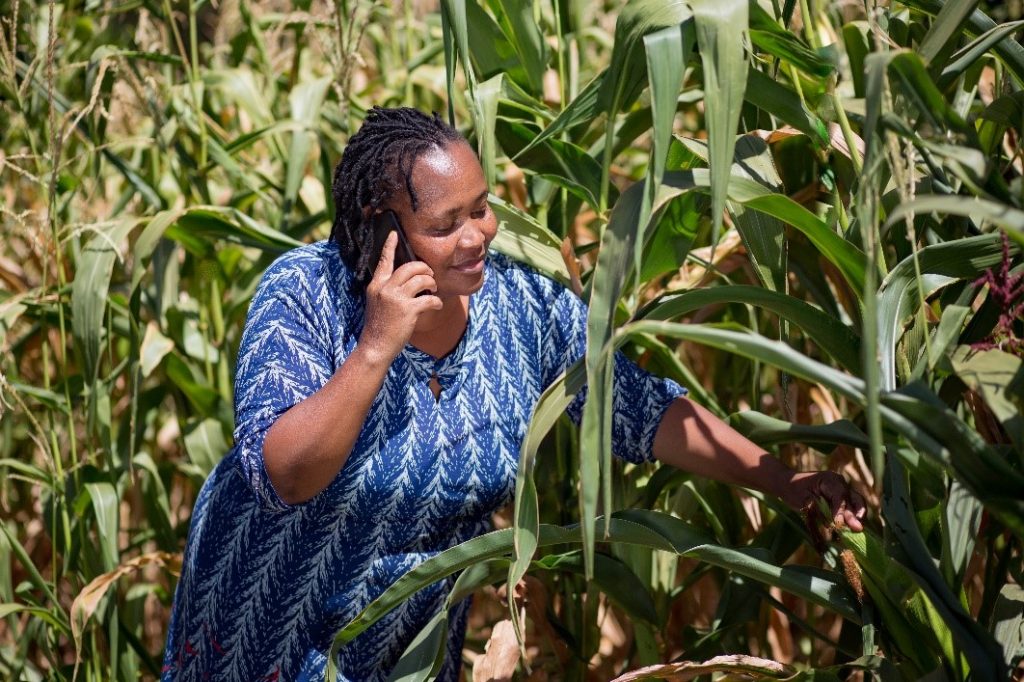 There are significant gender gaps in mobile internet use
Internet penetration in Africa is growing, but it still remains low in most countries (see figure 2). This is particularly true for women, who are 41% less likely than men to use the internet on a mobile phone across Sub-Saharan Africa. In Mozambique this gap is as high as 59%.
Figure 2: Share of total adult population using mobile internet, by country, gender and gender gap [6]

Women's low smartphone ownership in Africa prevents them from getting online
A number of barriers disproportionately limit female access to mobile internet in Africa. One particularly important factor is their low levels of smartphone ownership. In Kenya, for example, 37% of men own a smartphone, compared to only 27% of women.
Figure 3: Male and female smartphone ownership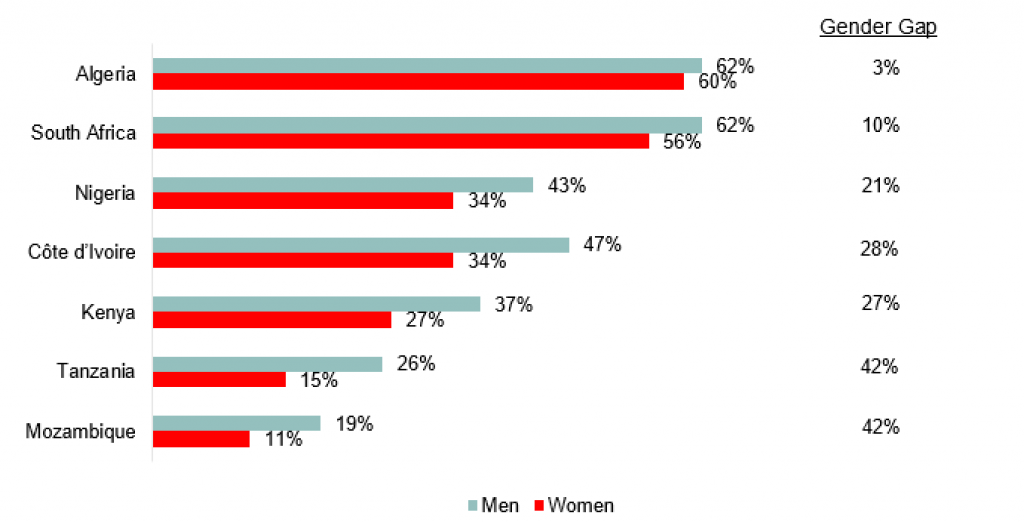 Qualitative research conducted by the GSMA on the barriers and triggers to mobile internet take-up in Tanzania and Côte d'Ivoire identified that smartphone cost was one of the greatest barriers to uptake for 'Potential Adopters' of mobile internet [7]. Improving smartphone affordability is therefore critical to increasing internet access in Africa, and to close the gender gap in its access and use.
However, improving smartphone affordability alone is unlikely to equalise female internet access in Africa. The research in Tanzania and Côte d'Ivoire, as well as quantitative results from The Mobile Gender Gap Report 2019, identified a lack of awareness of the benefits of internet use, and low literacy and digital skills as key barriers that tend to disproportionately affect women.
Persistent barriers require innovative solutions
One good example of how technological innovations can help make the internet more accessible is the emergence of KaiOS enabled handsets, which takes an innovative dual-pronged approach to tackling the barriers of cost and literacy and digital skills. Not only do they bring down the cost of owning an internet-enabled handset, but they also aim to cater to low literacy populations, promoting the use of voice commands capable of interpreting a growing array of local languages.
If the benefits of mobile are to be fully realised in Africa, it is important that the mobile sector, policy makers, technology companies and the development community take concerted action to address the mobile gender gap. This action must be grounded in an awareness of the country-level barriers to mobile ownership and use, and the social norms that affect women disproportionately.
For full details on the mobile gender gap across low- and middle-income countries and key recommendations to all relevant stakeholders for tackling the remaining mobile gender gap, see The Mobile Gender Gap Report 2019 and the accompanying Methodology documentation.
[2] Penetration of fixed internet is less than 1% across Africa according to the International Telecommunications Union (ITU)
[3] GSMA, State of the Industry Report on Mobile Money 2018
[4] World Bank, 2018
[5] GSMA, The Mobile Gender Gap Report 2019
[6] The gender gap in ownership/use is calculated as male owners/users (as a % of the male population) less female owners/users (as a % of the female population) and dividing this figure by male owners/users (as a % of the male population).
[7] GMSA, Triggering mobile internet use in Côte d'Ivoire and Tanzania