This blog post is the third of a five-part blog series unpacking the findings from our latest report, 'The digital lives of refugees: How displaced populations use mobile phones and what gets in the way.'
The ability to prove your identity is an essential part of accessing services, both mobile and humanitarian. Where refugees are often displaced without identity documents, they may well need support in accessing services but also stand to gain significantly from well-designed identity related products. This blog summarises some key findings in relation to digital ID from our recent research with refugees in three unique contexts: Bidi Bidi settlement (Uganda), Kiziba camp (Rwanda) and urban settings in Jordan.
Access to ID hampers refugee's ability to register for mobile services
Refugees need proof of identity to access mobile services in their own name. Where refugees often do not have access to ID that meets Know Your Customer (KYC) requirements it can mean that they are excluded from connectivity or seek informal workarounds, such as registering SIMs in the name of others. In all of the research contexts, one third of refugees with a SIM reported that it was not registered in their own name. In the two East African contexts host communities were notably more likely than refugees to have their SIM registered in their own name (78 per cent in Bidi Bidi and 88 per cent in Kiziba).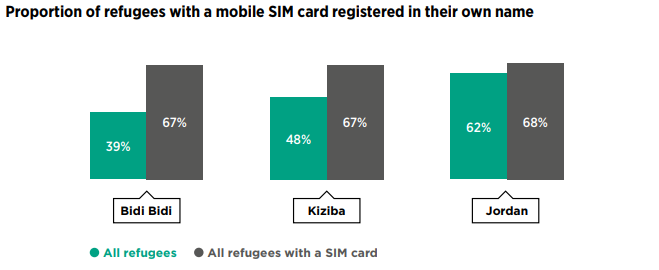 There is often confusion around what ID documentation is required for refugees to legally register SIM cards and meet know your customer (KYC) requirements, set by the national financial regulator, to open a mobile money account. This can mean that even in situations where refugees have the right ID under the law, agents refuse to register them for mobile services in order to ensure they do not fall foul of regulation.
It is therefore essential that regulators are clear on what ID is acceptable for refugees to access mobile services and ensure that a critical mass of refugees have access to an acceptable form of identity. This will improve clarity and ease for refugees, MNOs and humanitarians.
Privacy concerns are common
In the surveys and focus groups, participants spoke about how privacy concerns and access to personal information were often barriers to using a mobile phone or accessing the full suite of features that they can offer. These concerns ranged from a reluctance to share personal information with service providers (MNOs or NGOs) through to fear that using services might place them in harm's way.
"For us using Facebook or WhatsApp, I am worried we will be hacked or tracked, and someone reading the information we are sharing." (Male, Refugee, Kiziba)
In the focus group discussions, safety concerns came through more strongly from community leaders who may have been more politically active in their home countries and have fears of retribution were they to inadvertently reveal their current location through metadata.
MNOs and humanitarians should also work to align their efforts around training users with the skills to stay safe online; this is likely to help alleviate issues where trust is low.
This also demonstrates how important it is that stakeholders make sure that they are aware of the metadata that their products and services generate and ensure they do not inadvertently cause harm to their users (see ICRC paper)
Linking mobile with identity
Whilst not 'Digital ID' in its strictest sense, an interesting link between mobile phones and identity documentation came through in all three research contexts. A sizeable minority in each location reported that they stored digital versions of their proof of ID on their phones, including photos of documents and storing ID numbers on messages.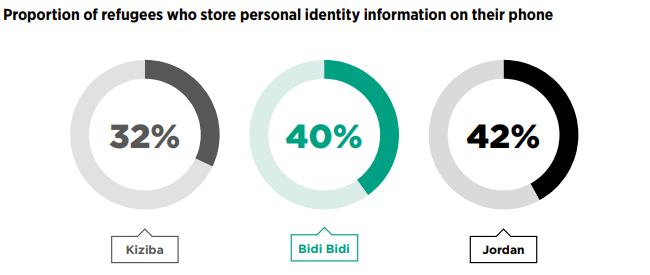 This suggests that there is a demand for mobile driven digital identity services in these locations to facilitate these groups being able to formally use their phones to prove their identity.
Stakeholders should work together to ensure they understand the needs and preferences of the communities they serve in relation to identity. This will allow for the creation of formal products to address these and stop people from using informal workarounds.
Improving lives through digital identity
Despite the challenges and concerns presented here, our research has highlighted a number of ways in which stakeholders can work together to create identity related solutions. The report outlines recommendations for stakeholders to make it easier for users to register for services in their own name as well as outlining how formal digital identity products are likely to support refugees in their day to day lives.
This initiative is currently funded by the UK Department for International Development (DFID), and supported by the GSMA and its members.