Between 21 and 28 February 2019, the GSMA Ecosystem Accelerator programme ran its annual portfolio start-up bootcamp, and participated in MWC and 4YFN in Barcelona, Spain. The week was packed with unique insights and our portfolio start-ups had unparalleled opportunities to engage with like-minded stakeholders. Reflecting on these events, this blog attempts to capture some insights from that week.

Mobile operators and start-ups in emerging markets: Time to collaborate on business terms
The increasing significance for mobile operators to engage with start-ups on business terms was a thread that ran through the week. In different sessions and talks, representatives from the likes of Axiata Group, Digicel, Orange Group, MTN Group, Telecel Group and Veon stated the need to prioritise engagements with local start-ups. On stage at 4YFN, Marième Diop (Principal at Orange Digital Ventures) and Idriss N'daho (Marketing Manager at MTN Côte D'ivoire) called on mobile operators to consider start-ups as equal partners. Marième Diop pointed out that through the investment in Yoco (South Africa) back in July 2018, Orange wants to prove the narrative that it is possible to build and scale start-ups across Africa. In a different panel, Marc Rennard (Chairman & CEO at Orange Digital Ventures) emphasised that striking the right balance between financial returns and strategic benefits is critical for Orange. Orange invited 20 start-ups to MWC, including Africa's Talking, Brastorne and Bizao.
Along the same lines, Telecel Group launched the Africa Startup Initiative Program (ASIP) at MWC. Telecel Group revealed that the $10 million initiative was launched to increase the contribution of mobile operators in supporting local businesses. ASIP's mission is to support mobile and telecom driven African start-ups with funding and bridging their network and knowledge gaps.
Doing good business by doing good: When mobile operators aim to narrow socio-economic inequality gaps in emerging markets
Throughout the week, mobile operators and mobile industry stakeholders articulated their actions to close the digital, financial and gender gaps in their respective markets. Highlighting MTN's responsibility to drive digital and financial inclusion in Africa, Rob Shuter, CEO of MTN Group, stated at the Ministerial Programme that 'to whom much is given, much is required'. He expounded that mobile operators are central to driving inclusion and hence have a critical role to play in reducing barriers to inclusion. MTN's CEO shared five barriers to digital inclusion – coverage, affordability, education, handset costs and service. He then highlighted that older, more widely accessible technologies like USSD should not be forgotten when it comes to narrowing these inequality gaps. (Details on the Ecosystem Accelerator's insights on USSD and SDGs can be found here.)
During our Ecosystem Accelerator's annual bootcamp, Josie Middleton (Knowledge Manager for the Ecosystem Accelerator programme) chaired a panel on 'Equality in Tech'. The panel focused on the challenges and approaches taken by some of the start-ups from our portfolio to reduce inequality through their services and within their teams and increase the participation of women in technology. One of the key takeaways was the need to realise that the issues of inequality go beyond technology. It is deeply ingrained in the fabric of society and to progress, all men and women alike, must be intentional and take responsibility to promote equality and eliminate inequality. Another takeaway was the need to make sure all human talent is maximised and not wasted.
Government plays a weighty role in effecting change in the mobile industry and beyond
Another principal theme was the necessary role of governments in contributing to addressing the multidimensional socio-economic challenges faced globally. Governments' involvement is not only pertinent but essential to effecting change. During one of the sessions, Yasmina McCarty, Head of GSMA Mobile for Development, opened up a keynote session urging Ministerial Programme's invite-only senior government representatives and key mobile Industry players that they have been tasked to shape the digital future in their respective country. She called them to rise to the challenges of today's uncertain world and build a digitally inclusive future for all.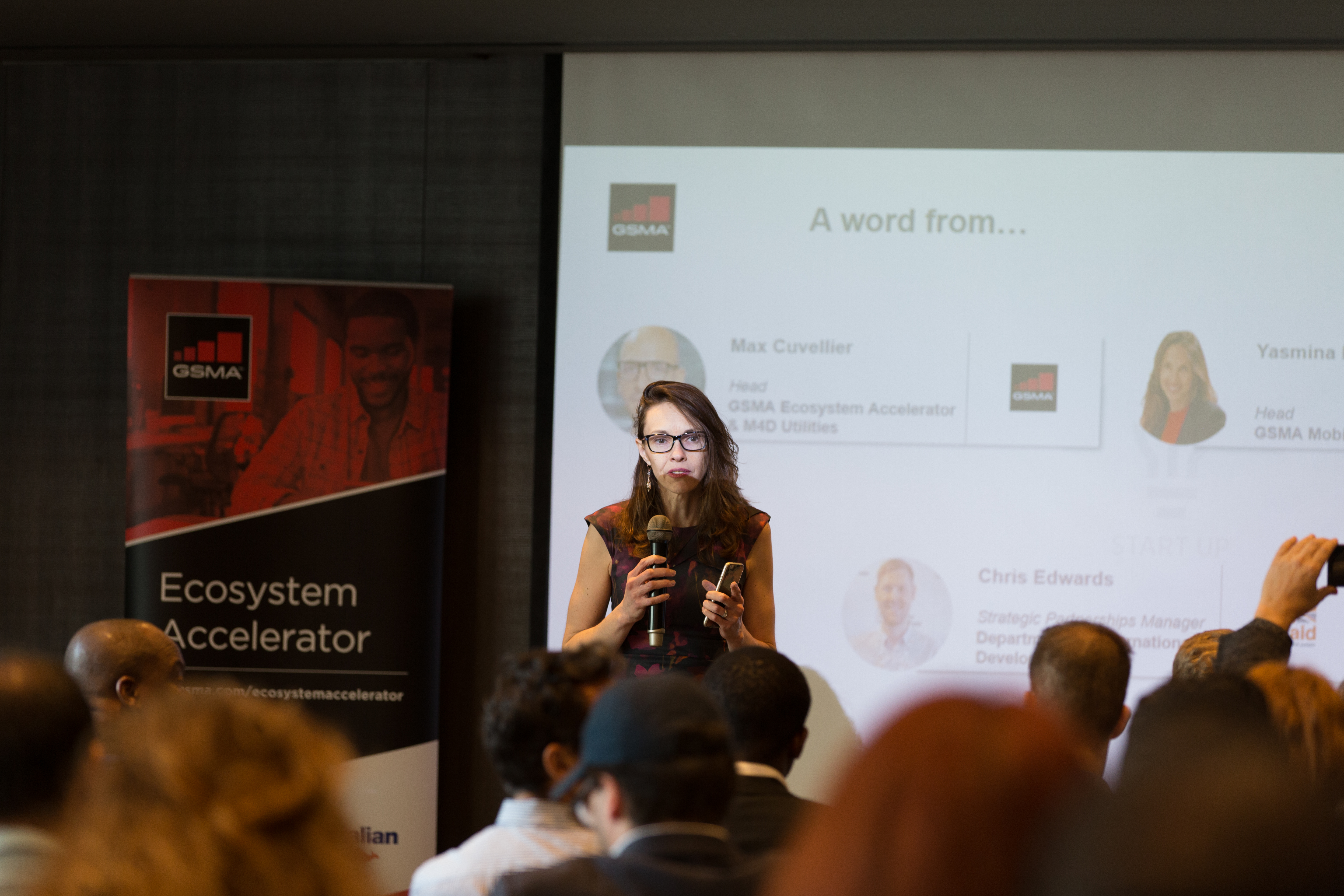 Yasmina McCarty (GSMA) speaking at GSMA Ecosystem Accelerator Annual Bootcamp
Some of the Ecosystem Accelerator start-ups were fortunate to have had some speaking opportunities at the Ministerial Programme. Max Cuvellier (Head of Mobile for Development Utilities and Ecosystem Accelerator) kick-started a session on technology shaping our future, which featured the co-founders of respective start-ups – eFishery (Indonesia) and Jamii Africa (Tanzania). Three Ecosystem Accelerator portfolio start-up team members – Farmcrowdy (Nigeria), Greenovator (Myanmar) and Twiga Foods (Kenya) discussed the digitisation of agriculture value chains. In parallel, Sudpay (Senegal) CEO Samba Sow spoke on a session on the transformation of public services.
Annual bootcamp, 4YFN, MWC: Maximising the week for the start-ups of our portfolio
After previous editions hosted in Dar Es Salaam and Singapore, this year the Ecosystem Accelerator team selected Barcelona as a city of choice for our annual bootcamp. The idea was that Barcelona would serve as a nexus, especially during the mobile industry's biggest event, for mobile operators, donors, investors, government officials, tech hubs and other key stakeholders to learn more about our work and engage with our portfolio start-ups present during the week. This move provided an unparalleled opportunity for the start-ups' teams to meet and pitch to individuals that would help accelerate the socio-economic impact of their businesses.
Our bootcamp gathered over 40 international donors, investors, mobile operators and tech hubs representatives, a figure that exceeded our 26 portfolio start-ups present. The ratio made the 1:1 networking and matching session between our start-ups and other stakeholders even more fruitful.
Overall, the 26 portfolio start-ups present from 20 Asia Pacific and Africa countries had 31 speaking slots across the whole week. We captured the details of all the speaking opportunities in our pre-MWC Barcelona and 4YFN 2019 blog.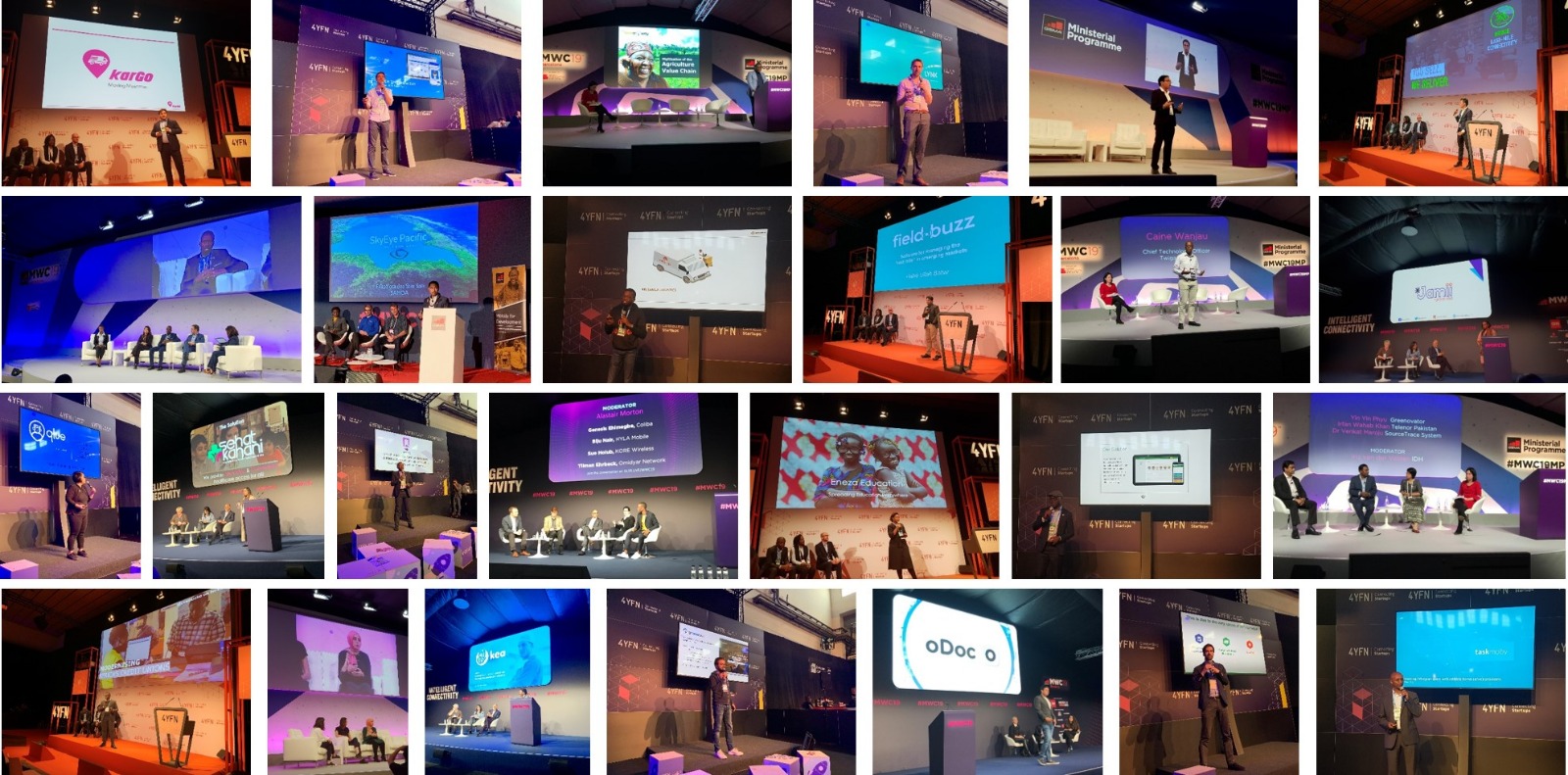 The 26 portfolio start-ups present from 20 Asia Pacific and Africa countries had 31 speaking slots across the whole week.
In addition, some of the start-ups had the opportunity to meet with ministers and government representatives. Sehat Kahani met Dr. Khalid Maqbool Siddiqui (Federal Minister for IT & Telecom of Pakistan) and Coliba and Eneza Education met with Claude Isaac Dé (Minister of Digital Economy and Post of Côte d'Ivoire).
Genesis Ehimegbe (Co-Founder of Coliba) and Carole Attoungbre (Country Director of Eneza Education Côte d'Ivoire) meeting with Claude Isaac Dé (Minister of Digital Economy and Post of Côte d'Ivoire)
Finally, and to bring this blog to a close, we would like to congratulate our portfolio start-up for all the hard work and achievements through the week. One of those achievements was oDoc (Sri Lanka) winning the Demos: Battle of the Health Apps competition!
The Ecosystem Accelerator programme is supported by the UK Department for International Development (DFID), the Australian Government, the GSMA and its members.