The problem
Smallholder farmers manage multiple farm enterprises simultaneously under highly variable climatic and uncertain socio-economic conditions. They confront several risks in a given season require integrated information and advisory on several fronts to manage risk effectively and maximize farm income. In order to apply provided advisory, the farmer also needs additional information on availability and price of recommended farm inputs as well as mechanization service to catch the short planting window, expected market price for the outputs, and access to credit services. A one-stop digital platform providing these services in an integrated manner without requiring the physical presence of the farmer, however, is lacking.
The company
GAS through its own platform "Lersha" provides a one-stop digital service to smallholder farmers and enables them to access farm inputs, hire mechanization services and request dynamic agro-climate advisory using technology. GAS is scaling-up the usage of the platform by promoting agriculture finance and insurance involving the direct linkage, expanding investments in financial education and awareness, and improving tLersha platform, providing customized e-extension and agro-climate advisory services.
Project description
GAS targets smallholder (subsistence) farmers. A smallholder farmer is a person who works on a small piece of land growing crops and farming livestock. Smallholder farmers in Ethiopia are vital members of the agri-business since they comprise 95% of its production and greatly contribute to poverty reduction. Smallholder farmers in Ethiopia are more vulnerable to climatic change mainly due to their high dependence on rain-fed agriculture, low adaptive capacity and a higher dependency on natural resources base for livelihood. Poverty and vulnerability to climate change are highly interlinked, as a result most of the smallholder farmers who are currently poor, will remain poor. This implies that simply being poor does not make smallholder farmers vulnerable to climatic change, rather it is usually a combination of many factors. These factors are access to institutional services and resources that contribute to their vulnerability. This intervention aims to offer smallholder farmers access to climate resilience, credit and awareness creation. This will enable smallholder farmers to build resilience and adaptation against unpredictable climate change.
Founder and Managing Director
Abrhame Endrias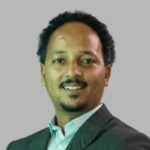 Quote from founder
"Make agriculture easy for everyone."
Organisation size
51 staff members.