Since the onset of the COVID-19 pandemic, digital agriculture solutions have allowed smallholder farmers to continue receiving agriculture and health advisory, identify new markets for their crops, source inputs for their farms and access much-needed financing.
In our 2021 report, "COVID-19: Accelerating the use of digital agriculture", we explored the adoption of digital agriculture solutions by farmers, agribusinesses and governments during the pandemic. Earlier this year, we conducted new research specifically on digital advisory – the solution that had gained the most traction among farmers.
This blog is aimed at agritech companies, agribusinesses and mobile network operators (MNOs) investing in and deploying digital advisory solutions to support smallholder farmers in low- and middle-income countries (LMICs). We highlight recent trends in adoption, the solutions demanded by farmers, governments and NGOs and how the use of digital advisory solutions is changing as the pandemic subsides.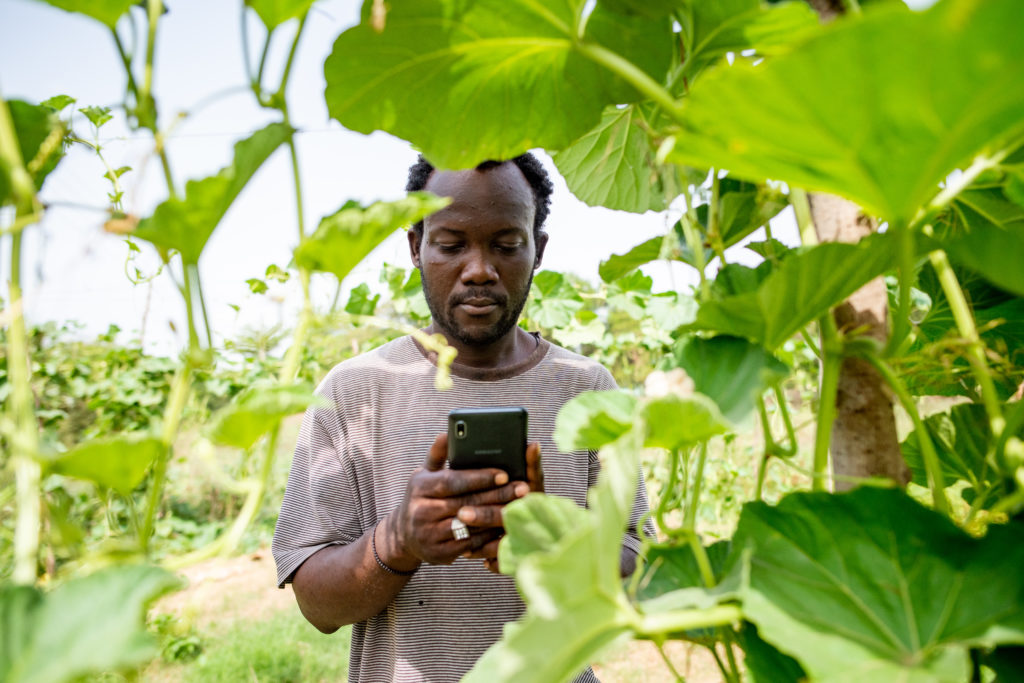 COVID-19 accelerated the adoption of digital advisory
Early in the pandemic, government restrictions on movement and large gatherings necessitated a shift from in-person agricultural extension to digital support. They also spurred the distribution of COVID-19-related health advisories to smallholder farmers via digital channels, such as precautions to prevent the spread of COVID-19, restrictions on movement and vaccination information.
As national lockdowns, restrictions on movement and social distancing measures eased and COVID-19 cases fell globally, digital solutions had become a bigger part of everyday life. Digital advisory was reaching more and more farmers and accelerating the digital transformation of the agriculture sector in LMICs. The ways in which they interacted with others in the sector began to change, from the consumers and agribusinesses that buy their produce to the input suppliers that provide seeds, fertilisers and farming tools and the agriculture extension officers who share agronomic advisory and best practices.
Access to information is more crucial than ever
Digital advisory solutions are key to providing smallholder farmers with the information they need. This access to information is more crucial than ever, not only because of the COVID-19 pandemic but also the increasing frequency of extreme weather events and global events such as the war in Ukraine. Recently, erratic rainfall and floods in Pakistan, Nigeria and India, severe drought and impending famine in the East and Horn of Africa and extreme heatwaves in much of China, South Asia, Europe and the Middle East and North Africa, have revealed the magnitude of the looming climate crisis. These events threaten food and nutrition security and impact the livelihoods of millions of smallholder farmers and their families, making it urgent to support adaptation to climate change with tailored advisory content.
Latest trends in digital advisory adoption
As the agriculture sectors of LMICs digitise, digital advisory is becoming a more common and accepted tool for disseminating farming information and other messages to farmers. This transition will likely intensify as adoption increases and digital advisory leverages new technologies, such as sensors, mobile soil testing kits, drones and artificial intelligence (AI), to provide localised and tailored information.
Three main trends emerged from our research:
Trend 1: Increased exposure to digital advisory is boosting farmer demand and acceptance
In the first year of the pandemic, digital advisory solutions were used more intensively to disseminate information on COVID-19 and other topics. This exposed more farmers to digital solutions and gave digital advisory providers the opportunity to convince farmers of the value of receiving information digitally. Since then, many providers have reported that farmers are more likely to keep using digital advisory solutions once they have experienced them.
Not all farmers had a positive perception of digital advisory initially. According to global agribusiness OLAM, low levels of digital literacy meant that many farmers did not understand or believe in technology, were reluctant to try it and expressed a strong preference for in-person support. However, faced with ongoing lockdowns and limited to no options for in-person extension support, digital advisory was the only way many farmers could access information on agronomic best practices.
Two years on, there is more positive feedback from farmers and demand for digital advisory is growing. GARBAL is a digital advisory service for pastoralists and smallholder farmers launched by SNV (The Netherlands Development Organisation) in partnership with MNO ORANGE in Mali in 2017 and Burkina Faso in 2019. Delivered through USSD and a call centre, this digital-only service has seen adoption rise beyond the first year of the pandemic, with the number of calls received by the call centre in year two increasing by 32 per cent over the previous year. COVID-related enquiries fell by 60 per cent in the same period, indicating that pastoralists and smallholder farmers saw the value of the service beyond a source of COVID-19-related information.
Trend 2: In-person advisory remains important
The companies we interviewed for this blog indicated that digital advisory solutions are most effective when offered in combination with in-person extension services. The pandemic provided proof of this.
Acceso, a market linkages and value-addition organisation with social agribusiness operations in Latin America and the Caribbean, acquired digital advisory service Extensio in October 2020. Stricter response measures by governments in Latin America at the onset of the pandemic meant that farmers were more negatively impacted than their counterparts in Africa and Asia. According to Acceso, farmer onboarding was significantly affected in the last two years by agribusiness field agents being unable to visit farmers in person. While digital advisory was key to supporting farmers, they found the impact was greater when it was combined with in-person interaction.
OLAM findings support this trend, and some crop buyers point to this hybrid model as key to increasing adoption and use of digital advisory solutions.
Trend 3: Agribusinesses with a digital strategy were more resilient during the pandemic
Agribusinesses that were already transitioning to digital before the pandemic were more resilient to lockdowns and restrictions than those that were not. Those already using digital channels to push information to farmers were able to expand their messaging to include much-needed COVID-19-related health advisory and agronomic advice that would have otherwise been delivered in person.
Agribusinesses that had a line of communication with farmers throughout the pandemic were also in a better position to protect their supply and maintain high production standards. While COVID-19-related messaging has been significantly scaled back or stopped altogether, agronomic advice is still in high demand.
According to Acceso and ECOM – a global commodity trading and processing agribusiness – the industry is at a tipping point. Many agribusinesses that did not have a digital strategy are now exploring opportunities to deploy digital advisory solutions. Any interest that companies in LMICs had in digital agriculture before the pandemic has been boosted significantly as they recognise the value and inevitability of digital transformation in the agriculture sector.
NKG Bloom Uganda, an initiative of Neumann Kaffee Gruppe (NKG), corroborates this trend. The crop buyer operates an innovative digital financial service bundled with in-person agricultural training and other digital services for coffee farmers. In 2020, they introduced digital advisory to their portfolio of digital agriculture solutions in direct response to the disruptions caused by the pandemic. After introducing policies to stem the spread of COVID-19, the company's field agents were unable to reach many of the farmers they work with to distribute inputs and provide in-person agricultural training. Using their experience digitising interactions with farmers, NKG Bloom built an in-house digital advisory solution that facilitates incoming calls from farmers and sends voice and SMS alerts in the local language. This has allowed NKG Bloom to reach all farmers regardless of literacy level.
Trend 4: Multistakeholder partnerships are addressing farmers' information needs beyond the pandemic
The need to provide relevant and timely COVID-19 information to farmers during the pandemic spawned collaborations between digital advisory providers, governments and development agencies. These relationships are now forming the basis of new and ongoing partnerships to provide long-term support to farmers.
For example, OLAM collaborated with several governments during the pandemic to push COVID-19 health content to farmers using their digital advisory solution Olam Farmer Information System (OFIS). Health content became more visible to app users with dedicated screens, as well as SMS and IVR recordings for farmers with basic and feature phones. However, the volume of COVID-related content being pushed to farmers has declined as their information needs have changed. The relationship digital advisory providers developed with governments at the height of the pandemic is therefore evolving to provide farmers with support that goes beyond dealing with the immediate impacts of COVID-19.
Meanwhile, existing partnerships between digital advisory providers, governments and development agencies have deepened to support farmers in other ways. The organisations behind the GARBAL service in Burkina Faso and Mali were already collaborating closely with the respective governments to design and define content, but in the early stages of the pandemic, they worked together to push health-related advice to farmers. This established GARBAL as a channel for communicating messages of public interest to the pastoralists subscribed to the service. For example, after the recent decision in Benin to end cross-border movement of livestock, GARBAL was used to keep pastoralists informed of movement restrictions and conditions.
In India, IFFCO Kisan, a digital advisory solution offered by the Indian Farmers Fertiliser Cooperative (IFFCO) and MNO Bharti Airtel, had a well-established relationship with the Indian Government when COVID-19 hit. Beyond providing health advisory to farmers, IFFCO Kisan and the government have aligned their digitisation strategies to build farmers' resilience to climate change and support the adoption of climate-smart agriculture (CSA) practices. Their new solution provides dynamic and granular advisory at the farm and crop level using a combination of remote-sensing, IoT and ground-level data that is analysed with AI and crop models.
Key takeaways
The COVID-19 pandemic boosted acceptance of digital advisory solutions. The sudden onset and disruptive nature of the pandemic necessitated the introduction of digital advisory to large numbers of farmers who would not otherwise have been exposed to it. This gave agribusinesses, cooperatives and agritech companies an opportunity to address farmers' information needs using new content delivery channels. As a result of using digital advisory solutions at the height of the pandemic, farmers are now more likely to accept these solutions and continue using them.
However, face-to-face communication is still an important component of agricultural advisory, and agribusinesses should consider a hybrid system of digital advice and in-person extension support. This will be especially important as farmers transition from in-person-only support to heavier use of digital advisory.
Multistakeholder partnerships are key to scaling up digital advisory and providing more localised content. Building strong partnerships between the private sector, governments, development agencies and academic or research institutions allows digital advisory solutions to be scaled up and offer tailored and localised content.
These solutions offer more value to farmers since they help to strengthen their resilience and adaptation to climate change and other shocks and empower their decision-making. Meanwhile, the unique expertise and experience of the partners will help to drive the digital transformation of the agriculture sector across LMICs.
THIS INITIATIVE IS CURRENTLY FUNDED BY THE UK FOREIGN, COMMONWEALTH & DEVELOPMENT OFFICE (FCDO), AND SUPPORTED BY THE GSMA AND ITS MEMBERS.