Mobile in emerging markets is becoming ubiquitous. The number of unique mobile subscribers in emerging markets has jumped from 177 million in 2000 to 3.7 billion in 2016. By 2020, 80% of global unique mobile subscribers will be in emerging markets. While this exponential growth has turned local mobile operators into strong economic and social forces, the new digital era in which they now operate has affected their margins.
Accordingly, most mobile operators acknowledge the need to transform, with only 25% reporting they are satisfied or highly satisfied with their innovation efforts (versus 39% in developed markets), as per Match-Maker Ventures and Arthur D. Little research. In the race to stay relevant and foster growth, operators are becoming more receptive to partnerships, particularly with innovative local start‑ups.
Emerging market mobile operators and local start-ups can complement each other. As highlighted in a previous GSMA Ecosystem Accelerator report, mobile operators have reached the scale that start-ups lack, while start-ups are developing the local innovation mobile operators need. Collaboration between start-ups and mobile operators are on the rise in various markets. Some of the most mature collaborations include Indosat Ooredoo and Wobe in Indonesia, MTN and Jumia across Sub-Saharan Africa, Safaricom and Eneza Education in Kenya, and Telenor and WowBox in Bangladesh. Each of these partnerships was forged by mobile operators and start-ups willing to leverage their respective strengths and find common ground.
Our latest guide is aimed at start-ups interested in collaborating with mobile operators in emerging markets. The GSMA Ecosystem Accelerator programme and Match-Maker Ventures teamed up to produce this guide, which walks you through the process of securing a partnership with a mobile operator in your market and answers the questions that will arise along the way.
Engaging with a mobile operator and building a partnership is a journey. We have identified and detailed the four main stages of this journey, from an initial understanding of the mobile industry all the way to the steering of the collaboration to make it sustainable. The guide details each of these four stages, illustrated by actual case studies of start-ups and mobile operators that have implemented these steps.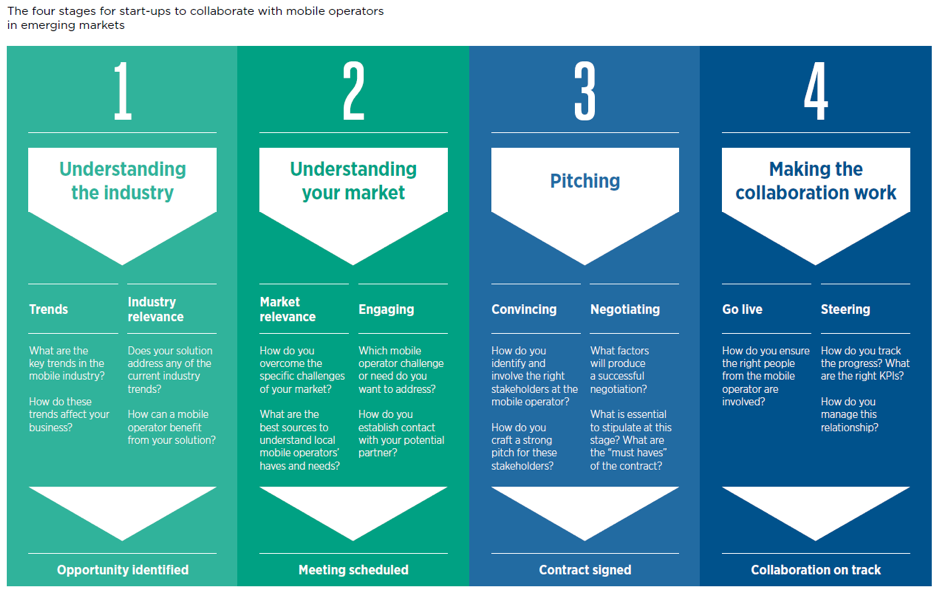 While preparing this guide we interviewed representatives of four mobile operators operating across emerging markets (Etisalat Nigeria, Orange Middle East Africa, MTN, Dialog Axiata, and Veon). This video captures their answers to two key questions:
What do you give the most importance to when assessing start-ups?
What advice would you give to start-ups looking to work with you?
The GSMA Ecosystem Accelerator Programme is currently funded by the UK Department for International Development (DFID), and supported by the GSMA and its members.