Haga clic aquí para el blog en español
Deployment and market growth
Between 2016 and 2017, mobile money in the Latin American and Caribbean (LAC) region continued to grow steadily in terms of registered and active customers, transaction volumes and transaction values. Additionally, the region's level of (90-day) activity remains considerably higher than the global average of 36 per cent.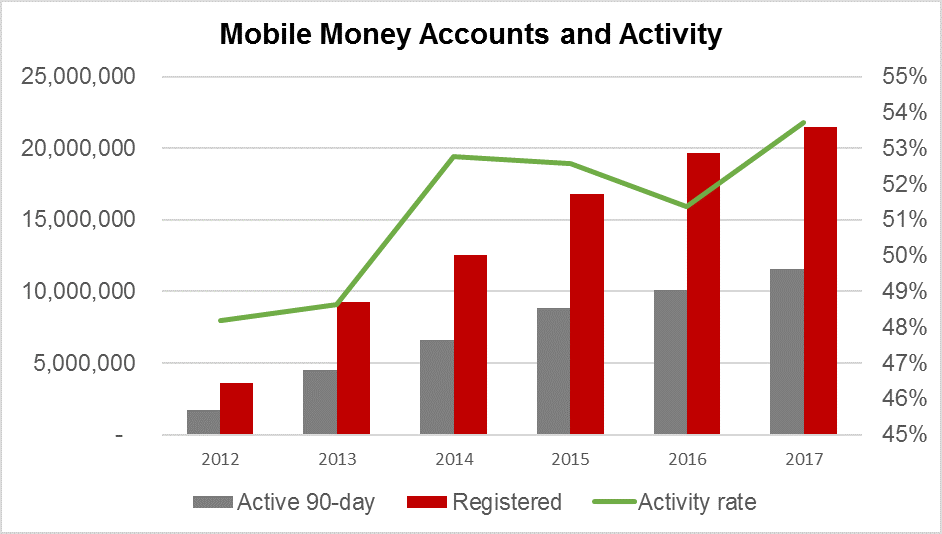 Global Findex recently released figures from its latest survey that corroborate the increasing relevance of mobile money in the region. Between 2014 and 2017, mobile money providers created approximately 20 million new accounts, twice the number of accounts created by the traditional banking industry in the same period.

While overall accounts in the region are on the rise, the number of absolute markets with deployments has seen a slight decrease. As the above chart shows, Central America and South America host a number of countries with high mobile money adoption rates, along with Haiti in the Caribbean. As highlighted in an earlier study, these markets share some common macroeconomic characteristics, but it is becoming increasingly evident that mobile money services have reached a network effect that helps the continued sustainability of the overall business.
A healthy ecosystem
The LAC region also sets itself apart in another aspect, namely, its strength in 'ecosystem transactions'. These are defined as four types of transactions: bill payments, bulk disbursements, international remittances and merchant payments, all of which involve funds entering, circulating or leaving the mobile money ecosystem in digital form. The main drivers behind this digitisation trend are bulk disbursements, bill payments and bank-to-mobile transactions.
Mobile money ecosystem transactions
In 2017, ecosystem transactions accounted for 72 per cent of all mobile money transactions in Latin America and the Caribbean in terms of value. This is a significantly higher than the global average, where ecosystem transactions only make up 30 per cent of the transaction values. In Latin America, this makes for greater diversity in overall transactions, including person-to-person payments, as no one use case dominates the total value of transactions.
In the region, ecosystem transactions are led by bulk disbursements, which on their own account for 33.4 per cent of all transaction value. Mobile bulk payments are becoming increasingly important for governments in the region, as a way to disburse welfare and social benefits directly to individuals. These government-to-person (G2P) payments are not only seen in lower-income countries, but can also be found in some of the region's economic powerhouses. A recent example is PIM Argentina, which now allows for mobile money account holders to receive three different types of social benefits (gas, education and child allowances) via their mobile phone. Other sources of bulk disbursements are salary payments, particularly relevant for human capital intensive organisations. Those companies can effectively substitute expensive and sometimes unsafe cash logistics for electronic deposit. Depending on the success of these payment schemes over the coming years, governments and organisations in the region could become increasingly important actors within the LAC region's diverse mobile money ecosystem. This would benefit the mobile money ecosystem by providing a fixed source of revenue which allows for continued investment from providers and create a necessary network effect which see mobile money grow from strength to strength in the LAC region.
Un enfoque de la evolución del dinero móvil en Latinoamérica y el Caribe
Utilización y crecimiento de mercado
Entre 2016 y 2017, el dinero móvil en la región de Latinoamérica y el Caribe ha seguido con su crecimiento constante en términos de clientes registrados y activos, en volumen de transacciones y valor de transacciones. Asimismo, el nivel de actividad (en 90 días) permanece considerablemente más grande en relación al promedio global de 36 porciento.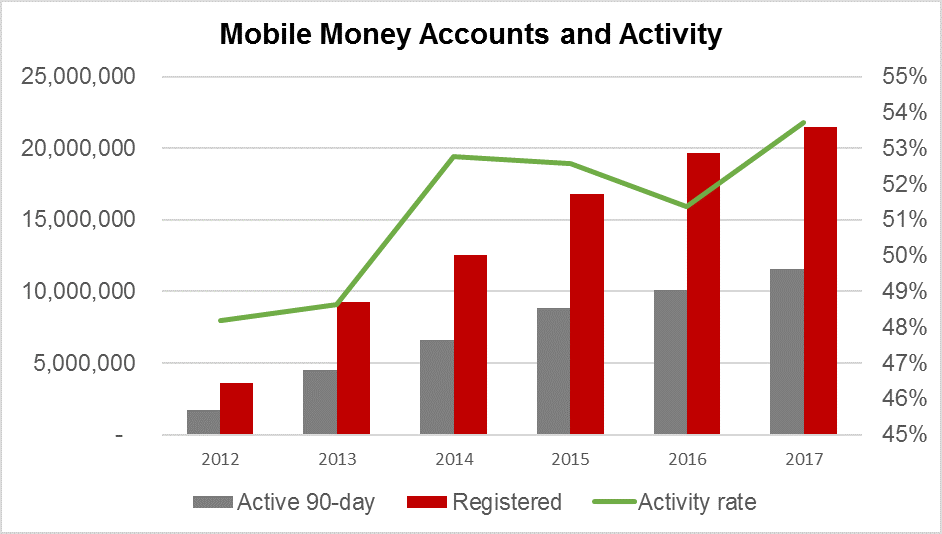 El Global Findex recién publicó los números en su última encuesta que corroboran la creciente relevancia del dinero móvil en la región. Entre 2014 y 2017, los proveedores de dinero móvil han creado aproximadamente 20 millones de nuevas cuentas, el doble de cuentas creadas por la industria bancaria tradicional en el mismo período.

Mientras las cuentas totales en la región siguen creciendo, se ha visto una ligera disminución en el número absoluto de mercados con despliegues. Como demuestra la gráfica arriba, Centro y Suramérica alojan un número de países con altas tasas de adopción de dinero móvil, bien como el Haití en el Caribe. Según resaltado en un estudio anterior, estos mercados comparten algunas características macroeconómicas comunes, pero está tornándose más evidente que los servicios de dinero móvil han llegado a un efecto de red (network effect) que apoya a la continuidad sostenible del negocio como un todo.
Un ecosistema saludable
La región de LAC se destaca por otro aspecto, por saber, su fortaleza en las 'transacciones del ecosistema'. Estas se definen en cuatro tipos de transacciones: pago de cuentas, desembolsos masivos, remesas internacionales y pagos a comerciantes, y en todos ellos hay fondos entrando, circulando o saliendo del ecosistema de dinero móvil en forma digital. Los principales motores de esta tendencia de digitalización son los desembolsos masivos, pagos de cuenta y transferencias de banco a monedero móvil.
En 2017, transacciones de ecosistema han representado 72 por ciento de todas las transacciones en términos de valor en Latinoamérica y el Caribe. Esto es significativamente más alto que el promedio global, en que transacciones de ecosistema solamente contribuyen con 30 por ciento de los valores de transacción. En Latinoamérica, esto permite mayor diversidad en las transacciones en general, incluyéndose pagos persona a persona, una vez que ningún caso de uso domina el valor total de las transacciones.
En la región, transacciones de ecosistema están lideradas por los pagos masivos, que por su parte suman 33,4% de la totalidad de los valores de las transacciones. Desembolsos masivos a través del celular están cada vez más tornándose importantes para la región como medio de dispersión asistencia y beneficios sociales directamente a individuales. Estos pagos gobierno a persona (G2P) no están presentes solamente en países de bajos ingresos, sino que incluso se encuentran en las mayores potencias de la región. Un ejemplo reciente es PIM Argentina, que ahora permite a sus usuarios de cuentas de dinero móvil recibir tres tipos de beneficios sociales (para el gas, asignaciones para estudio y niños) a través de sus celulares. Otra fuente de pagos masivos son los pagos de salarios, particularmente interesante para organizaciones intensivas en capital humano. Estas compañías pueden efectivamente sustituir caras y por veces inseguras logísticas de manejo de efectivo por depósito electrónico. Dependiendo del éxito de estos esquemas de pago en los próximos años, gobiernos y organizaciones en la región pueden cada vez más tornarse importantes actores en el amplio ecosistema de dinero móvil de la región de LAC. Esto proporcionaría una fuente fija de ingresos que permite inversiones continuas de los proveedores y crearían un necesario efecto de red que incurrirá en crecimiento de viento en popa de dinero digital en la región de LAC.