Today we're releasing a new case study highlighting the success of the mobile money school registration fee payment initiative in Côte d'Ivoire. This initiative is an exciting example of operator and government collaboration in a maturing mobile money market, resulting in the successful digitisation of a whole category of person-to-government (P2G) payments. In 2014, 99% of Cote d'Ivoire's secondary school students (nearly 1.5 million) paid their annual registration fees to the National Ministry of Education digitally, and 94% of them did it via mobile money.
As mobile money scales in numerous developing countries, P2G payments are fast becoming relevant transactional instruments, and are increasingly being leveraged by governments to digitise formal payment chains, resulting in reduced leakage of funds collected caused by theft, bribery and security issues.
Prior to this initiative, both schools and regional government departments in Côte d'Ivoire reported that a significant proportion of student registration fee payments were lost, and that armed robberies at cash payment locations were commonplace. Mobile money has helped to reduce both the costs of handing cash and the associated security risks, resulting in a larger national education budget and more money for schools to operate effectively.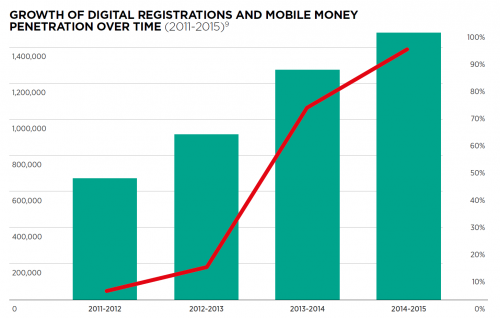 Highlights from the case study
This case study documents the development of this fruitful public-private partnership that began in 2011, and goes on to discuss the three factors that continue to be critical for success:
Commitment by the Ministry of Education (MENET) to invest in digital platforms and technical capabilities;
Collaboration between the four mobile money providers (CelPaid, Moov, MTN, Orange) to offer a universally-accessible payments solution with a streamlined user experience;
The successful implementation of an attractive and sustainable business model for all parties.
This case study demonstrates that by successfully driving cost efficiencies, operational efficiency and transparency, this initiative has been beneficial for all stakeholders – students and their parents, secondary schools, and national and regional government. Indeed, the initiative has also generated important transaction volumes for mobile money providers, for whom expanding the mobile financial ecosystem is a key priority to bring even greater customer relevance and ensure sustainable profitability.
Benefits at a glance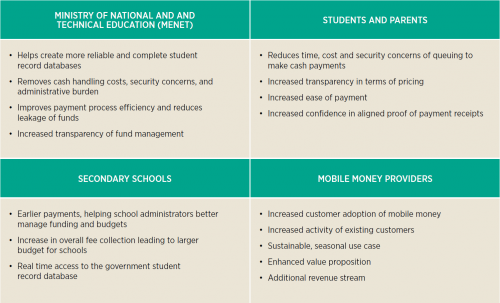 Download the publication in: English | French
If you know of other interesting established or budding examples of government payment digitisation via mobile money, then please get in touch by commenting below or sending an email to mobilemoney@gsma.com