Merchant payments is one of the more complex use cases of mobile money. Providers need to cater to the differing needs of both customers and merchants. Arguably, digitising payments alone is unlikely to be incentivising enough for merchants. Instead, success relies on offering a suite of services that both address MSME's pain points and bring benefits that cash cannot.
One of the key learning objectives of the Mobile Money Programme's Live Learning trip to Indonesia, was to understand the extent to which Indonesian unicorns and tech giants are succeeding in appealing to MSMEs and digitising merchant payments. Accounting for 99% of all businesses and contributing 60% of the GDP, MSMEs have become the next battleground for Indonesia's major players.
Indonesian players are tackling remarkably similar challenges faced by mobile money providers in acquiring and digitising last-mile MSMEs. Most small shops and street vendors that we interacted with in Jakarta did not yet accept digital payments and outside of Jakarta and urban areas, digital payments fall off even more sharply. They also face challenges around access to financing and restocking goods caused by complex ordering systems and unreliable delivery services. In this blog, the second in our series on Indonesia, we take a closer look at how unicorns and super-platforms are creating value for MSMEs.
Leveraging KYC-light requirements to offer simplified and remote on-boarding
By simplifying the process of opening an account, Indonesian platforms and financial service providers (FSPs) make it easy for MSMEs to get started. It takes less than two minutes to become a Tokopedia online merchant; an email address is all that is required to access the basic features which allow you to establish your store, select your most convenient courier service and upload a logo. To benefit from premium features that allow merchants to promote their products, they just submit a selfie and a copy of their ID.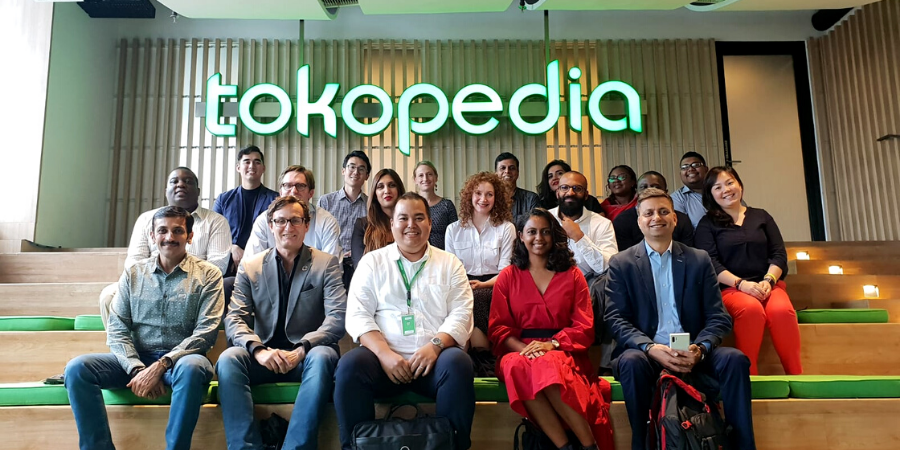 Digital wallets such as Dana and Ovo offer a similarly easy way of on-boarding. MSMEs and street kiosks can register for an account by, again, submitting a selfie and a copy of their ID, plus a photo of their store or kiosk. Once this is done, they are ready to offer digital payments as soon as they receive their static QR code, which normally takes about two days to arrive.
This KYC-light approach combined with remote on-boarding has resulted in impressive mass market acquisition. However, this rapid growth can present challenges in providing the level of support required. For example, some merchants we spoke with had never been able to use their QR codes and were waiting to receive support from the acquiring company. We expect that the recently implemented interoperable QR policy could further reduce the incentives for players to compete on acquiring, on-boarding and providing support to MSMEs.
Taking a holistic approach to digitisation
Indonesian platforms and FSPs are taking a holistic approach to catering to MSMEs' needs and digitisation. From supply chains and working capital, to inventory management, all aspects of business come under the microscope in search of efficiencies and opportunities for digital transformation. In Yogyakarta (Central Java), we saw how most players are scaling back efforts to facilitate digital purchases in favour of offering products and services that help MSMEs better manage their businesses and increase profits.
Bukalapak for instance, launched Mitra Bukalapak, which focuses on mon-and-pop storeowners and small roadside kiosks (known as 'warungs'). By stripping layers away from the distribution chain, Bukalapak have managed to introduce efficiencies in supply of goods with the aim of reducing costs. Warungs with Mitra Bukalapak programme can purchase products, mostly FMCG, directly from Bukalapak through the app. Through partnerships, Bukalapak has been able to offer a suite of more sophisticated financial products to MSMEs such as loans (BukaModal and ModalMitra), gold (BukaEmas) and mutual fund (BukaReksa) investment.
Warung Pintar ('smart kiosk', literally translated) takes a similarly holistic approach, loaning kiosk owners a new, tech-enabled physical space, equipped with WiFi and TV, that they pay off over a four-to-five year period. They provide kiosk owners their products at a competitive price, and fast, owing to the central warehouses they established that supply more than 80 per cent of the products on the kiosk shelves.
A community-based approach seems to be the most common strategy
Although mobile subscriber penetration in Indonesia is relatively high at 65%, digital literacy still presents a key challenge in growing the uptake of offered services. Indonesian unicorns and tech giants have overcome this barrier by offering solutions that balance 'tech and touch', offering in-person support through identifying ambassadors for their products or establishing communities for providing MSMEs with assistance and support.
Kudo, an agent-led online to offline platform recently acquired by Grab, identifies ambassadors with strong digital skills to provide in-person training for MSMEs. Younger generation Indonesians are increasingly tech-savvy and some companies are using this to their advantage. Aruna, a fishery e-commerce platform, works with the teenage children of fishermen who become champions of their product and help their parents to navigate the platform.
Another approach taken to tackle the issues of digital literacy is creating forums for MSMEs. Both Bukalapak and Warung Pintar established 'Komunitas' where warungs from the local community come together for training, trouble-shooting and business advice.
Overall, we saw remarkable efforts from Indonesian players in extending their reach to MSMEs. Though today these efforts are more concentrated on supply chain and enhancing MSMEs' productivity, we remain hopeful for a shift from cash to digital on the payments side. In addition, we remain keen to monitor the impact of the shift from heavy promotions and cashbacks to a more sustainable model on MSMEs' appetite to use digital platforms and channels. It will be fascinating to see how the competitive landscape will evolve.
Receive the latest insights on mobile money straight to your inbox by subscribing below.