GSMA announces competition for mid-tier mobile broadband enabled notebook PCs
The global trade association for the mobile industry, the GSM Association (GSMA), and Microsoft Corp. today published the results of the first-ever consumer study into mobile broadband computing that shows that there is a tremendous addressable – but currently untapped – market. The study highlights a 70 million unit opportunity, worth some $50 billion in 2008, for notebook PCs in the high growth, mass market $500 -$1000 (USD) price range with built-in mobile broadband.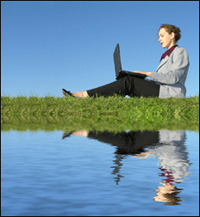 The research reveals a gap of potentially 46.5 million units between recent industry analyst forecasts and the new analysis, suggesting that PC manufacturers have yet to deliver the right mobile broadband PCs – bundled with pre-configured mobile connectivity – to appeal to mass market PC buyers. The extensive market research study, undertaken by Pyramid Research, involved more than 12,000 consumer interviews across 13 countries, with input from notebook manufacturers, component companies and chip set suppliers as well as more than 200 field trials.
"With the right form factor, price and 'out-of-the-box' connectivity, the research has unearthed substantial demand for mobile broadband embedded notebooks that is not yet being met," said Rob Conway, CEO of the GSMA. "Now that we understand the market potential and consumers' requirements, we are pleased to communicate the findings to the broader industry eco-system."
"Microsoft is pleased to be working with the GSMA to accelerate the adoption of PCs with built-in mobile broadband", said Will Poole, corporate vice president of the Unlimited Potential Group at Microsoft. "By quantifying and characterizing PC market demand, it is our hope that mobile operators and OEMs will collaborate to introduce compelling and affordable notebooks with innovative new services. We believe that people everywhere, in both developed and emerging segments, could benefit from access to the Internet through mobile broadband on a wider range of notebook PCs."
Leading PC manufacturers, including Asus, Dell, Fujitsu Siemens, Lenovo, Twinhead and Vestel have welcomed the research report and expressed interest in working with mobile operators and the GSMA to fulfil this market demand.
As mobile operators examine how best to reach potential subscribers, the GSMA and many of its largest operator members are launching a competition to identify devices and manufacturers able to serve the untapped market. Notebook manufacturers and OEMs (Original Equipment Manufacturers) will be asked to propose new designs that can meet this currently unmet need for mass-market priced mobile broadband notebooks.
The winner of the new PC design will be showcased to decision makers within mobile operators that are interested in serving the unmet needs for broadband services on PCs. The winner will be announced at the wireless industry's largest global gathering – the Mobile World Congress in Barcelona, Spain, in February 2008.
In their responses, manufacturers will be asked to provide a detailed specification, time to market information, recommended retail price-points, support services and information on how they would work with operators to promote activation, configuration and ease of use. The winning PC will be chosen by a panel of product experts from leading operators, all planning to promote mobile broadband in their own markets, who will select the device which most closely meets consumer needs.
"We are announcing this competition as a challenge to the world's manufacturers to help us meet this untapped mobile broadband demand," added Rob Conway. "And we are delighted to see Asus, Dell, Fujitsu Siemens, Lenovo, Twinhead and Vestel gearing up to anticipate the needs of this market."
Twelve mobile operators supported and participated in the GSMA/Microsoft market research programme, including: DTAC, Maxis, MTN, Orange, Smart Communications, Telecom Italia, Telefónica O2, TeliaSonera, Turkcell, Vimplecom, Vodafone and Wind.
Supporting quotes:
"People all over the world want to access the information that they need, when they need it, wherever they are," said Ron Garriques, President Global Consumer Group for Dell. "That is why Dell has taken an industry leading position with more built-in mobile broadband notebooks in our portfolio than any other PC manufacturer. We support the efforts of the GSMA and look forward to lending our expertise in built-in mobile broadband to help drive connectivity for more people around the world."
"Fujitsu Siemens Computers currently has the broadest portfolio of integrated UMTS notebooks in EMEA, and is market leader according to analyst sources," said Andreas Thimmel, Senior Vice President Volume Business Fujitsu Siemens Computers. "We look forward to working with mobile operators and the GSMA to further consolidate that position and bring the experience of mobile broadband to even more businesses and consumers."
"For mobile PC users, we believe that the widespread deployment of wireless high-speed broadband service represents one of the most exciting developments in recent memory," said Philippe Davy, vice president of marketing, Lenovo. "For the first time, notebook PC mobility will intersect with cost-effective wireless service and bandwidth that provides an experience similar to what people get with wired broadband support at home. Lenovo was the first notebook PC company to embrace integrated 3G service, has set the standard for wireless innovation, and we will continue to drive additional value in wireless technology for our customers."
"The potential size of market opportunity here cannot be ignored both now and especially the future" said Sigve Brekke, CEO of Total Access Communication (DTAC). "Customers' strong preference for mobility both on the phone and the PC Notebook gives us the opportunity to meet their needs with attractive bundled offers attracting new users with the strength of DTAC's extensive EDGE network, and by strengthening our channels through closer partnership."
"Uptake of mobile broadband services is beginning to surge in many countries, as consumers and business users see the benefit of having a high-speed connection available to them at all times," saidDr. Nikolai Dobberstein, Head of Products & New Businesses at Maxis, Malaysia. "We are witnessing the creation of a virtuous circle in which mobile broadband will drive economies of scale, bringing down the cost of HSPA equipment and enabling more and more people to enjoy easy access to mobile Internet services."
"Mobile broadband has fabulous potential and promises to transform the communications landscape world-wide," said Dave Williams, CTO of Telefónica O2 Europe and GSM Association Board Member. "This new survey confirms that there is a very real hunger for next generation wireless technologies not only from the industry, but also from businesses and consumers who clearly can't wait to embrace mobile broadband and the benefits it will bring."
"Telstra's new Next GT (3GSM 850 MHz) service is the world's largest nationwide wireless broadband network with download speeds as fast as any in the world," said Sol Trujillo, Chief Executive Officer of Telstra Corporation Ltd. " Almost 400,000 Australians or seven per cent of Telstra mobile subscribers have realised the benefits of mobile computing with high-speed data cards in the past year alone. This tells us our customers want real-time, easy data access and this GSMA initiative will further enhance the offerings to this market."
Notes to Editors:
Mobile broadband PC competition:
Companies looking to participate in the competition can download the specification – which is based on the research, as well as field trials with operators and input from the PC industry – together with the competition rules from the GSMA's website www.gsmworld.com. The closing date for entries is December 30, 2007.
Key research findings:
The comprehensive study was commissioned by the GSMA and Microsoft and implemented by Pyramid Research. It involved more than 12,000 consumer interviews, as well as extensive input manufacturers, component suppliers, chipset producers and over 200 field trials with mobile operators.
The key findings include:
In 2008, the survey estimates total demand of 79.5 million notebooks in the high growth, mass market $500 – $1,000 price range
The survey indicates 88% of consumers planning to buy a notebook in this price-range would prefer mobile-broadband built-in to notebooks to their original choice
In 2008, OEMs are planning to ship some 33 million notebooks in this price range, only a fraction of which will be mobile-broadband ready
Other research highlights:
While most usage is in the home, the majority (78%) of respondents citied at least two other locations where they regularly used their notebooks
The majority of potential buyers prefer the simplicity of a notebook with embedded mobile broadband. Separate 'plug in' solutions found favour with just 15 per cent of respondents
75% of consumers plan to buy notebooks in 9″ to 15″ range – very small or very large form factors are not driving purchasing influences
60% of consumers now want to buy a voice and data package from an operator with a mobile broadband notebook
57% of the demand comes from emerging Asia Pacific geographies, 15% from North America and 11% from Western Europe
Downloads:
Market Opportunity Analysis: Mobile Broadband Notebook PCs (Full Report) – 3.4MB PDF
Mass Market Mobile Broadband Notebooks – Invitation to Strategic Partnership – 180kb PDF
Market Opportunity Analysis: Mobile Broadband Notebook PCs (Summary) – 580kb PDF
About the GSMA:
The GSMA (The GSM Association) is the global trade association representing more than 700 GSM mobile phone operators across 218 countries and territories of the world. In addition, more than 200 manufacturers and suppliers support the Association's initiatives as key partners.
For more information please contact:
For the GSM Association:
Mark Smith or David Pringle
Email: press@gsm.org