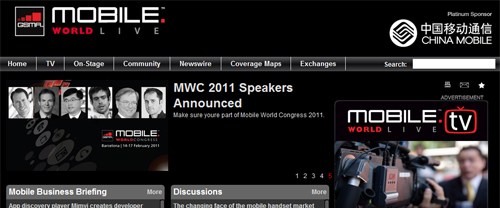 The GSMA today announced the latest version of Mobile World Live, the GSMA's online portal that serves as a critical information resource for the mobile communications industry. Updates to Mobile World Live build upon the key functionality and resources available when the portal launched a year ago, providing easy access to more innovative content, enabling seamless integration across all of the GSMA's media properties and creating a richer user experience for members of the Mobile World Live community. The GSMA also announced that the Mobile World Live app for iPhone and iPad is available in the Apple App Store.
"Since its launch last year, we have established Mobile World Live as the source of insight, information and connection to the mobile industry, with a community of more than 56,000 registered members, as well as approximately 220,000 visitors and more than 18 million hits on the site each month," said Michael O'Hara, chief marketing officer for the GSMA. "It truly extends the onsite experience of the GSMA's industry-leading events, and provides fresh, dynamic content and networking opportunities in an easy-to-consume, convenient and interactive Web 2.0 experience. The updates we've made to Mobile World Live serve to strengthen this and make it even easier to join and take part in the Mobile World Live community."
The Mobile World Live portal incorporates key elements such as:
Mobile World Live TV is an online TV channel carrying regular programming that covers key issues, trends, insights and news for the mobile industry. Programming includes interviews with the industry's leading executives, features on industry developments, showcases of specific mobile markets and highlights on GSMA-led initiatives;
Mobile World Live Onstage makes content from the GSMA's con¬ferences, such as Mobile World Congress, Mobile Asia Congress, Mobile Money Summit and Mobile Innovation events, available for replay to audiences worldwide;
Mobile World Live Newswire is an online media centre featuring streaming news from Mobile Business Briefing, as well as announcements and materials from the GSMA and companies across the mobile ecosystem; and
Mobile World Live Community provides complete social networking capabilities for members of the Mobile World Live community.
Mobile World Live now also houses GSM Roaming and Coverage Maps for GSMA members. Future updates to the site will include Mobile World Live Connected, a series of webinars that will bring together industry leaders to discuss and debate key trends and issues.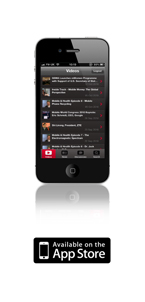 Creating New Ways to Connect, Engage and Share
Many of the enhancements to the portal centre around the Mobile World Live Community, to provide new ways for members to meet and interact on Mobile World Live. From either the home page or within the Community page, Mobile World Live members can see who's online at any time. Users can now create their own personal pages, where they can update their status and activities; upload videos, photos and other files; connect and communicate with other mobile industry professionals; join one of the many discussion threads running on Mobile World Live; and create or join interest groups.
Beyond the Community page, Mobile World Live provides a social media bar which allows users to subscribe to Mobile World Live RSS feeds; join the Mobile World Live Facebook page and view recent activity; see the latest Twitter feed on Mobile World Live; and access Mobile World Live videos on YouTube. Mobile World Live users can also share their views in other areas of the portal, including providing comments and ratings for individual video clips.
Taking Mobile World Live on the Go
Users can now check out their favourite content on Mobile World Live, even if they are not at their computers. The new iPhone and iPad app allows new users to register for Mobile World Live via their mobile devices, and provides easy access to the latest mobile industry news and commentary, Mobile World Live videos, and engaging discussion threads with the Mobile World Live community. Future versions of the Mobile World Live mobile app will extend to all major platforms, including Android and BlackBerry.
GSMA Expands Mobile World Live TV
In addition to the wide range of original video content the GSMA provides via the Mobile World Live portal, the GSMA is expanding its Mobile World Live TV programming to include the live and pre-recorded content scheduled for the duration of Mobile World Congress. At Mobile World Congress, the Mobile World Live TV team will be conducting interviews with communications industry luminaries, and covering the most innovative companies, technologies, products and services in the industry. The Mobile World Live programming will also include the exclusive Mobile World Live keynote sessions taking place at Mobile World Congress, including presentations by Eric Schmidt, Chairman and CEO of Google, Steve Ballmer, CEO of Microsoft and Evan Williams, Co-Founder of Twitter. Mobile World Live TV will run on screens throughout the Fira de Barcelona, and will also be available in hotels and households throughout Catalonia.
To experience Mobile World Live, visit: www.mobileworldlive.com.
About the GSMA
The GSMA represents the interests of the worldwide mobile communications industry. Spanning 219 countries and territories, the GSMA unites nearly 800 of the world's mobile operators, as well as more than 200 companies in the broader mobile ecosystem, including handset makers, software companies, equipment providers, Internet companies, and media and entertainment organisations. The GSMA is focused on innovating, incubating and creating new opportunities for its membership, all with the end goal of driving the growth of the mobile communications industry.
For more information, please visit Mobile World Live, the new online portal for the mobile communications industry, at www.mobileworldlive.com or the GSMA corporate website at www.gsmworld.com.
Press contacts:
Daniel Lowther: +44 7747 636 687
press@gsm.org