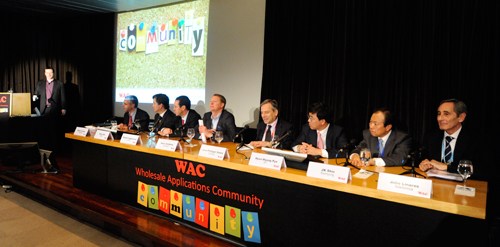 Mobile Application Developer Alliance Delivers WAC-Powered Storefronts, WAC-Compliant Handsets and Applications
Celebrating its first anniversary at Mobile World Congress, the Wholesale Applications Community (WAC) today announced the commercial launch of the organisation. At a press conference today, WAC CEO Peters Suh will be joined by a number of CEOs from the organisation's 68 member companies as he unveils WAC-powered storefronts, demonstrates WAC-compliant handsets and web applications, and provides a view of future developments in WAC.
"In the one year since WAC was initially formed at Mobile World Congress 2010, we have achieved a great deal, delivering against our committed timelines and objectives every step of the way," said Peters Suh, CEO, WAC. "Working together in a unified manner as an industry, we are having a positive impact on the mobile application development ecosystem, providing developers with a simplified method of creating applications and content, and delivering them across operator, handset and operating system. With the commercial launch of operator storefronts, handsets and applications, all based on WAC, we can say that WAC is now officially open for business."
Leading mobile operators from around the world, including China Mobile, MTS, Orange, Smart, Telefónica, Telenor, Verizon and Vodafone are announcing at Mobile World Congress that they are connected to the WAC platform, while the initiative boasts support from mobile phone manufacturers Huawei, LG, Samsung, Sony Ericsson and ZTE. Of the handset manufacturers, both Samsung and LG will be further driving uptake of WAC by ensuring that all devices produced by the two companies that are capable of supporting the WAC runtime will do so.
WAC also today announced that Ericsson has developed and is launching a white-label WAC-enabled storefront that can be easily customised to enable operators to quickly and cost-effectively launch their own WAC storefronts. Further, WAC announced that thousands of web applications are currently available in the WAC-enabled storefronts, including many popular applications and content that end users are downloading today.
The handsets and storefronts launched today are based on the initial WAC 1.0 specification, published in September 2010. WAC also announced the availability of the WAC 2.0 specification, which supports HTML5 web applications with rich multi-media capability, providing developers with an increased set of mobile-specific functionality including file system, calendar and orientation.
Critical to the success of the Wholesale Applications Community is the interest shown by the major brands globally. The success of WAC will be measured not only by take-up from operators, handset manufacturers and end users, but also by the uptake from the developer community and the applications they develop for today's market-leading brands. WAC 3.0, which will be available in September 2011, will allow these brands to deliver even more compelling applications, as developers are able to unlock backend network assets including in-app billing and user authentication.
To demonstrate the benefits of this, WAC today will showcase a WAC 3.0 application developed in conjunction with a leading US-based television network. The application will feature compelling video and music content including ringtones, social networking, messaging and ticketing capabilities. Critically, the application is specifically designed to take advantage of select network APIs, such as user authentication and in-application billing, providing users with the ability to sign in easily and allowing them to make purchases simply and effectively while within the application.
In a statement of future direction, WAC announced that it will enable applications from alternative applications development environments to make similar use of these network assets. This approach is consistent with WAC's goal to reduce fragmentation in the application market and will provide value to applications ecosystems across the mobile industry. "The demonstration of an application from a major consumer brand, combined with WAC-compliant handsets and WAC-powered storefronts, provides valid proof points to the work undertaken by WAC since its inception," continued Suh. "WAC provides the mobile industry, and more specifically, the mobile application development community, with an effective way to simply and efficiently drive the development and deployment of ground-breaking applications."
WAC Press Conference at Mobile World Congress
WAC will be holding its press conference on Monday 14th February at 14:00 in Hall 5, Room 3. The press conference is open to press and analysts attending Mobile World Congress.
About the Wholesale Applications Community
Launched in February 2010, the Wholesale Applications Community (WAC) is an open global alliance formed from leading organisations within the telecoms sector. Uniting a fragmented applications marketplace, WAC will create an open industry platform that benefits the entire ecosystem, including applications developers, handset manufacturers, OS owners, network operators and end users.
The Wholesale Applications Community will:
Accelerate and expand the market for applications – Simplify application development by giving developers the opportunity to write applications that can be deployed across multiple platforms and multiple operators, and address a potential global market of more than 3 billion users.
Create more compelling applications – Enable developers to utilise both device and network capabilities to create the next generation of applications.
Provide greater choice for users – Enable portability of applications across devices, operating systems and network operators.
Current WAC members are as follows:
Accenture, Adobe, Aepona, Alcatel-Lucent, Aplix, Amdocs, América Móvil, ASPire, AT&T, Bell Mobility, Borqs, Bougyues Telecom, Camber Tech Inc (BVI) Limited, Capgemini, China Mobile, China Unicom, Deutsche Telekom, Ericsson, Eyeline, France Telecom, Fujitsu, GClue, Gemalto, HP, Huawei, Hutchison 3 Group, IBM, Infraware, Innoace, Intel, KDDI, KT Corporation, KT Innotz, LG Electronics, LG Uplus, LiMo Foundation, Minigate, MTS, Myriad Group, Neustar, NTT DOCOMO, Oberthur Technologies, Obigo, Opera Software, Orascom Telecom, Oracle Corporation, Panasonic, Qualcomm Incorporated, Research in Motion, Rogers Communications, Samsung, SanDisk, SAP, SFR, Sharp, SK Telecom, Smart Communications, SOFTBANK MOBILE, Sony Ericsson, Telecom Italia, Telefónica, Telekom Austria Group, Telenor, Verizon, Vimpelcom, Vodafone, ZTE and the GSMA.
For a list of members and more information, please go to www.wacapps.net
Press Contact:
Phil Rawcliffe
07889 320159
press@wholesaleappcommunity.com
WAC Member Quotes
AT&T
"We're excited about where this group is headed," said Randall Stephenson, chairman and chief executive officer, AT&T. "As a founding member, we're encouraged by the momentum WAC has achieved in its first year, and the opportunities ahead are more and more compelling. Roadmap efforts, including driving a common network API strategy, will connect carriers' capabilities with developers' innovations in new ways that will help benefit customers, drive growth and take the apps economy to new heights."
Ericsson
"Ericsson's cloud based eStore is a perfect fit with the strategic intention of WAC to provide a one stop shop for developers to reach millions of consumers. Fully integrated with the WAC warehouse, eStore allows operators to faster launch application storefronts with all types of applications and content," commented Jan Wäreby, SVP head of Sales & Marketing at Ericsson and also member of the WAC board.
Huawei
"WAC is a great opportunity and challenge for mobile operators and their suppliers, Huawei is very optimistic about the future of WAC," said Dr.Che Haiping, Huawei Software CTO, "As WAC's BOD observer, Huawei has adopted WAC specifications in our end-to-end solutions, including WAC storefront, WAC-Enabled White-Label-Store, WAC Common Service Gateway, settlement and WAC compliant terminals. In partnership with Philippine SMART Communications, we deployed one of the first WAC-Enabled storefronts and now it is today commercially launched. We are also committed to fully support the development of WAC!"
KT
"If the announcement of WAC was shocking news last year, everyone will be shocked again this year at the speed and execution of WAC. This is a clear demonstration of how much WAC and its members are committed for delivering the promise of building a healthy eco-system for distribution of applications," said Dr. Hyun-Myung Pyo, President of Mobile Business Group, KT Corp and a Board member of WAC. With its showcasing of WAC devices and web apps at MWC, KT is proud to be an integral part of global efforts for fast realization of WAC for All."
LG
"In mobiles as elsewhere, content really is the king, which is why we've worked so hard at developing technologies to improve it," said Dr. Jong-seok Park, President and CEO of LG Electronics Mobile Communications Company. "WAC will be one of the leading platforms for global app stores, and LG will be right there with it developing even better ecosystems for content."
Orange
"We are excited to enable the distribution of WAC widgets alongside all other applications currently retailed in the Orange App Shop – it is a real indication of how WAC is working effectively and delivering on its promises," said Jean Philippe Vanot Deputy CEO, Orange and Deputy Chairman, WAC. "By taking this step to open our shop to WAC widgets, we are greatly extending the distribution reach of developers, and enhancing the global catalogue of content our App Shop Managers will be able to offer to our customers in each market. And I wish to thank our partners Atos Worldline, Surfkitchen and LG Electronics, who worked hard with us to show you today how WAC and the Orange App Shop can build a compelling value proposition to both developers and Orange customers."
Smart
"As a pioneer board member of the WAC, we are proud that Smart is among first operators in the world to deliver on the promise of WAC. In this Mobile World Congress, we are unveiling the Smart Netphone which supports WAC applications on both Android and Brew MP devices," commented Napoleon L. Nazareno, President and CEO of Smart Communications, Inc. Specifically designed for customers in emerging markets, the Netphone enables users to access the internet in affordable, bite-sized amounts. Ease of use has been enhanced in various innovative ways such as linking widgets to the phonebook. We hope that the Netphone will thus contribute significantly to making the internet much more accessible to more people in the Philippines and elsewhere in the world."
Telefonica
"Telefónica is committed to WAC in order to drive both the standardisation of technologies and to improve how operators and developers conduct business together," commented, Julio Linares, COO of Telefónica. "Today Telefónica is launching its connection to WAC 1.0, allowing us to distribute thousands of compelling web applications to our customers. Additionally, at the MWC we are demonstrating WAC 2.0, highlighting the evolution of the WAC."
Telenor
"Telenor is committed to the development and distribution of attractive content for mobile phones. In this regard, increased availability and common standards are important success criterias. Our launch of the Telenor tStore in Serbia marks the beginning of a further roll-out in our operations," said Morten Karlsen Sørby, Executive Vice President in Telenor Group and Member of the Board of Directors in WAC.
Vodafone
WAC continues to make strong progress and we are pleased to support its aims and objectives," said Michel Combes, Vodafone CEO, Europe