This blog post was written by Wayne Cutler, Interoperability Solutions Director (Networks) and Product Manager for the GSMA Interoperability Testing Service.
With the advent of 5G, there is an industry need to re-farm existing 2G/3G spectrum for new 5G services. This can only happen when alternative options replace legacy 2G/3G services.
An important legacy service is voice telephony. VoLTE is the provision of mobile voice telephony services via 4G (LTE RAN and EPC) technology, using IMS as the telephony control platform. Therefore, for a successful 5G rollout, IMS-based VoLTE needs to replace existing 2G/3G based voice services.
Consequently, there's a pressing need to increase significantly both VoLTE and VoLTE Roaming deployments, in order to replace legacy voice services and retire obsolete network equipment. The question is, how to do this smoothly and efficiently? Especially when it comes to the sheer scale of testing required for VoLTE Roaming.
The growth of VoLTE and VoLTE Roaming
At the time of writing, LTE deployment is globally ubiquitous with over 700 launches worldwide. While LTE data roaming agreements are widespread too. In turn, network operators in 230 markets have launched VoLTE domestically. Around 50 of those have deployed VoLTE Roaming.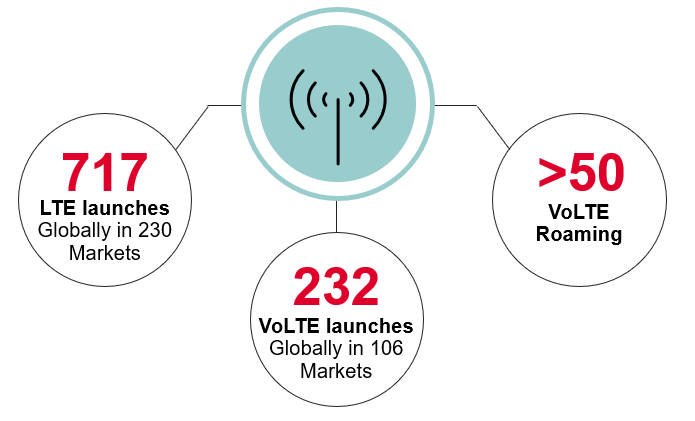 Source: GSMA Intelligence, July 2021
VoLTE Roaming architecture, explained
3GPP initially defined the so-called LBO (Local Break-Out) architecture to enable VoLTE Roaming. Requiring that the IMS functionality is split between the VPMN and HPMN. Therefore, the VPMN is IMS-service aware, and it's necessary for both HPMN and VPMN to have deployed IMS. Additionally, they need to support an inter-IMS interface between the constituent network elements in the VPMN-IMS and HPMN-IMS respectively.
Subsequently, 3GPP defined an alternative architecture where the IMS functionality resides only in the HPMN. This is called the S8HR (S8 Home Routed) architecture. The creation of the S8HR architecture option removed the dependency of the HPMN and VPMN both having to deploy IMS. Moreover, it simplifies the roaming interface. Since it's based on the less complex GTP-based S8 reference point, between the VPMN SGW and the HPMN PGW elements.
The standard S8HR Architecture
The S8HR architecture is shown in the figure below, which is copied from GSMA PRD IR.65 (IMS Roaming & Interworking Guidelines).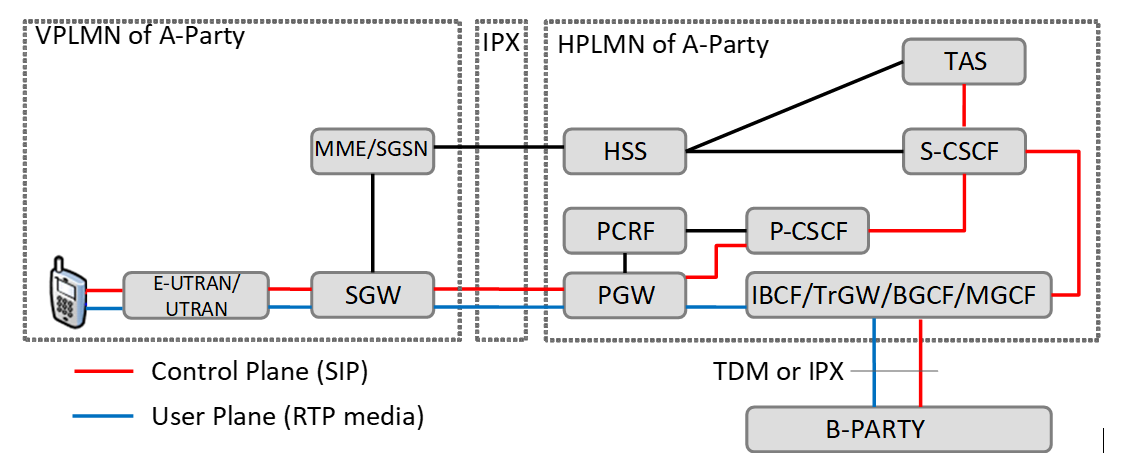 However, the S8HR architecture did create a few new technical problems, which 3GPP subsequently solved. For a summary of these issues and solutions, please refer to the GSMA VoLTE Implementation Guide.
In theory, it is possible for both VoLTE Roaming architectural options to co-exist. Although, with any single VoLTE Roaming agreement between network operators, there must be mutual agreement that it's based on one architecture or the other. Nevertheless, all current VoLTE Roaming deployments are based on the S8HR Architecture. To this end, the LBO option is seen as obsolete and was recently deprecated in GSMA specifications.
Call Handling Capability for S8HR VoLTE Roaming
The HPMN IMS performs all call control for the S8HR architecture, due to IMS functionality residing only in the HPMN. Thus, the VPMN is service unaware for the individual calls the inbound roaming device initiates and terminates, with one important exception – the handling of emergency calls, which local (VPMN) PSAP (Public Service Answering Point) must terminate.
Emergency Call Handling for S8HR VoLTE Roaming
The VPMN must handle and terminate emergency calls. The VPMN capability for handling emergency calls is broadcast to the inbound S8HR roaming device. Specifically, whether it's possible to complete emergency calls via 4G technology (the VPMN-IMS handling PS emergency calls) or via legacy 2G/3G technology (CS emergency call). On detecting an emergency call (a UE detected emergency call), the device performs domain (CS or PS) selection to complete the emergency call in the VPMN.
In some cases, the device can initiate a call to the HPMN-IMS, which is in fact an emergency call (a non-UE detected emergency call). In this case, the HPMN-IMS is responsible for rejecting the call attempt. The call rejection informs the device that this is an emergency call which must be completed in the VPMN. The device then behaves as for a UE-detected emergency call.
For further details of these mechanisms, see the GSMA VoLTE Implementation Guide.
Regulatory issues for S8HR VoLTE Roaming
Regulatory issues vary from country to country and MNOs must enforce them according to the needs of the VPMN. In terms of S8HR VoLTE Roaming, the VPMN is service unaware, but can recognise both IMS signalling messages (i.e., to request session establishment/teardown) and voice traffic. This is due to the respective IP packets carrying distinctive QOS (Quality of Service) markers.
In essence, if the VPMN requires to intercept and understand IMS signalling, then the HPMN-IMS must disable IMS encryption at registration. Therefore, the HPMN shall in effect enable/disable IMS encryption from its outbound roamers, depending on each VPMN requirement.
Quality of Service (QOS) Considerations for S8HR VoLTE Roaming
The addition of S8HR VoLTE Roaming to existing LTE data roaming, impacts on the QOS parameters exchanged between the HPMN PGW and VPMN SGW, via the S8 interface. Essentially, QOS parameters must be exchanged to support bearers related to IMS services (i.e., IMS signalling bearer, voice traffic bearer etc.).
GSMA has defined a recommended basic minimum set of QOS parameters that should be supported for S8HR VoLTE Roaming. Please refer to GSMA PRD IR.88 (EPS Roaming Guidelines). We expect that 8HR Roaming agreements will typically follow GSMA recommendations and thus become "standard".
GSMA Interoperability Testing to support S8HR VoLTE Roaming
GSMA Interoperability Testing offers a Network Test to support VoLTE deployment domestically, as well as a Network Roaming Test to support S8HR VoLTE Roaming. These tests verify that both VoLTE and S8HR VoLTE Roaming work on a specific network, bringing confidence to the industry.
GSMA assumes that MNOs will typically deploy VoLTE prior to deploying S8HR VoLTE Roaming. Although please note that an MNO can support inbound S8HR VoLTE Roamers prior to launching VoLTE domestically.
Therefore, GSMA recommends MNOs take a Network Test initially, followed by the Network Roaming Test. Both tests are performed using the preferred IMS settings of the network(s) ("IMS Profile"). In the roaming case, the settings are typically different in each MNO network and reflect the IMS services deployed in each one. The respective test cases run in each network correspond to the settings/services of each network.
In conclusion
The market has already decided that all VoLTE Roaming shall be based on the S8HR architecture. GSMA Interoperability Testing enables the accreditation of individual MNO networks, to support VoLTE deployment. Plus a Network Roaming Test to support S8HR VoLTE Roaming deployments.
For S8HR VoLTE Roaming deployment, a significant hurdle to overcome is the sheer scale of testing required. A given MNO can have hundreds of roaming partners. To this end, GSMA Interoperability Test offers a cloud-based and scalable solution to test the roaming interfaces between the MNO roaming partners, speeding up the overall deployment rate of S8HR VoLTE Roaming. Then ultimately, helping to facilitate and accelerate 5G rollout for your business.