Focus on the Digital Switchover Process in Sub-Saharan Africa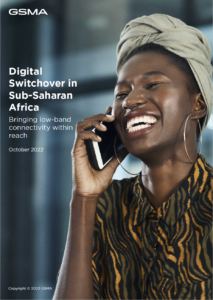 This report provides background, recommendations, and insights from the DSO (Digital Switchover) process in Sub-Saharan Africa. And how its success can free up low-band spectrum help more people get connected.
Digital switchover (DSO) allows countries to use less broadcast spectrum due to the greater efficiency of digital terrestrial television (DTT). By improving spectral efficiency in this way, countries can reallocate low-band spectrum for mobile broadband. At the same time, consumers can enjoy a broader array of content offerings and clearer image quality through DTT.
The DSO process also creates a digital dividend, shared by these two services, and this work has important implications for individuals, economies, and societies.
Digital switchover lessons from five countries
The report draws common conclusions from the DSO process in Botswana, Cameroon, Kenya, Senegal, and Tanzania. Each of the five countries in the report encountered challenges relating to funding, availability and cost of digital TV set-top boxes, regulatory frameworks, consumer outreach, and legal and technical obstacles. All these challenges can be addressed and the report highlights some of the lessons learnt from the experiences of the countries studied.
Overall, three important lessons stand out:
Countries must embrace flexibility, whether regarding funding, adjustments to regulatory frameworks, or responses to unexpected roadblocks.
Outreach to both consumers and key stakeholders plays a key role in ensuring the successful completion of the digital migration.
An essential part of the transition is ensuring the speedy and successful assignment of the digital dividends. As the key benefit to be derived from the transition to DTT, putting the newly available spectrum to use for mobile services is a hallmark of a successful migration.
The report and its related annex can be downloaded below. You can also visit the GSMA's dedicated page on spectrum licensing and pricing in Sub-Saharan Africa here.