The GSMA Future Networks Programme has launched an MNO Energy Consumption Benchmark initiative to support member operators against the projected increase in energy consumption as well as support the UN's 2030 goals for sustainable development. The scheme has been piloted with leading operators and vendors across the globe. If you are an operator and are interested in this scheme or you would like further details, please get in touch here, or visit here.
A research paper on the 5G-era Mobile Network Cost Evolution written by GSMA's Future Network Programme identifies energy as a major network cost that accounts for 20-25% of network's TCO (Total Cost of Ownership) for 4G operators. A Climate Action Handbook, written by GSMA's Climate Action Programme also states operators globally spends approximately US17 billion on energy each year. This is anticipated to increase with high performing 5G mobile networks, which includes the maintenance of legacy 2G, 3G and 4G networks. Factoring massive MIMO, increase in new macro and small cell sites in urban areas and mobile data traffic growth, energy consumption is expected to increase by as much as 140% in some 5G deployment scenarios.
MNO Energy Consumption Benchmark allows operators to compare energy consumption within their own networks and identify where they sit against an industry average through a fully anonymised report. It supports operators looking for network optimisation solutions by giving them access to our operator verified Case Studies and Innovation Profiles. This has already identified close to $1billion of savings since 2018 and had great success at MWC19, where two of its innovator companies (Telefonica and GenCell) won prestigious GLOMO awards in The Green Mobile Award category.
This benchmarking tool existed in a different guise previously and had over 40 participating mobile network operators with over 200 networks across 145 countries. However, with renewed interest in sustainability (Telefónica committing to using 100% electricity from renewable sources by 2030 and Vodafone committing to sourcing 100% renewable electricity by 2025); the tool has been modernised with the addition of new focus areas such as Renewable Energy and 5G Energy consumption.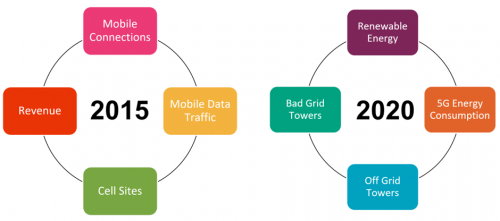 Image: Focus areas for MNO Energy Consumption Benchmark
The tool provides a year-on-year comparison giving operators detailed information on how to best save energy, as well as use our Network Economics ecosystem to identify practical solutions for network optimisation.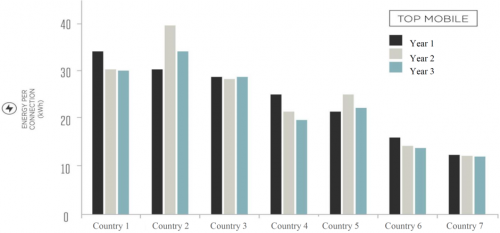 Image: GSMA commitments to a year-on-year comparison of energy consumption on a group operator level
Each participant receives a two-part report including how they are performing individually as well as an anonymised benchmarked report against the other operators.
If you are an operator interested in how the MNO Energy Consumption Benchmark could benefit your organisation, please get in touch here, or visit here for more information.