New Economies of Scale for Expanding 5G mmWave Ecosystem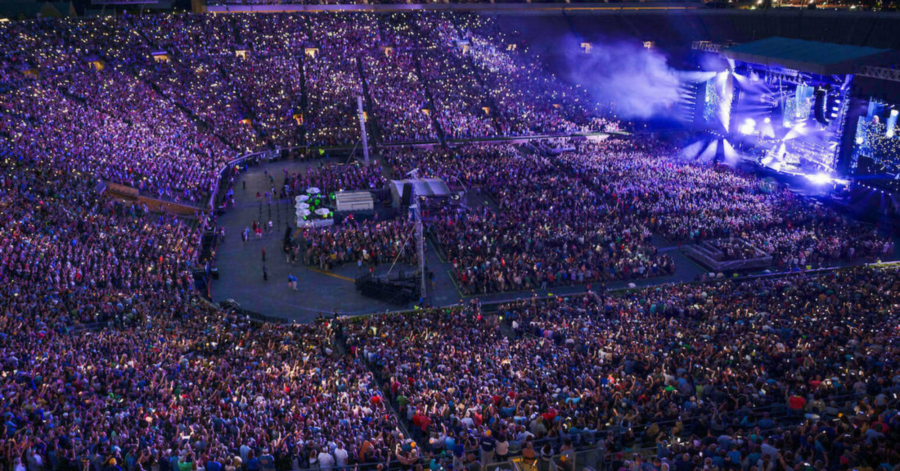 GSMA 5G mmWave Summit shines spotlight on global expansion of high performance 5G
5G mmWave networks are spreading across the world, enabling the expanding ecosystem to benefit from growing economies of scale. That was one of the key messages from the GSMA 5G mmWave Summit at MWC Barcelona 2023.
Speakers from China, France, Germany, Japan, Spain and the US outlined the growing 5G mmWave momentum in their markets, while Peter Jarich, Head of GSMA Intelligence and Philippe Poggianti, Vice President, Business Development of Qualcomm, both highlighted plans by Reliance Jio to use the technology to bring high-speed broadband to 100 million homes in India. That will be another shot in the arm for the market for 26 GHz connectivity, which is now being deployed in Europe, Asia, Australia and Brazil (see graphic).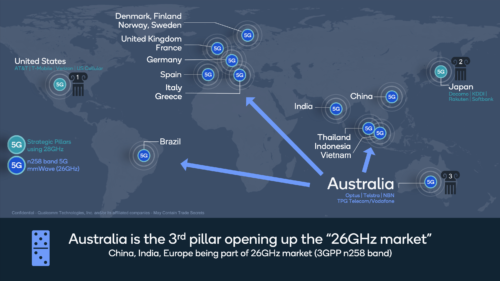 Source: Qualcomm
These deployments are driving demand for 5G mmWave equipment. The Summit heard that Ericsson, which anticipates mobile data traffic will rise fourfold between now and 2028, has now shipped more than 100,000 5G mmWave radios around the world. There are now more than 170 5G mmWave devices available from more than 65 vendors, according to Poggianti of Qualcomm. Jarich noted that the number of commercially available 5G mmWave devices rose by 40% in 2022.
In pioneering markets, such as the US and Japan, 5G mmWave is proving its worth in demanding scenarios, such as the Super Bowl in February, where thousands of fans were downloading and uploading high-definition video streams. At this marquee event for American football, 5G mmWave networks carried most of the 47 terabytes of traffic generated on that day, according to Verizon. As Brian Mecum, Vice President of Device Technology at Verizon, told the Summit: "We don't have to prove 5G mmWave any more….If we didn't have that, we couldn't get close to serving all that traffic."
Together with Stéphane Guérin, Chief Technology Officer of Immersiv.io, Mecum explained how 5G mmWave is transforming spectators' experience in venues across the U.S. Immersiv.io is using Verizon's 5G mmWave network to enable sports fans to access real-time information about the game they are watching via augmented reality (AR).
In the fast moving sport of ice hockey, for example, AR can help spectators track the puck – Immersiv.io's technology adds a digital trail that gets more intense the faster the puck is travelling. "We receive several times per second the position of each player and also of the puck," explained Guérin. "So we need to be able to transfer this information in real-time, so with the latency as low as possible. And so that's where 5G mmWave is really important for us to deliver this experience."
Growing demand in the enterprise market 
At MWC Barcelona, Telefónica, Qualcomm and Ericsson demonstrated how a live 5G mmWave network can provide gigabit speeds even in a crowded exhibition hall. Telefónica is anticipating strong demand from enterprises, particularly in the manufacturing sector, as well as in stadiums and other entertainment venues. Juan Cambeiro, 5G Customer Innovation, Telefónica de España explained that businesses want to use the bandwidth to capture large amounts of data from cameras and sensors in real-time. For example, broadcasters could use 5G mmWave high resolution video cameras to cover live sports events, while manufacturers could use the same approach to create detailed digital twins of their operations (see graphic).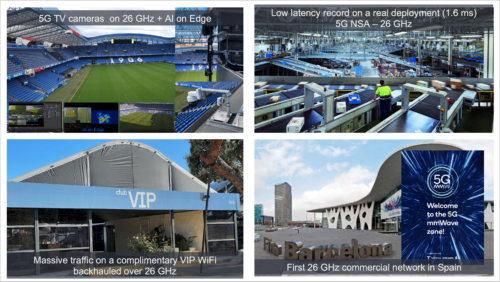 Source: Telefónica
Cambeiro stressed the importance of strengthening the uplink to meet this demand and Ericsson is thinking along similar lines. Christian Leon, Vice President, Network and Managed Services, Europe & Latin America at Ericsson, said Ericsson has recently demonstrated how 5G mmWave networks can achieve a throughput of 2 Gbps in the uplink.
Mobile operators in China are also seeing strong demand for 5G from enterprises, according to Zhiqin Wang, Vice President, China Academy of Information and Communications Technology. She described how more than 10,000 industrial private networks have been deployed in China, mostly by mobile operators, while noting that 5G mmWave could supplement the coverage and capacity of the existing 5G networks.
Delivering cost-effective capacity
As well as promising fast throughput and low latency, 5G mmWave could cut costs. Henry Calvert, Head of Networks, GSMA, said that 5G mmWave could be the most cost-effective way to meet the rising demand for connectivity. He presented the results of research from China, the U.S. and Europe, showing the total cost of ownership of 5G mmWave networks could be significantly lower than mid-band 5G networks in many deployment and demand scenarios. At the same time, new antenna and radio repeater technologies are further improving the economics of 5G mmWave coverage, according to Takahiro Nakamura, Chief Technology Architect at NTT Docomo.
One of the themes of the Summit was the potential to use 5G mmWave to bring a step change in capacity to specific locations where the existing networks are facing congestion. Professor Konstantinos Masselos, President of the Body of European Regulators for Electronic Communications, and President of the Hellenic Telecommunications & Post Commission, called on the mobile industry to deploy dense 5G mmWave small cells in urban areas. To that end, Dr Changsoon Choi, Vice President, Technology Architecture and Innovation, Group Technology, Deutsche Telekom 5G, teased the concept of deploying 5G mmWave small cells in telephone boxes.
In summary, leading operators and vendors are pushing 5G mmWave forward on multiple fronts.  Pointing to modelling that shows mobile operators will need access to at least 5 GHz of spectrum in each market by 2030, Jarich described 5G mmWave as a "when" not "if" technology. In many markets around the world, the answer to "when" seems to be "now."
For more information, watch the MWCB23 5G mmWave Summit On Demand and download the slides below.