5G is the fifth-generation cellular technology that revolutionises and enables new capabilities such as Artificial Intelligence (AI), Cloud computing, Edge computing, and the Internet of Things (IoT).
Adoption of 5G and the IoT is being driven by a number of factors, including increased demand from consumers and enterprises and the availability of more affordable devices. Significant operator investment in 5G technology, spectrum and infrastructure, together with the implementation of global standards, are also helping drive growth and increase market interest in the IoT. AI, Cloud computing and Edge computing will help handle the data volumes generated by the IoT, as 5G boosts network capabity. Further 5G enhancements, such as networking slicing, private & dedicated networks and 5G core, will ultimately help realise the vision of a global IoT network, supporting a massive number of connected devices.
Mobile & Massive IoT
The 5G networks being deployed today are building on 4G networks, which employ both LTE for Machines (LTE-M) and Narrowband-IoT (NB-IoT) technologies, which will evolve into Massive IoT within 5G delivering the functionality required to support narrowband use cases.
Critical IoT
IoT applications that are time critical and latency dependent using the 3GPP-specified ultra-reliable low latency communication (URLLC) standard
Broadband IoT
When IoT applications need to send or receive large amounts of data in a short period they will use the 3GPP-specified enhanced Mobile Broadband (eMBB) standard which is part of 5G
Resources
Document
Friday 11 Aug 2023 | LTE-M | MIoT Technology | NB-IoT | Resources |
Traditional gas meters were unable to handle more than one update a day and sustain a long battery life. Smart gas meters need continuous network availability and real-time remote access, while maintaining battery life of 10 years or more in the field.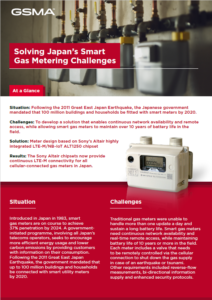 Contact 5G IoT Forum for enquiries.