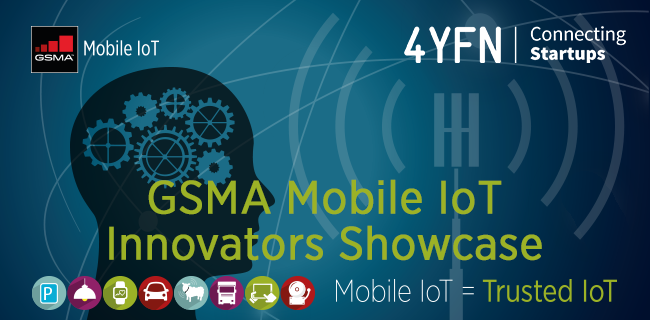 GSMA Mobile IoT Innovators Showcase at 4YFN – MWC Americas
09:00-17:00, 12 – 14 September, Moscone Center, South Hall, 2300A
The Development Cycle of Mobile IoT
From stand-alone modules and development kits to companies at various stages of product development, the GSMA Mobile IoT Innovators Showcase at 4YFN (4 years from now) demonstrates what development looks like when using industry standard Mobile IoT (licensed spectrum low power wide area) technologies to build new products.
Discover a wide variety of LTE-M and NB-IoT development kits and modules, and learn first-hand about the challenges and opportunities throughout the development process. Experts from module vendors, companies developing first prototypes and market leaders with commercially available solutions will share their unique knowledge of Mobile IoT.
The GSMA Mobile IoT Innovators Showcase will feature innovative companies and startups from a range of industries, including asset tracking, smart street lighting and flood monitoring. Embark on a journey of product development and understand the process from prototype to a final solution.
You can find a full list of the 4YFN demonstrations below
GSMA Mobile IoT Innovators Sweepstake
Stop by the showcase and enter the GSMA Mobile IoT Innovators Sweepstake to get the chance to win one of the latest Mobile IoT development kits to kick-start your own IoT prototype.
The development kits are provided by akorIoT, Link Labs, Pycom, Quectel, and Sierra Wireless. To view the Terms and Conditions, please click here.
​Complete list of 4YFN demonstrations
Company
Demo Partner
Demonstration
 
Environmental Monitoring

Technology: LTE-M and NB-IoT
This Ice Winery demonstration by BeWhere and Bell Canada highlights the versatility of both NB-IoT and LTE-M technologies for environmental sensing. Measuring the exact temperature, Mobile IoT based sensors enable farmers to harvest their grapes at just the right time. Using battery-based as well as super capacitor-based units, BeWhere's demonstration is a paramount example for the battery potential of Mobile IoT solutions.

Logistics Tracking

Technology: LTE-M and NB-IoT
Working with global mobile operators, Brambles plans to use LTE-M and NB-IoT powered sensors to pinpoint the location of pallets, crates and containers, enabling the company to recover lost objects. Using Mobile IoT technologies allows Brambles to analyse large amounts of geo-location data throughout the supply chain and to track their assets for years without having to change batteries.

Smart Street Lighting

Technology: NB-IoT
This NB-IoT powered smart street light with an LED luminaire not only reduces energy consumption improving cost savings for cities, it also enhances safety on the road and on large parking areas, creating a safe environment for both pedestrians and drivers. By using NB-IoT sensors, eluminocity together with T-Mobile are providing valuable information and smart features for cities, including intelligent lighting control, parking management, analysis of environmental factors, as well as a built-in charging station for electric vehicles.

Asset Tracking: Construction Management

Technology: LTE-M
Working with Verizon, Link Labs offers a multi-stage tracking system to help construction companies locate their assets throughout the supply chain. The LTE-M powered tag allows construction companies to monitor and pinpoint the location of assemblies on the prefabrication site, in transit, and eventually on the job site. This makes it possible to recover lost assets, monitor worker safety, and understand sub-contractor movements and equipment utilization to optimise work schedules and transport routes.

Flood Abatement

Technology: NB-IoT
Working with T-Mobile, Nokia and Tussock Innovation have developed and trialled a NB-IoT 'connected storm drain'. Integrated with a municipal storm water system and Nokia's IMPACT IoT platform, the NB-IoT sensor can provide early warnings related to maintenance of a city's storm water infrastructure. This enables municipalities to plan ahead and put necessary steps into action in a timely fashion, improving safety for relief forces and citizens alike.

Smart Parking

Technology: LTE-M
With a live demonstration of the city of Burlington in Canada, Paper Transit Parking are showcasing their smart parking systems that provide accurate information about parking spot availability in real-time. Using this data, cities can become more efficient and improve quality of life for citizens by creating better parking experiences, enabling smooth traffic, and reducing air and noise pollution. Working with Bell Canada, Paper Transit Parking is exploring LTE-M as a way to further optimise their services by improving coverage, battery life and cost efficiencies

Multiple
Mobile IoT Development Kits – Show & Tell

Technology: LTE-M and NB-IoT
Experts from u-blox will explain the benefits and technicalities of their latest IoT development kit, and demonstrate its potential with a health monitoring use case as one of numerous application scenarios. The u-blox C030 application board is an out-of-the-box rapid prototyping solution for IoT applications supporting new cellular technologies, such as LTE-M and NB‑IoT, as well as existing 2G/3G networks. The board leaves ample space for software development and debugging, and with its ultra-low power design, it is ideally suited for applications that require long battery life in a compact form factor.

Multiple
Veolia – Smart Waste Management

Technology: NB-IoT
This NB-IoT based connected waste bin from Veolia enables cities to monitor waste levels in near real-time and optimise waste collection schedules, resulting in cleaner cities, curbed greenhouse gas emissions, and cost savings for cities. Veolia's Urban Board is a smart city dashboard showing a range of data collected from NB-IoT sensors, helping to create smarter and more sustainable cities.
Mobile IoT (licensed spectrum low power wide area) networks are designed for IoT applications that are low cost, use low data rates, require long battery lives and often operate in remote and hard to reach locations. Existing cellular networks have evolved to deliver service to billions of new devices providing complete IoT connectivity.
The GSMA Mobile IoT Innovators community is helping to build a vibrant ecosystem around licensed spectrum low power wide area (LPWA) technologies by sharing the latest industry developments, case studies, use cases, and other valuable information to stimulate insights and innovation. Find out more
Back