As Governments continue to accelerate the pace at which they are digitally transforming their economies, building an inclusive and robust Digital ID ecosystem has never been so important. At the same time, as mobile is the predominant platform through which most people participate in a digital economy, being able to prove one's identity and register a SIM card in one's own name is crucial to accessing a plethora of life enhancing services, including financial services and receiving social benefits.
But not all ID systems are well-equipped to support financial inclusion or a transition to digital services; this requires intention and careful design.
An estimated one billion people worldwide—typically the most marginalised and vulnerable groups–lack official proof of their identity. Many more have forms of ID that are insecure or untrusted, or live in countries where these systems are ill-equipped to support service delivery, used in ways that compound inequalities, or fail to adequately protect personal data.
Access to an official ID is directly linked to the ability of millions to be digitally and financially included via mobile platforms. New research by the GSMA suggests that women, the unemployed, persons with disabilities and those with primary education only, are less likely to have mobile subscription in their own name and a key reason cited for this was 'not having an official ID'. Improving the accessibility, quality, and governance of ID systems is therefore critical for inclusive development, including achievement of the Sustainable Development Goals (SDGs).
How can countries build ID systems that are good for people and for development? How can they ensure that these systems fulfill the right to legal identity for all (SDG 16.9), facilitate inclusive access to services, enable trusted transactions in the digital economy, and protect people's rights and data by design?
In 2017, a group of organisations working in this sector, including the GSMA, organically came together to create a shared vision in the Principles on Identification for Sustainable Development. These Principles have since been incorporated into global norms and policy. They also serve as a guiding framework for endorsing organisations—including the GSMA's Digital Identity Programme and the World Bank Group's Identification for Development (ID4D) Initiative–and are deeply infused into our work supporting countries to build inclusive and trusted ID and civil registration systems that meet their promise for development while mitigating key risks.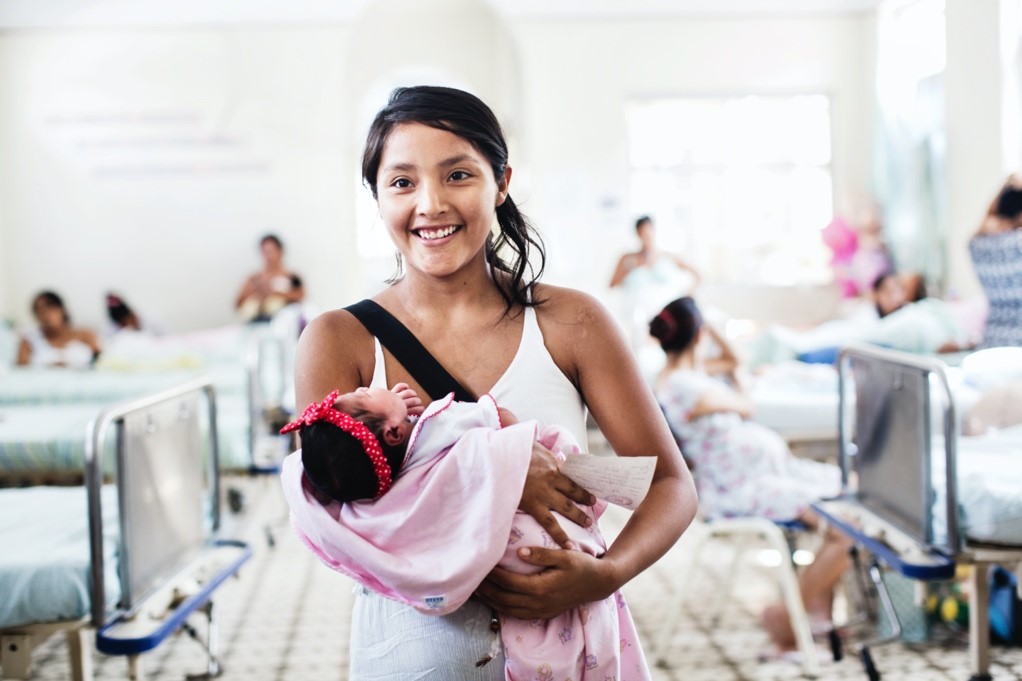 The Principles are designed for a range of contexts—from countries working to strengthen civil registration and ID systems that provide essential proof of legal identity, to those building advanced digital versions of official IDs to facilitate virtual services and transactions.
Indeed, an increasing number of countries have used the Principles to design new ID systems or reform existing ones. In Nigeria, for example, the National Identity Management Commission (NIMC) has used the Principles to shape its Strategic Roadmap to reform and improve the national ID system. This includes plans to address many of the current challenges that people face to registration (e.g., removing legal barriers related to eligibility and reducing documentation requirements) and implement global standards for data privacy, including through the adoption of new data protection law and minimising data collection (for example, country intends to reduce the number of attributes collected from 80 to 10 as part of the new approach). Importantly, the Nigerian Government has licensed the Mobile Network Operators (MNOs) to act as official enrolment agents in enrolling millions of eligible persons into the new National (digital) Identity database. This development reflects the recognition that MNOs' nationwide retail presence and expertise in dealing with consumers and their data, positions them as ideal Government partners to support a more inclusive, accessible and robust national ID ecosystem.
In the Philippines, the Principles helped anchor the PhilSys Implementation Plan, which adopts inclusive registration pathways for Filipinos without any documentation, architecture based on open source and open standards, and privacy enhancing technologies, such as tokenization to protect the permanent unique identifier. Others, such as Benin, Ethiopia, Guinea, Samoa, Somalia, South Africa, Timor-Leste, and Togo have also included and localized the Principles into their ID policies and strategies.
Figure 1. Principles on Identification (updated in 2021)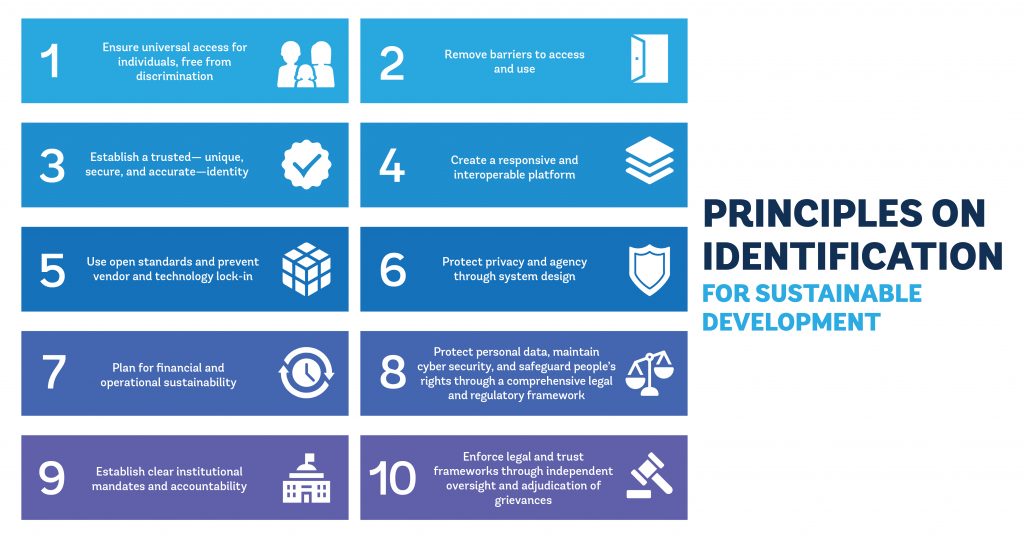 To ensure that the Principles continue to reflect new realities and good practices, the drafters committed to revisit them after three years. We began this process as a group in 2020, kicking-off with a public call for consultation and virtual meetings with endorsing organisations. In addition, ongoing dialogue and a virtual workshop with civil society organizations provided important inputs on how to strengthen the Principles and their use in global and local advocacy for better, more accountable ID systems.
We are proud to jointly release an updated version of the Principles that reflects these consultations and feedback, jointly owned and endorsed by 28 organizations, including some new supporters. Visit the Principles website to download the full text in English, Spanish, French, Portuguese, and Arabic.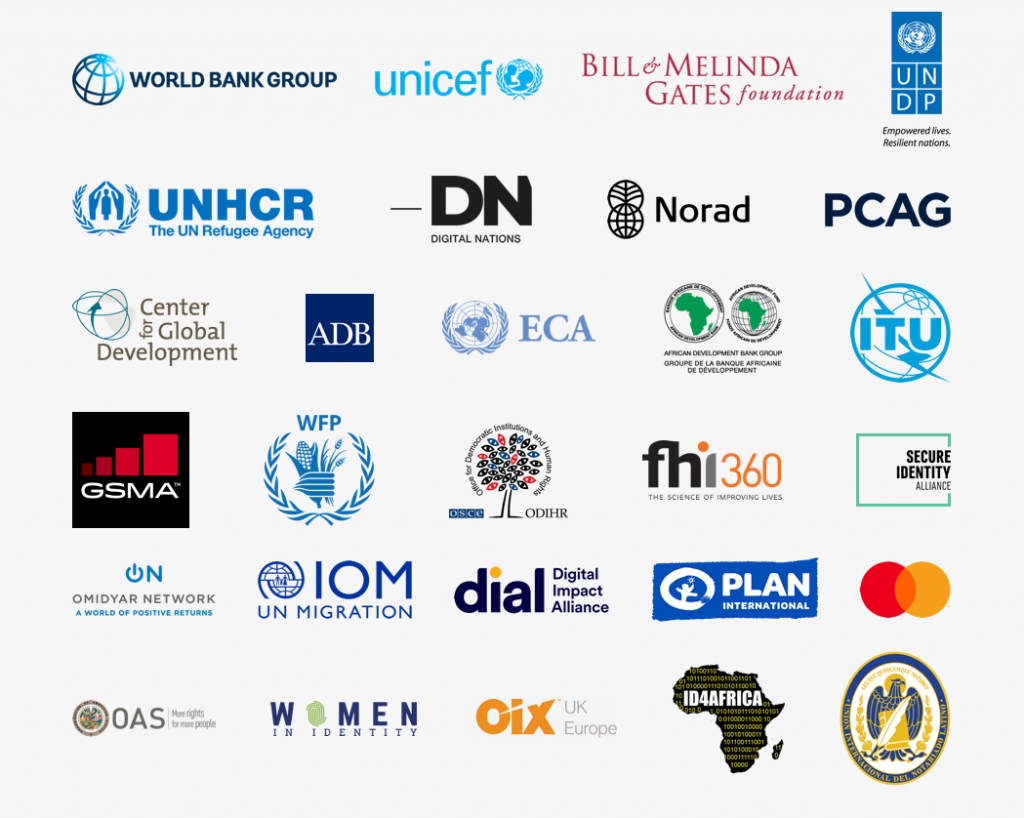 Overall, this process revealed that 10 original Principles remain as relevant and important to the good ID agenda today as they did in 2017. However, this update increases the emphasis on important themes that have come into better focus over the past four years. This includes strengthening the language on safeguards to protect data and ensure non-discrimination, on the need to build people-centric ID systems that are inclusive by design and address people's real needs and concerns (particularly challenges that emerge in the transition from manual, paper-based processes to digital ones), and on the essential role that continuous stakeholder and public engagement—including with civil society—plays in achieving these goals.
We encourage other countries and organizations to join us in putting these Principles into Practice while leveraging the power of Mobile in doing so; together we can realise the transformational potential of identification for sustainable development.
The GSMA Digital Identity programme is funded by the UK Foreign, Commonwealth & Development Office (FCDO), and supported by the GSMA and its members.