Following the COVID-19 pandemic, the tech industry has witnessed a surge in innovations empowering governments, societies, and businesses with tools and assets to deal with social and economic challenges. In Tunisia, many start-ups have provided value across several sectors to ensure the continuity of basic services to the most vulnerable, while expanding inclusive opportunities through disruptive technology. Despite Tunisia's digital ramp-up in recent years, the government has relied on the digital abilities of its innovation ecosystem to overcome the crisis at large.
This blog highlights two breakthrough innovations supporting Tunisia's COVID-19 economic and social recovery. Examples of application of these transformative trends are the deployment of artificial intelligence (AI) to ease the remote hiring process and the adoption of Natural Language Processing (NLP) to provide accurate information about the COVID-19 virus.
Accelerating digital transformation through AI
In Tunisia, key initiatives have played a significant role in supporting the government's mission to battle misinformation about COVID-19 by leveraging Artificial Intelligence and Natural Language Processing (NLP) techniques and fight information manipulation campaigns.
One such initiative comes from iCompass, a start-up that specialises in NLP solutions powered by AI technology. Founded in 2019 by computer engineering enthusiasts, with the mission of breaking linguistic barriers in Africa and the Middle East, the start-up counts among its product portfolio text to speech, speech to text, and voice to voice solutions. To help the government mitigate the risk of misinformation, the start-up has designed the Aziza chatbot for the Ministry of Health, deployed across all its communication channels, to provide reliable and up-to-date information related to the pandemic, addressing COVID-19 queries with 90% precision. After language detection, this bot interacts with its interlocutors either in Modern Standard Arabic, French, or the Tunisian dialect depending on the language used by the user to initiate the chat.
In addition, the company has partnered with Sahloul hospital in Sousse (Tunisia) to create an AI-based diagnostic robot that conducts a verbal questionnaire in the Tunisian dialect with the patient. The automatic device facilitates hospitalisation decision-making to avoid hospital overload. A first in Tunisia, this experience was so successful that the iCompass team was contacted by a Nigerian non-profit organisation to replicate this innovation. The Amina chatbot (the Nigerian version of Aziza chatbot) was created for the Nigerian market and can communicate in English and 3 local dialects.
Notably, iCompass is actively working to foster the United Nations Sustainable Development Goals, especially SDGs 11: "Sustainable Cities and Communities", and 10: "Reduce Inequalities". With its products, the company aims to facilitate access to information for users with low levels of skills and literacy while ensuring diversity, equity, and inclusion through NLP technology. "At iCompass, we get to demystify Artificial Intelligence and showcase how it can be used for good by bringing people closer, one dialect and one language at a time, no matter their level of education or geographical location." Hatem Haddad, Co-founder, and CTO of iCompass.
Now, the start-up is adapting its products to boost its partners' customer engagement practices in many sectors, such as telecommunication and banking, and aspires to revolutionise the industry by refining the emotional understanding of its chatbots and voicebots.
"Our work on under-represented languages and dialects of Africa and the Middle East allows companies in various industries, such as TelCos, to communicate with clients and prospects in their native languages thus speaking directly to their hearts." Ahmed Nouisser, Co-founder, and CEO of iCompass
Since its inception, iCompass relied on key partners during crucial stages of its growth cycle. They gained support and trust from investors and business partners early on in the process, as well as various national and international competitions and acceleration programmes such as the Global Media Forum by the Deutsche Welle, the Seedstars FDFA Migration Challenge, and the Orange Fab Accelerator. By joining the latter, iCompass benefited from access to decision makers within Orange to identify their business needs and customise its AI and NLP based solutions to improve their departments' KPIs and advance the operator's digital innovation agenda. Through the Orange accelerator, iCompass also gained more international exposure by participating in the annual technology conference VivaTech where the team virtually met other key players and explored future avenues of collaboration.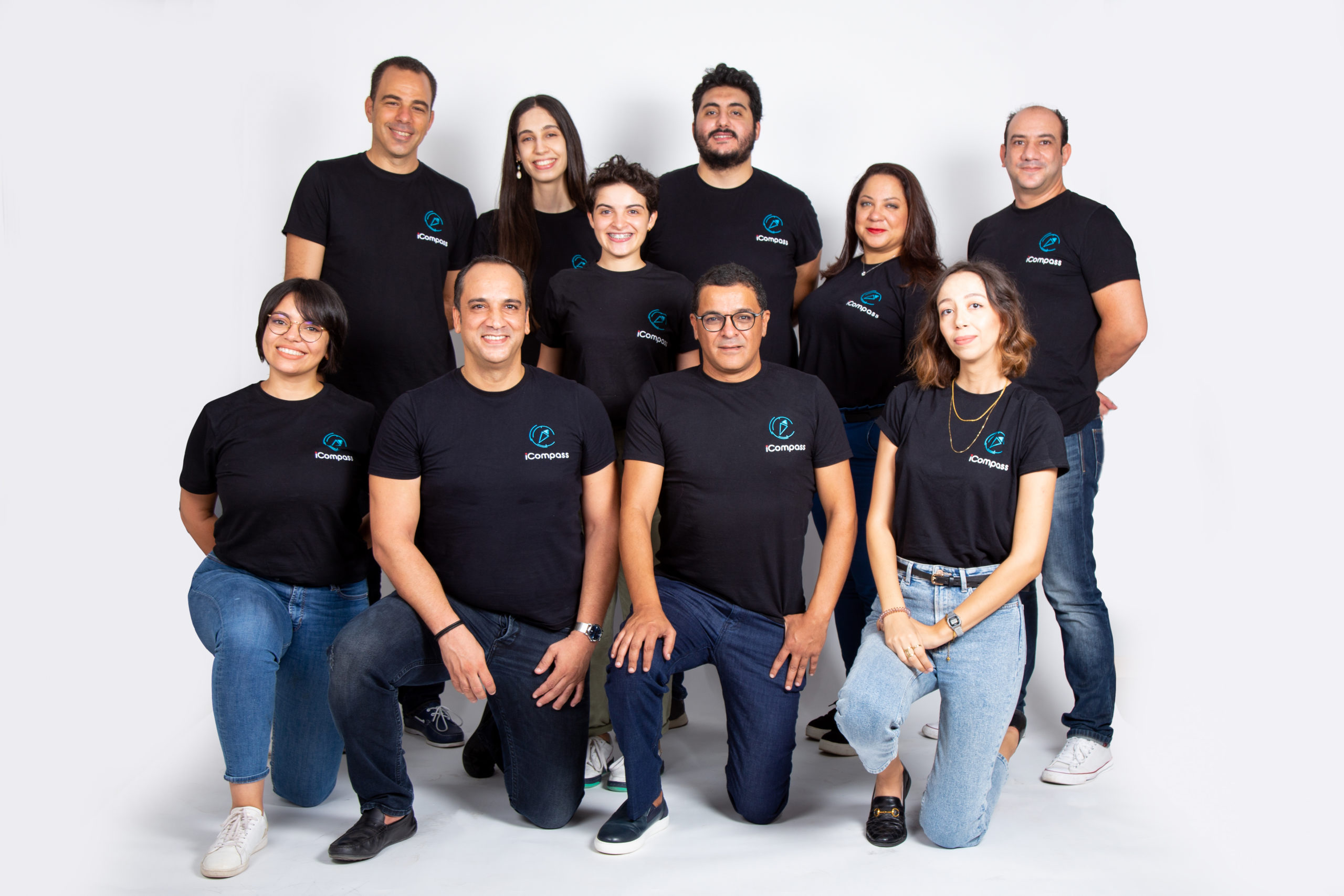 Modernising hiring processes through innovative approaches
The COVID-19 pandemic has had a profound impact on the recruitment sector. Since traditional in-person interviews are no longer an option due to lockdown restrictions, many jobseekers have gone online looking for vacant positions to apply to.
One solution that has shaped the hiring processes in Tunisia is FabSkill. Established in 2018, this platform encompasses end-to-end recruitment services, streamlining and optimising the sourcing, tracking, assessing, and hiring of talent. It is also considered a one-stop shop for both head-hunters and businesses, as the platform offers several dynamic features to enhance their decision-making. On the applicant side, the user can consult targeted positions that suit their academic and professional qualifications. Powered by AI, the platform assigns a minimum matching score that is needed to apply to job offers presented in the candidate's news feed.
On the other hand, recruiters enjoy a rich catalogue of functionalities, promoting fairness and collaboration between business departments and automate the recruitment workflows for increased productivity. This includes:
Analytical dashboard: A comprehensive representation and evaluation of all the metrics related to the recruiter's offers.
Pre-recorded video: Candidates can answer virtual interview questions in a predetermined time frame set by the recruiter. This option also integrates the emotional analysis layer that detects applicants' sentimental expressions.
Live video: A real-time virtual interview.
Online technical and psychometric testing: Predefined tests set by the recruiter that assess the applicant's technical and personal skills.
LinkedIn sourcing: Integration of other plug-ins to serve the adaptive nature of the platform.

FabSkill extended their offer to improve job matching by designing the first Tunisian platform specialised in employment events. The start-up partnered with Orange Digital Center to organise the 1st edition of Orange Job Fair, a unique event that facilitates employment connections between IT professionals and tech graduates. Also accelerated within Orange Fab, FabSkill received technical and personal support tailored to their needs to boost commercial viability and increase visibility across communication engagements in Tunisia and through Orange's footprint in other countries.
In 2021, the platform reported approximately 40,000 registered job seekers, with over 500 organizations using it as the primary tool to connect with young talent. In practice, FabEvent hosted 30 virtual job fairs during the COVID-19 crisis where 30,000 participants took part in more than 10,000 speed interviews.
The job matching start-up designed the platform to solve a deeper problem in Tunisia: regional disparity and unequal work opportunities. It is no surprise that most of the job offers are concentrated in Tunisia's coastal cities, whereas high unemployment rates are recorded in the south and interior regions of the country. But now, thanks to FabSkill, mobility is no longer an obstacle, and every young Tunisian has the right tools in hand to acquire a job. To quote Bechir Afifi, CEO of FabSkill: "At FabSkill, we aim to provide every Tunisian with equal access to decent work opportunities."
Innovating during a crisis
The COVID-19 pandemic has caused great economic and social hardship, but at the same time, it presents an opportunity for digital innovation and technology-enabled services to become critical levers for recovery and business growth. Moving forward, the adoption of new technology such as AI and NLP are necessary to face unprecedented events and build Tunisia's economic resilience.
This blog is part of a blog series around COVID-19 innovation best practices and a reflection of how start-ups are developing their business models to cope with the pandemic.
The Ecosystem Accelerator programme is supported by the German Federal Ministry for Economic Cooperation and Development (BMZ), the GSMA and its members.