Building capacity with regulators and policymakers has been at the forefront of the GSMA Connected Women's team efforts to reduce the gender gap in mobile internet and mobile money services in low- and middle-income countries.
Our course on 'Bridging the Mobile Gender Gap' (BMGG) has been delivered online and face-to-face to over 180 participants since 2018. The course aims to help current and future policymakers and regulators understand the digital gender divide. Grounded in dialogue and encouraging discussion among the participants, the course aims to explore ways of integrating gender perspectives into strategies, policies, plans and budgets so that they explicitly address women's needs, circumstances and preferences. Delivering the BMGG courses has also allowed the Connected Women team to learn about in-country challenges and distinct regional perspectives.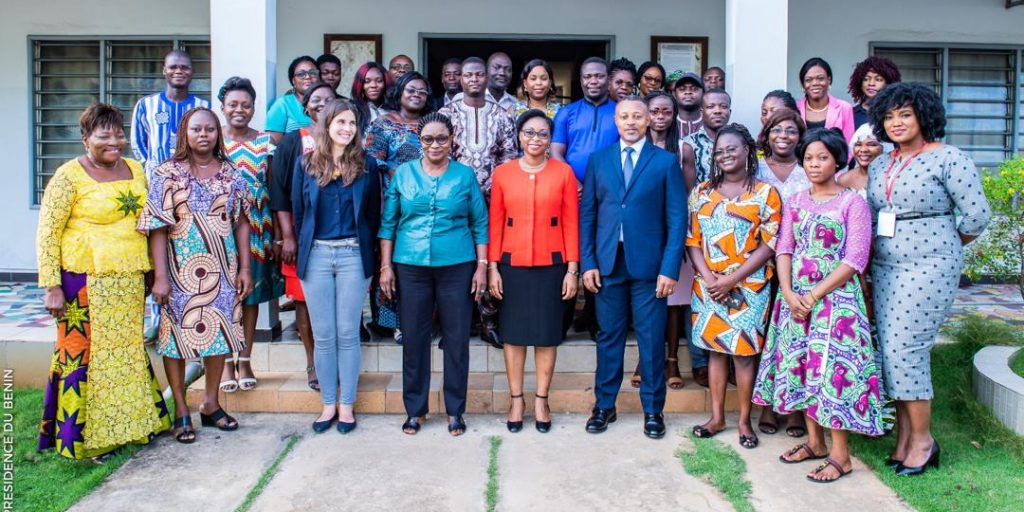 Connected Women team with the participants of the 'Bridging the Mobile Gender Gap' course in Cotonou, Benin, 23 May 2019
On 23 May 2019, GSMA gathered 35 participants in the port city of Cotonou, Benin, as part of its on-demand 'Bridging the Mobile Gender Gap' in-country workshop. Despite the sweltering heat and with the religious holidays fast approaching, the day long workshop succeeded in gathering a varied group of participants, including the country's ICT Minister and the Minister of Social Affairs and Microfinance. As the day progressed, this event enabled the government and the mobile operators to exchange perspectives related to topics such as cross-sectoral data collection and analysis, digital safety and security, digital literacy trainings, and many more. The day culminated in an interactive session where all participants took part in devising the action plan aimed at reducing the country's digital gender gap.
A month later, our team travelled to Dakar, Senegal, to introduce a newly developed training on "Leveraging mobile to drive women's financial inclusion". This training was delivered as part of a one-week Leadership Programme on Digital Transformation delivered by the Digitalis Institute and accredited by the University of New Hampshire (Carsey School of Public Policy). This time, the conversation shifted from digital inclusion initiatives to discussing mobile money as a driver of financial inclusion among women in low- and middle-income countries. 35 industry leaders, regulators and policymakers from across West Africa attended.
Whilst the learnings from Benin and Senegal attuned us to the local realities of implementing financial and digital inclusion initiatives in the two countries in West Africa, our online BMGG course, delivered throughout July, assembled representatives from over 37 countries worldwide. A high level of international participation allowed the team to learn about the progressive efforts of select countries to include gender targets in their national broadband plans. Especially noteworthy were the examples of Botswana, Burundi and Zimbabwe. One of the key takeaways from the interactive discussions concerned the similarity of obstacles faced by a mixed group of regulators and governments, be it challenges related to gender-disaggregated data collection and analysis, involvement of women in policy design or the necessity of introducing sustainable models of public-private partnerships.
Following the completion of the online course, a few participants educated us about the specific digital inclusion initiatives currently underway in their countries. For example, POTRAZ, the Zimbabwean Postal and Telecommunications Regulatory Authority of Zimbabwe has succeeded in training 11,000 individuals on basic ICT skills since 2017 and has mentored over 10,000 girls as part of their digital skills training. POTRAZ also established 97 Community Information Centres in their efforts to roll out universal access and coverage.
In summary, one of the aims of capacity building, as provided by the Connected Women team, is to enable the policymakers and regulators to incorporate gender considerations into their national strategies. The encouraging statistic derived from last year's Connected Women's feedback evaluation suggested that almost all participants (92%) said they planned to take action based on what they had learned in the course. Examples of 'next steps' inevitably vary depending on the organisation type and country. However, it will be exciting to follow our course participants in the development of initiatives such as raising general awareness of the gender gap within their local communities, spearheading policy and process changes within the organisations, and tackling the key barriers to women's access and usage of mobile money and mobile internet through a number of actionable and measurable steps.
Registrations are now open for regulators, policymakers and representatives from academia and international organisations working on regulatory or policy issues to sign up for a joint GSMA-World Bank 'Bridging the Mobile Gender Gap' online course starting 7 November. If you would like to learn more, please reach out to us at connectedwomen@gsma.com.