Cameroon's economy was the hardest hit by COVID-19 in Central Africa. Information and communications technology (ICT) has been identified as a key driver of jobs and economic growth and a pathway for Cameroon to recover from the effects of the pandemic and transform the economy. Innovation and digitalisation can strengthen and expand existing services, such as healthcare delivery and mobile payments. However, some factors are limiting the tech ecosystem's growth, including the policy environment, poor connectivity and low investor confidence.
The GSMA landscaped the tech ecosystem in Cameroon to understand the opportunities and barriers to growth, and provide strategic recommendations for stakeholders and investors. In this blog, we highlight five key insights from the research.
1. Components and stakeholders within Cameroon's tech ecosystem act largely in isolation from one another and would benefit from increased networking and collaboration.
The acting components of any successful tech ecosystem include: finance, business support services (e.g. through tech hubs or partnerships), enabling policy and digital infrastructure. Combined, these elements can facilitate start-ups and enable entrepreneurs to thrive, generating jobs and fuelling economic growth.
With over 25 tech hubs, incubators and co-working spaces, Cameroon's tech ecosystem has great potential. For example, Silicon Mountain in Buea is a vibrant tech community including Cameroon's leading tech hub ActivSpaces. Thriving off intense collaboration, it was in Silicon Mountain that Cameroon's tech community began to take shape, producing start-ups such as health app Healthlane (formerly GiftedMom) and job matching mobile app Njorku.
However, components and stakeholders across the country operate largely in isolation and there are a lack of opportunities for networking, mentoring and sharing knowledge. Increased networking opportunities can help create mutually beneficial partnerships and leverage global platforms to promote new initiatives and products. Mentorship and technical assistance can help build capacity and connect the talent pool with the main players in the tech sector. Tech hubs can act as a central point for innovation, networking and channelling clear information on policy initiatives.
2. The angel and venture capital environments in Cameroon remain nascent but promising and 2021 has been a record year for investment in tech start-ups.
Despite robust entrepreneurial appetite among the large youth population, Cameroon's tech ecosystem is still in its infancy and most start-ups lack early-stage pre-seed funding. The majority of start-ups either bootstrap or receive funding from family and friends. Specifically, there is an early-stage ($1,000 to $20,000) investment gap, creating an opportunity in the market for donors and development finance institutions (DFIs) to fund early-stage tech ideas. However, 2021 has been a record year for investments, with financial services Maviance and Diool collectively raising $6.5 million, likely due to a rise in demand from COVID-19.
Investors need to invest in local talent and solutions that act as enablers for the tech ecosystem and digital inclusion, as well as stimulate angel investments by co-financing with philanthropic sources. Donors can also deploy patient capital to de-risk and build investor confidence in the ecosystem.
3. Fintech, healthtech and e-commerce offer strategic entry points for investors to tap into the Cameroon market and other countries in Central and West Africa.
In keeping with trends across the continent, Fintech is the leading sector for activity, accounting for 34 per cent of tech start-ups in the country. Examples include aforementioned payment service providers Maviance and Diool.
Healthtech is the second-largest sector in Cameroon's innovation ecosystem, primarily due to COVID-19 which has accelerated the uptake of remote healthcare via digital tools (e.g., online doctor consultations, disease surveillance, and medicine delivery services). For example, Waspito offers online doctor consultations and medicine delivery services and partnered with the Ministry of Health during the pandemic to provide teleradiology and e-learning for medical schools and hospitals. While healthtech is generally on the rise across the continent, fewer (but more lucrative) companies dominate the market and the sector still lacks support from the government and foreign investors.
Across Sub-Saharan Africa, e-commerce is growing, supported by the rise of fintech and e-payment solutions. This trend is mirrored in Cameroon, where e-commerce has gained impetus as a result of COVID-19. However, the departure of the Pan-African e-commerce platform Jumia from the Cameroon market has resulted in most online trading shifting to informal channels (i.e., Facebook) creating a market gap in the e-commerce space with promising potential for growth.
Cameroon start-ups by sector (% of total)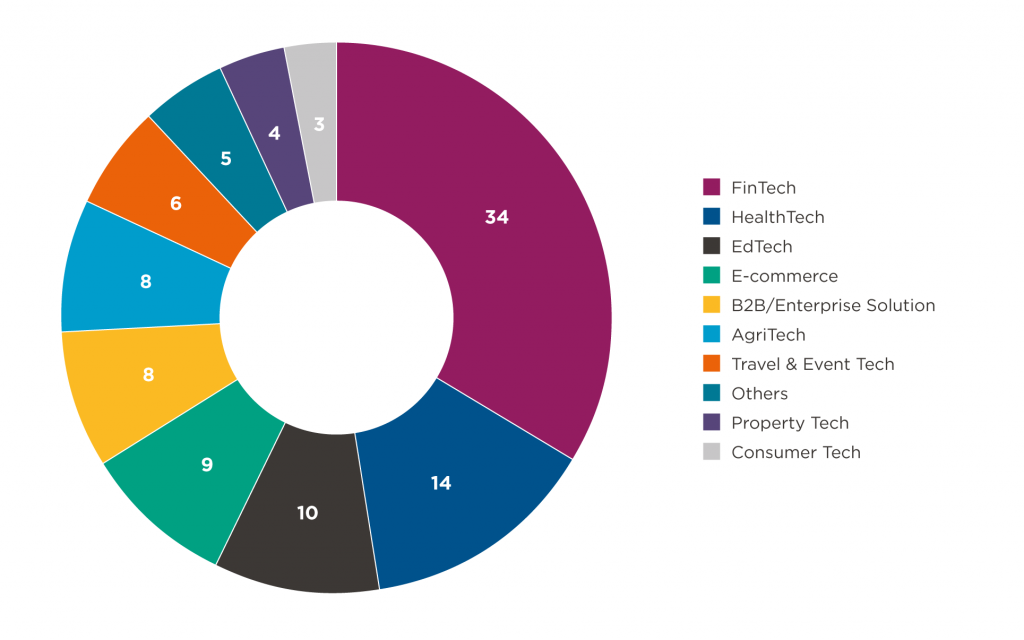 4. Cameroon's digital infrastructure has evolved considerably in the last two decades, with mobile acting as a key enabler and the primary channel for connectivity. However, barriers to digital inclusion need to be addressed.
With 14 million mobile subscribers, or 52 per cent of the population, mobile is the primary connectivity channel in Cameroon. Barriers to mobile adoption include consumer readiness (largely due to a lack of literacy and digital skills) and affordability (in part due to high taxation and accessibility). Mobile is the technology of choice for Cameroon's entrepreneur community and plays a key role in the development and scale up of innovations in sectors such as finance, health, education and energy.
The evolution of Cameroon's mobile market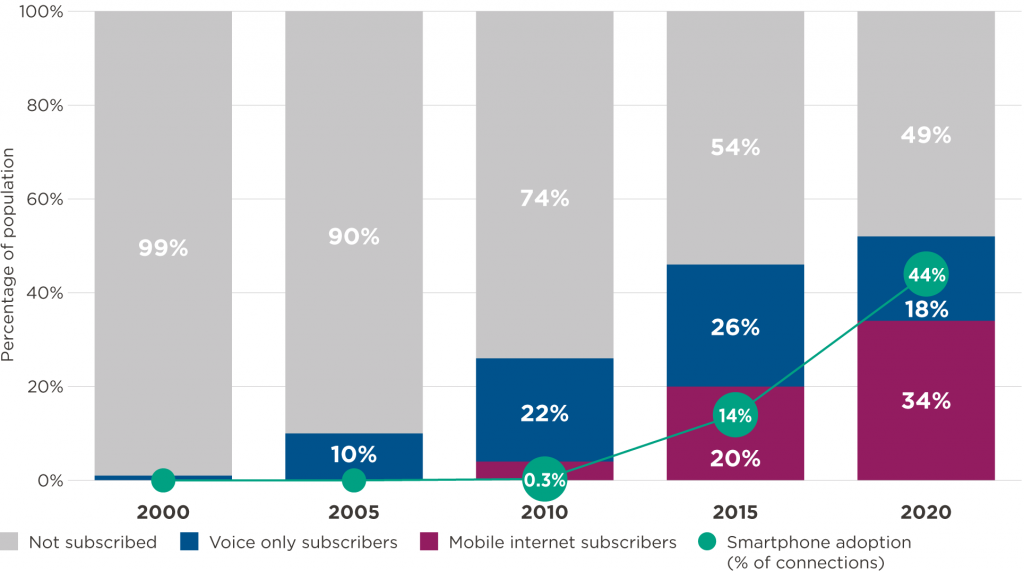 Despite progress, reliable internet connectivity remains a considerable barrier. Infrastructure gaps increase the cost of doing business, limit customer reach and hinder the development of tech entrepreneurs. Forming public-private partnerships for infrastructure sharing and leveraging capital to extend the reach and capacity of mobile broadband networks would help facilitate entrepreneurship, creating jobs and increasing economic productivity.
5. The tech ecosystem in Cameroon has the potential to bring capital into the country and boost the economy but the policy environment lacks transparency and incentives for investors.
Creating an enabling regulatory and policy environment for start-ups and investors may lead to future revenue for the government through economic growth and tax payments. Introducing incentivising policies and upholding the rule of law would encourage high-net-worth individuals to invest in Cameroon's tech start-ups and strengthen investor confidence. Whilst the government understands the need to digitalise the economy, administrative bottlenecks and a lack of clarity around the process for opening and closing a business deters start-ups and entrepreneurs from registering holdings. There is also a need for laws that protect intellectual property. Despite these challenges, there are successful start–ups in Cameroon, for example aforementioned Njorku and pay-as-you-go solar energy provider UpOwa who have raised a total of over $7 million.
The government should include entrepreneurs and ecosystem stakeholders in the design of more simple and effective policies that enable technology entrepreneurs and protect investors. This is important to address the concerns from start-ups in regard to the existing lack of clear policies and tax incentives for start-ups and investors. These can be communicated with the help of private sector stakeholders (start-ups, tech hubs, investors and others). In particular, policies and procedures for emerging start-ups can be advertised through hubs along with government initiatives and opportunities.
For more insights into Cameroon's tech ecosystem and full recommendations for all stakeholders read or download the report in English and French here.
The research of the Mobile for Development Central Insights Unit is currently funded by the UK Foreign, Commonwealth & Development Office (FCDO), and supported by the GSMA and its members. The views expressed do not necessarily reflect the UK government's official policies.