In October 2014, the Prime Minister of India launched an ambitious national sanitation programme that aims to eliminate open defecation by 2019. The Swachh Bharat Mission (SBM) has received unprecedented political support and mobilised $25 billion from government, the private sector and civil society. However, sanitation entrepreneurs, who are critical to achieving the SBM's goals, often lack technical and material support.
In October 2017, the GSMA Mobile for Development Utilities Innovation Fund awarded an 18-month grant to Svadha, a company in Odisha, India to improve the rural sanitation market through the aggregation of quality sanitation products and services. The purpose of this grant was to build and test a mobile platform to address the fragmented sanitation value chain between product manufacturers and entrepreneurs (retailers) in Odisha. The Svadha mobile application allows sanitation entrepreneurs to browse and choose from a range of affordable sanitation products, such as toilet bowls and pipes and related services.
In this blog, we summarise our learnings from this project.
As of March 2019, Svadha has built a network of 375 entrepreneurs across 24 districts in Odisha. Through their mobile application, 3,949 products were ordered by households which in turn improved access to sanitation for the 19,745 people in those households. First hand feedback from entrepreneurs supports the positive impact of digital aggregation on the lives of small business owners and their customers. 60 per cent of the sanitation entrepreneurs interviewed reported a monthly revenue increase thanks to Svadha.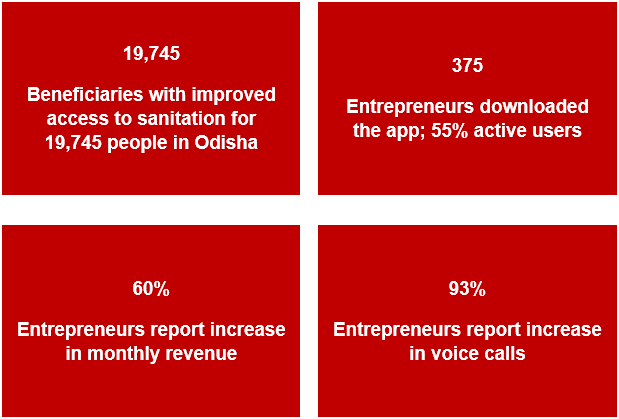 How does the Svadha application work?
Svadha works as an online market aggregator, buying sanitation products from manufacturers which are then sold on the application (app), along with access to related services – plumbers, masons, cleaners etc. All products ordered through the app are delivered to the entrepreneurs' shops and digital payments as well as payment through cheque or cash on delivery are accepted. Throughout the course of the grant project, entrepreneurs have showed a clear preference for cash against digital payment options such as mobile wallets, digital wallets or internet banking. However, the Svadha app has been a great way to introduce entrepreneurs to digital payments and ecommerce. Over time, entrepreneurs are increasingly using digital payments through the PayU Money portal. The Svadha app, offered free of charge to entrepreneurs, has two key features:
Online shopping for sanitation products/services; and
Management of inventory and basic financials.
Svadha also offers its entrepreneurs basic training to help them use the smartphone app for procurement and after sales services. Svadha's revenue comes from a 5 – 10 per cent margin on each product sold.
The Svadha customer journey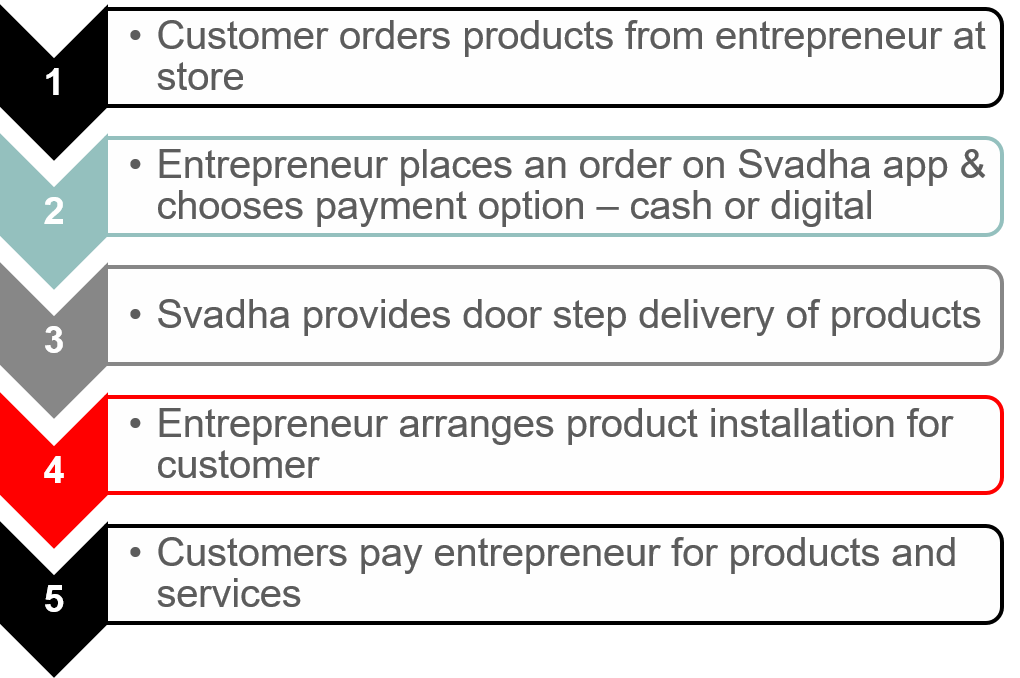 Meet the entrepreneur
Svadha's entrepreneurs are local shopkeepers who sell sanitation products in small towns in Odisha. Most of them own and operate standalone shops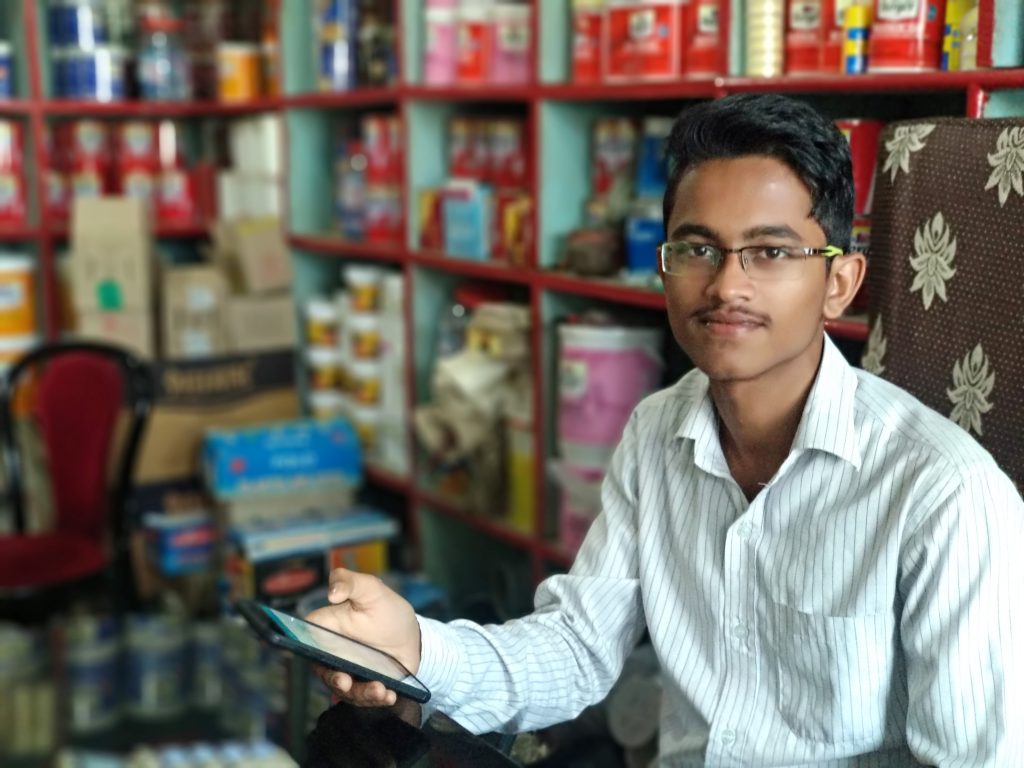 with limited assistance. Before the app, entrepreneurs had to source products from large sanitation product redistributors at high prices and arrange for order delivery and product installation by themselves. This would drain entrepreneurs of significant time and resources which they could have invested in selling products and increasing revenues. The Svadha app addresses the challenges faced by these entrepreneurs by providing a one-stop shop solution for affordable products, door-step delivery, repair/maintenance services, masons and plumbers.
Positive impact on entrepreneurs' businesses with access to mobile-based business tools
The Svadha app has a section on 'Value Added Services' providing entrepreneurs with basic business management tools that help with sales records, customer details, financial accounts and inventory management. Of the total Svadha users, 39 per cent have signed up for this add-on service which is currently provided free of charge. Approximately 50 per cent of entrepreneurs felt their internal management processes had improved after using the app and 60 per cent experienced an increase in monthly revenue. The app has also lead to significant savings in time and resources towards business development and management of payments.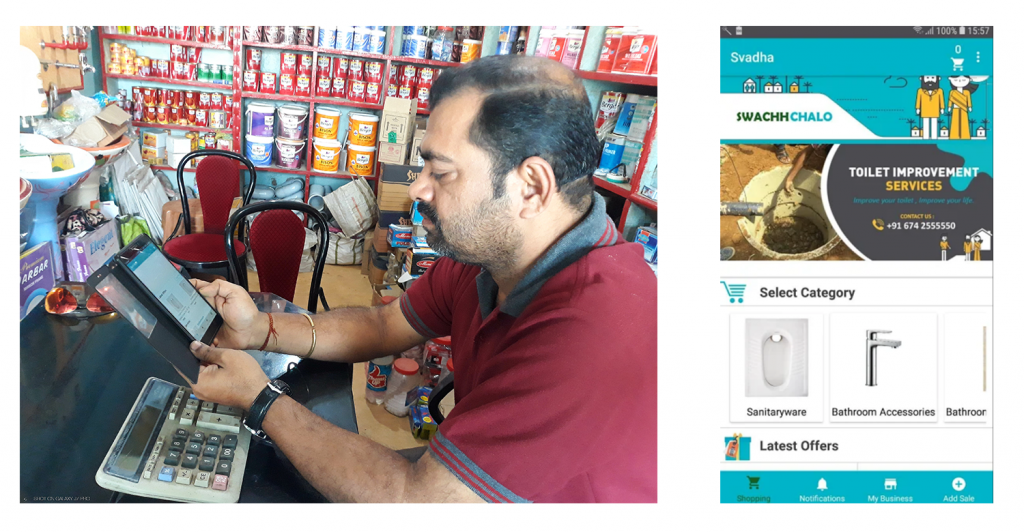 What's next for Svadha?
Based on feedback from entrepreneurs and results of the study conducted by our team, Svadha is working on improving their offering and driving app usage through the following initiatives:
Invest in regular training and support to educate users;
Develop a version of the app in the local language, Oriya;
Recruit local agents to help users with initial troubleshooting and build confidence in the app;
Develop a 'desktop version' of the app that can be accessed by multiple users; and
Build 'offline' functionality of the app that auto-syncs once reconnected.
Svadha is also developing different versions of the application for its wider community of masons, plumbers and customers. While the current service is offered free of any cost, Svadha intends to charge a premium for this service in the near future.
Svadha is currently exploring partnerships with state governments and development agencies in India and Kenya to scale the application beyond Odisha and develop a robust revenue model.
The GSMA Mobile for Development (M4D) Utilities programme is funded by the UK Department for International Development (DFID), USAID as part of its commitment to Scaling Off-Grid Energy Grand Challenge for Development and supported by the GSMA and its members.