The GSMA Ecosystem Accelerator team, represented by Martin Karanja, was in Addis Ababa, Ethiopia in early June 2019, firstly for a market visit to our local portfolio start-up, TaskMoby. Secondly, to participate in Startup Ethiopia, a first of its kind event focusing on start-ups and bringing together other ecosystem players including government, tech hubs and investors. In this blog post we wanted to share some of our learnings on Ethiopia's tech ecosystem.
This blog post is co-authored with Helinna Ayalew, Head of Digital Education at Liquid Telecom, where she oversees the company's skills and learning initiatives in the Innovation Partnerships team. She is also a co-founder and former manager of Yale Young African Scholars, a program which helps African students access higher education in the US and beyond. She is a native of Addis Ababa, Ethiopia.
With an estimated population of 110 million, and an average age of 18, Africa's second most populous country, Ethiopia has been the continent's sleeping giant on the tech scene. However, Ethiopia's first ever tech start-up event, 'Startup Ethiopia', and the 'Innovate Ethiopia' week around it, showcased the country's brimming potential and seems to be a harbinger of things to come.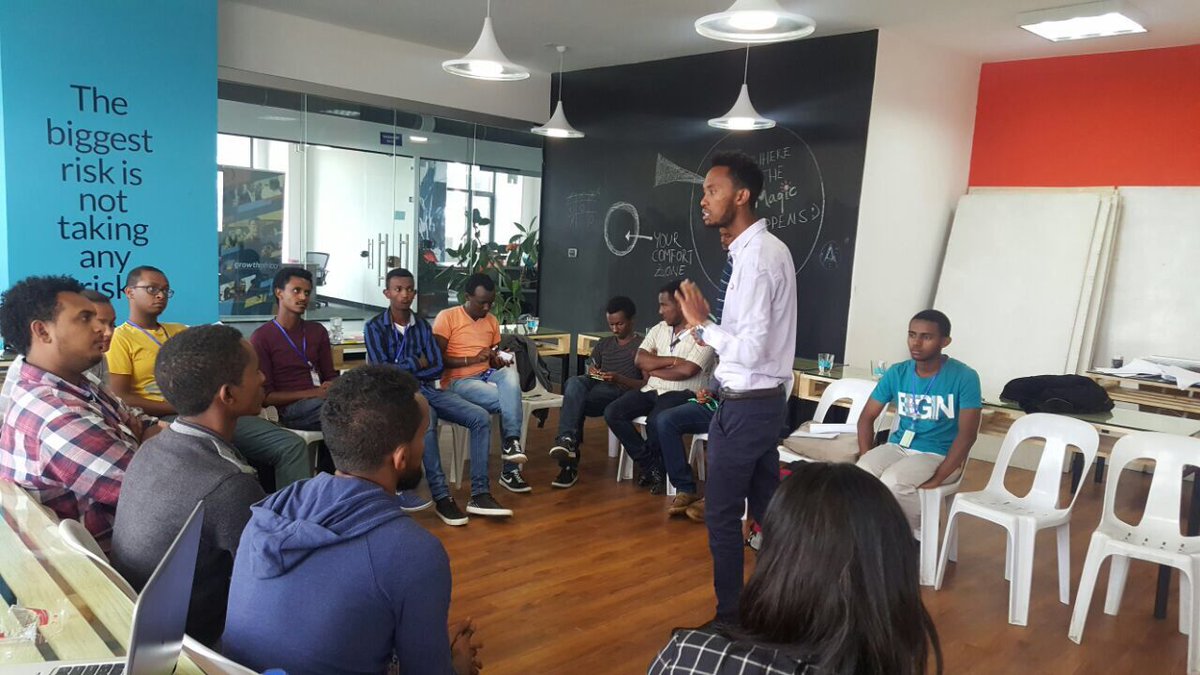 Photo Credit: blueMoon Ethiopia
The tech start-up scene in Ethiopia
Efforts at encouraging a tech ecosystem in Ethiopia have been ongoing for several years, with varying degrees of success. Universities have historically been the predominant source of the country's innovators, especially with the government's investment in STEM education. While this focus has resulted in immensely talented and technically adept graduates, it has provided little preparation for the entrepreneurship angle of building start-ups.
Ethiopia's first private innovation hub, iceaddis, opened its doors in 2011, starting off initially as a university-based initiative but later spinning off into an independent entity. Together with the later entrants to the space, such as x-hub and blueMoon, Ethiopia's innovation hubs have been incubating businesses across sectors – mobile money, agriculture, manufacturing, AI bots, trust-based services and others. The tech skills training school, Gebeya, has also been doing its part to build the developer skillset in the country.
However, the battle for these incubation hubs (from six active tech hubs in 2016, the country is now home to at least nine active tech hubs as per our 2018 research) has been uphill. Access to reliable and affordable high-speed internet access is inconsistent, at best. Power cuts over the years have contributed to the challenges. In addition, constraining legal frameworks around raising capital and business registration are still limiting local entrepreneurship growth (ranking 159 out of 190 on the World Bank's Ease of Doing Business index).
The role of government
Government support is also beginning to be felt across the ecosystem with start-ups such as TaskMoby, (part of GSMA Ecosystem Accelerator start-up portfolio),a mobile platform connecting skilled workers from the informal sector with customers,which is forming strategic partnerships with the Jobs Creation Commission to collaborate in addressing youth unemployment.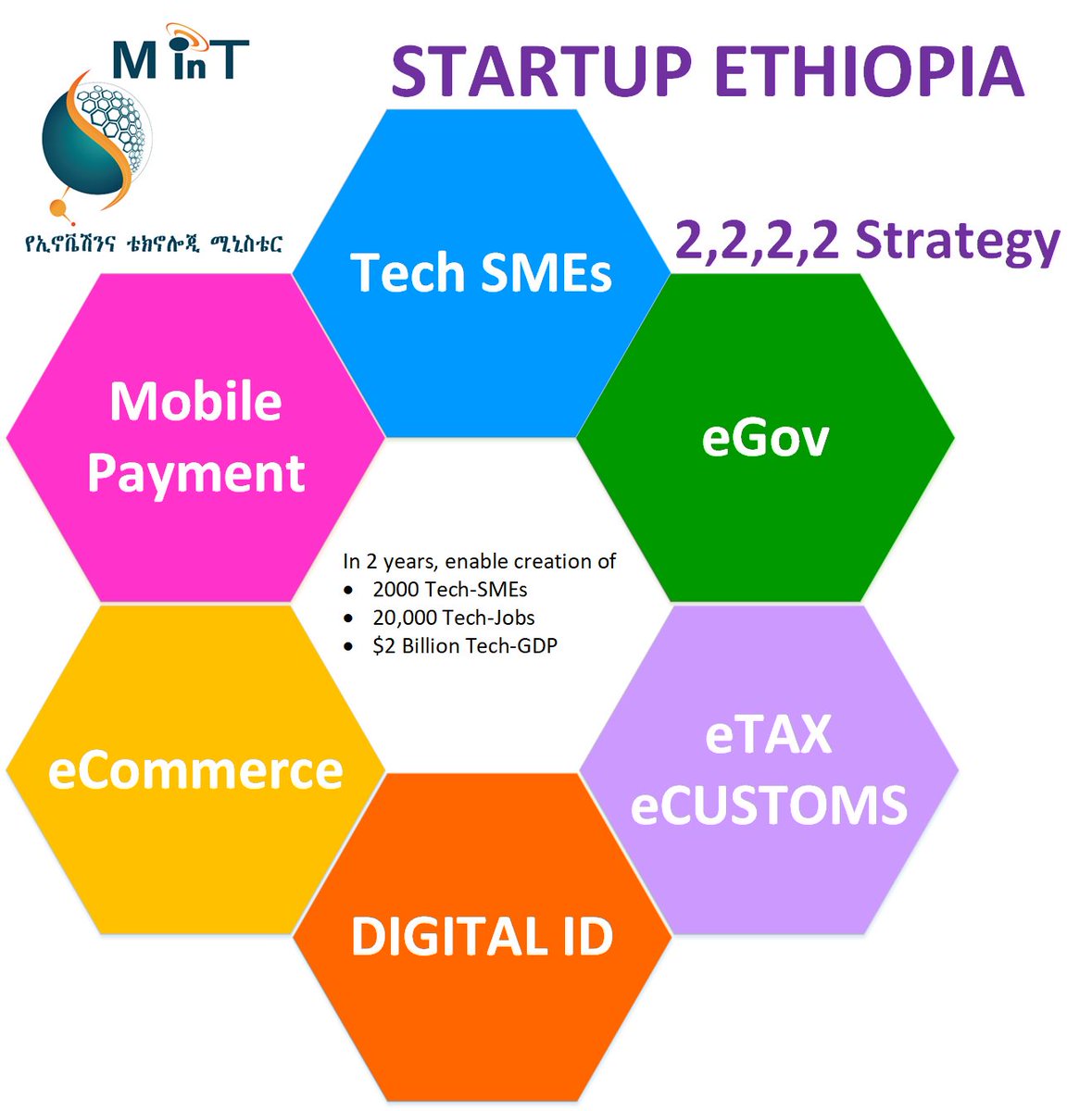 The government, represented by H.E. Dr. Ing. Getahun Mekuria, Minister, Innovation and Technology, reiterated their commitment to creating an enabling environment for innovation and digital access. This includes the liberalisation of the mobile industry to entrench competition, supporting the growth of mobile money for e-payments, customer driven solutions, accessibility and affordability of digital solutions in Ethiopia.
In addition, the government recognises the role of start-ups in addressing the high unemployment gap in the country by creating a conducive environment that will see over 2000 start-ups emerging, creating over 20,000 tech jobs and generating over 2B Birr (equivalent to $69 million)in the economy over the next two years – what they have deemed the 2222 strategy.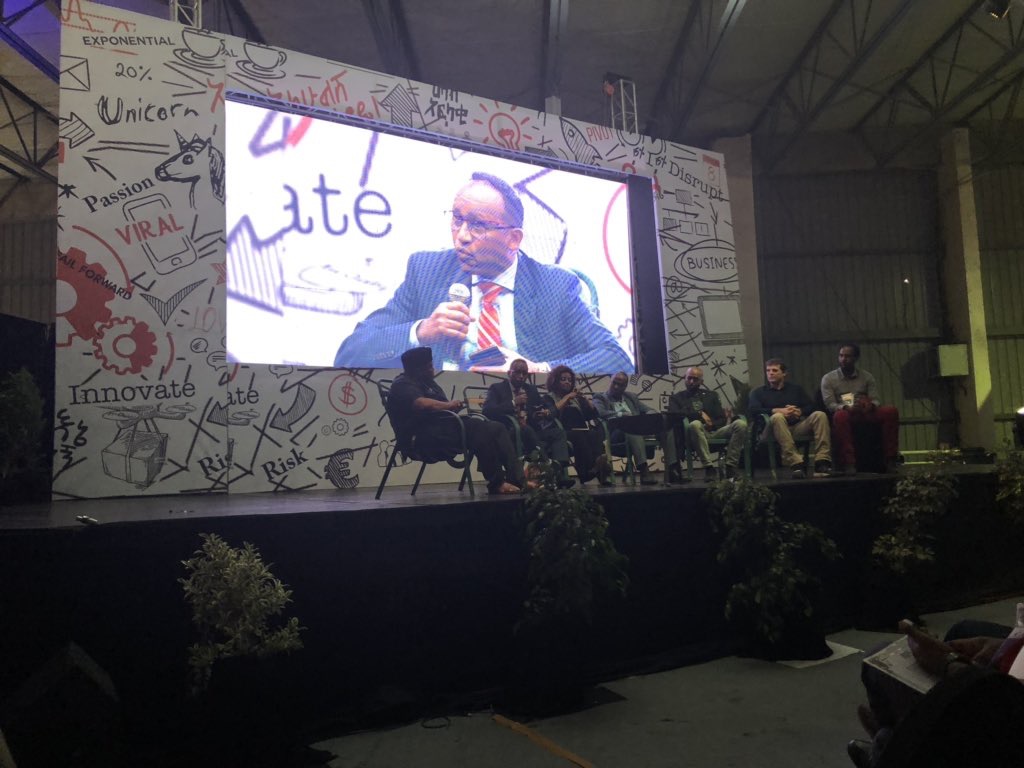 From Left to Right Vuyisa Qabaka (Hybr), H.E. Jemal Beker, (State Minister, Innovation and Technology), Dr. Eleni Gabre-Madhin, (BlueMoon), Pazion Cherinet, (Orbit Health), Yonas Beshawred (Stackshare), Jake Bright (TechCrunch), Markos Lemma, (IceAddis)
Startup Ethiopia
We had the pleasure of attending the country's biggest startup event ever, the first annual Startup Ethiopia, organised by the country's community of innovation hubs and the Ministry of Innovation and Technology. The two-day event was about igniting the entrepreneurial ecosystem and gathered over 3,000 visitors. Beyond the panels and keynotes, the event featured the country's biggest ever pitch contest, with 120 startups pitching across three pitch stages, and 10 finalists getting to pitch on the main stage. A 48-hour hackathon titled "#IAmSolution" was also held and challenged teams of high school students to create an app solving one of the Sustainable Development Goals.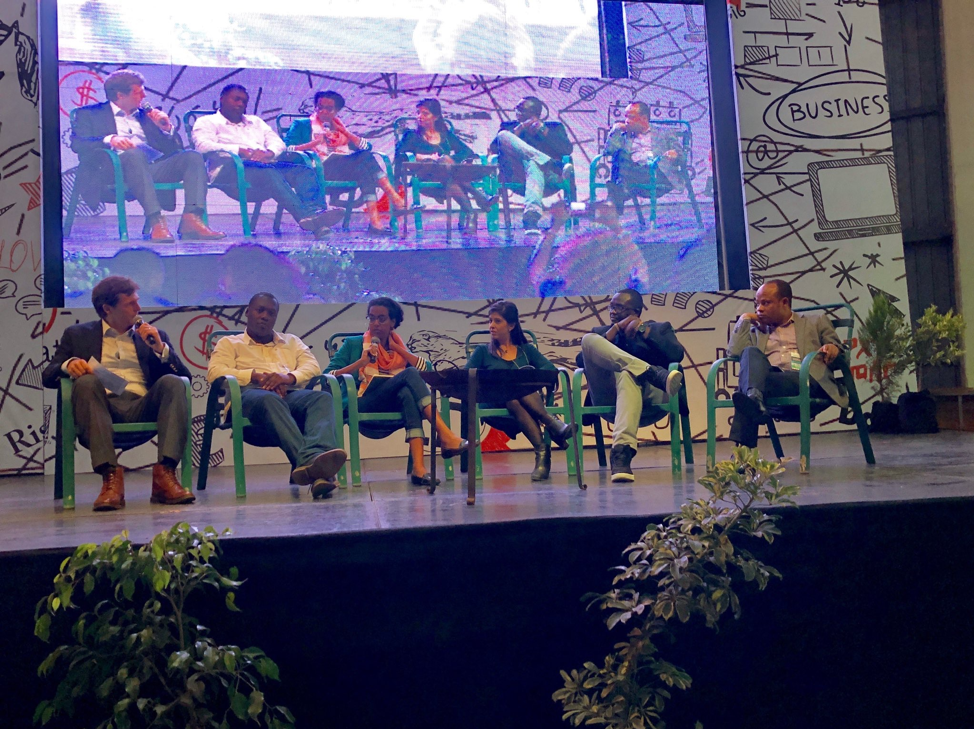 From left to right: Jake Bright (TechCrunch), Mbwana Alli (Savannah Fund), Adedana Ashebir, (Village Capital), Renata Makhoul (RENEW), Martin Karanja (GSMA), H.E. Abebe Abebayehu (Ethiopian Investment Commissioner)
The panel on early stage investing mentioned the need to harness local capital through VCs and Angel investors to help stir up the ecosystem through early stage investment. One insightful panel on 'Is Ethiopia's emerging tech buzz real?' discussed points particular to Ethiopia, including the perspective that while co-creation and collaboration are familiar in many aspects of Ethiopian culture, we have yet to see this reflected in the business of start-up setting. It was mentioned that technology will only be relevant to the vast majority of people if we can drive more access, adoption and usage, including making it relevant to existing community groups, such as ekubsand edirs(these are community saving schemes that are well established institutions throughout the country). A point was also made that for the vast majority of Ethiopians, their first interface with technology is what they experience in government offices. If the services are not working as they should, people lose trust in tech.
As for the pitch contest, which was broadcast live on Ethiopian TV, 10 finalists made it through the preliminary round and onto the main stage for a chance to win the grand prize of 1,000,000 ETB (about $34,000). The ten finalists were:
BeNu – producing high protein, nutritious biscuits that can be taken as meal replacements;
Deamat – an e-commerce platform that connects smallholder farmers directly to consumers;
Eden – a platform matching patients looking for prescription medicines to pharmacies;
Green Bean – manufacturing a mechanical coffee drying machine;
Grohydro – designing and manufacturing of hydroponic farming technology;
G2Y – locally produced activated carbon from corn cobs, which aims to serve the beverage companies who use activated carbon for water treatment;
Langbot – an AI-powered language tutor, which allows educators to easily create personal tutors for their students;
Rohobot – a platform connecting chronically ill patients and the elderly with home-based health care services;
Wash Addis – an on-demand laundry service for urban residents; and
YenePay – a fintech service that provides interoperability between banks, MFIs, and electronic money operators.
Amongst stiff competition, Green Bean eventually walked away with the grand prize. Green Bean, along with several other of the finalists were incubated at the agribusiness incubator blueMoon, while other finalists were incubated at iceaddis and the other innovation hubs. This fact speaks to the pivotal role these centers will have to play in Ethiopia's expressed goal of becoming a start-up nation.
Overall, it was an ambitious and optimistic event, and notable for the significant presence of government officials even at the ministerial level throughout. If the different players in the ecosystem – government being prime amongst them – can come together to provide the enabling environment for these start-ups to thrive, Ethiopia's 'sleeping giant' tech ecosystem could indeed wake up and thrive in the near future.
To conclude this blog post, we would like to thank the organisers of Startup Ethiopia, and in particular blueMoon (Dr. Eleni Gabre-Madhin and Shem Asefaw) for inviting us to participate and contribute to the event.
The Ecosystem Accelerator programme is supported by the UK Department for International Development (DFID), the Australian Government, the GSMA and its members.