In the past year, the GSMA has supported six mobile money providers in Sub-Saharan Africa and South Asia to design and develop holistic digital solutions centred round the digitisation of agricultural payments that an agribusiness makes to farmers for the procurement of crops. Digital solutions of this kind have strong potential to generate substantial benefits not only for crop buyers, by addressing inefficiencies they face when interacting with farmers, but also for crop producers, by offering a path to financial inclusion.
In our market engagement activities, we have employed the GSMA Agri Value Chain Assessment Tool, a framework to analyse value chains for poverty reduction and help providers of digital financial services (DFS) identify and prioritise value chains suitable for digital interventions. The tool can help service providers to build a pipeline of organisations willing to launch digital agriculture initiatives. It provides instructions, recommendations and examples in a step-by-step guide that can be adjusted as necessary to align with one's research objectives.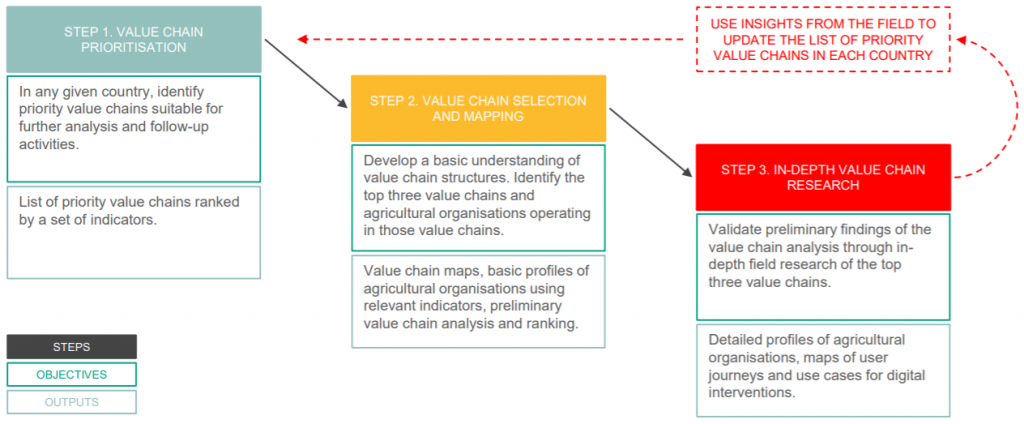 The tool starts with Value Chain Prioritisation, a step that involves aggregation and analysis of value chain data to recommend a list of priority value chains, by country, suitable for further analysis and follow-up activities. Value chain data come from well-known sources, such as FAO and The World Bank, or from estimates provided by the GSMA and assist in defining the formality, growth potential, average size and frequency of transactions and interlinkages of a value chain. Having a list of priority value chains permits DFS providers to take a more targeted approach to value chain selection and the identification of suitable agricultural organisations for digital interventions.
The following step, Value Chain Selection and Mapping, focuses on the list of priority value chains identified in the first step to create basic profiles of agricultural organisations operating in these value chains. Semi-structured interviews with stakeholders in these organisations support the collection of insights to develop profiles, which include key procurement data alongside information on activities from the interaction with farmers.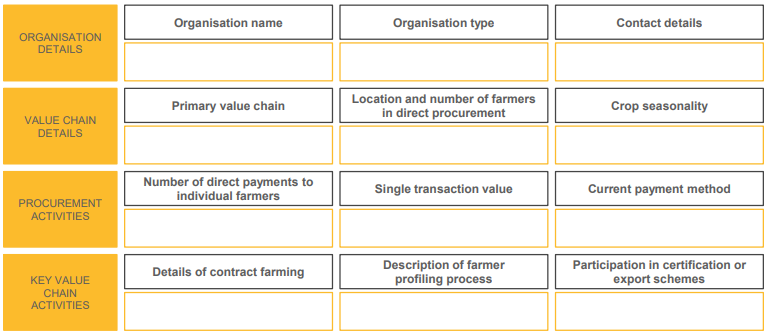 In addition to profiles, this step involves the creation of value chain maps that present relevant value-chain data such as actors participating in value addition, core processes in a value chain and total addressable market in the country. Profiles of agricultural organisations and value-chain maps can jointly help DFS providers understand the potential to digitise particular value chains. Transactional data captured during profiling, for example, gives insight into the seasonality and frequency of procurement payments. These insights allow DFS providers assess whether limits on mobile money account and transaction size can handle value chain payments, and manage cash liquidity of mobile money agents in a way that supports the digitisation of procurement payments.
The final step, In-Depth Value Chain Research, focuses on the agricultural organisations and value chains selected in the second step. It involves field observations and interviews with key stakeholders in the value chain, including farmers, office staff of agricultural organisations, buying agents and extension officers. Insights from this step can enable digital agriculture implementers assess the barriers to improved procurement performance and the competitiveness of farmers and buyers, as well as the potential role of mobile money and AgTech in addressing some of these limitations.
Watch our latest webinar to find out more on the GSMA Agri Value Chain Assessment Tool and share your experiences and feedback on how the tool worked in your markets.