As COVID-19 inevitably spreads across low- and middle-income countries resulting in tragic health and economic impacts, lockdowns, uncertainty and misinformation, a mobile phone can be a lifeline. Mobile is the primary way most people in these settings access the internet, which is proving a vital tool for sharing information about the pandemic, supporting livelihoods and enabling remote access to critical services such as healthcare and education.
Gender considerations are paramount in this context. Despite women having lower access than men to mobile technology, they tend to be responsible for the vast majority of care work for children, the elderly and sick in the home, and often run informal microbusinesses from domestic settings. Ensuring women can access mobile technology is now more important than ever, for the sake of the well-being of themselves and their families, and for society as a whole. Yet 165 million fewer women than men still do not own a mobile phone across low- and middle-income countries, and 300 million fewer women use mobile internet. Women are missing out on the benefits of a mobile connection at the point in time they need it most.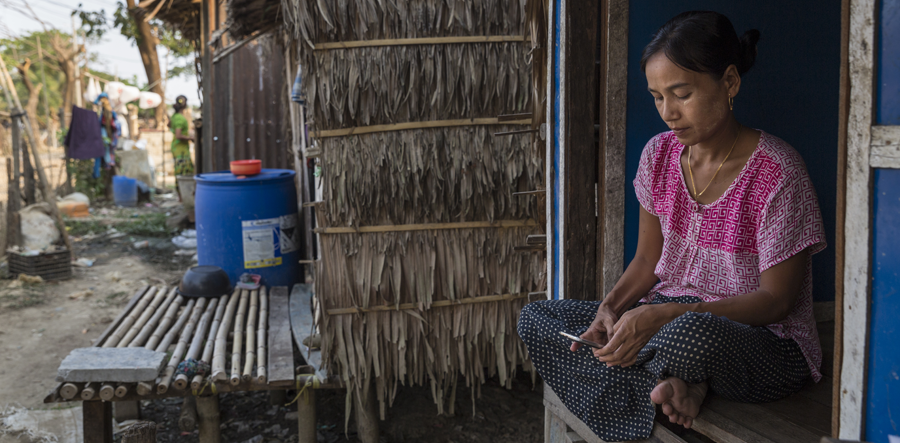 A mobile connection can support women during the current global crisis in a number of ways, including:
online medical advice or remote video consultations with doctors
voice calls and video apps can be a comforting means of keeping in touch with friends and relatives during isolation
using mobile money to send funds to family members affected by the pandemic, and paying for essential bills and services
receiving digital welfare payments from the government during the pandemic
online educational content to support children with home schooling
virtual marketplaces for sustaining microbusiness or finding essential products
It is crucial that stakeholders take action to ensure women can access and are reaping the full benefits of mobile technology during this pandemic. The mobile industry, governments, multilateral institutions and the development community should accelerate their efforts to address the mobile gender gap by focusing on:
Improving the availability of gender-disaggregated data on mobile access and use. There is currently a lack of this data, including data on how COVID-19 has impacted women's mobile access and use compared to men. Gender-disaggregated data is crucial for understanding the digital gender gap, informing policy and business decisions to address it, setting targets and tracking progress. Policymakers and the private sector should review what gender data they already have, as well as invest in improving the availability and accuracy of gender data.
Including a gender perspective in relevant policies and strategies. Strategies and policies that explicitly address women's needs, aspirations, circumstances and capabilities are essential if stakeholders are to tackle the digital gender gap effectively. For instance, governments should ensure that policy and regulation does not inadvertently disadvantage women or hamper initiatives aimed at promoting connectivity for women. Governments, companies and development organisations should include a focus on reaching women at the organisational level, through setting gender targets that are endorsed and communicated by leadership.
Addressing the barriers preventing women from accessing and using mobile, including addressing issues of gender equality and social norms, as well as focusing on accessibility, affordability, awareness, safety and security, usability and digital skills, and the availability of relevant content, applications and services. Initiatives should holistically address women's barriers and aspirations in the specific local context, including considerations of how COVID-19 is impacting their access and use of mobile. For instance, governments should invest in public education and digital literacy initiatives that increase women's and girls' mobile digital literacy – particularly those that are relevant to lockdown situations. Stakeholders can proactively ensure marketing and distribution are tailored to reach women as well as men and support efforts to ensure women have access to affordable internet-enabled mobile phones.
Coordinating action across different stakeholders. The barriers preventing women from accessing and using mobile phones are complex, diverse and inter-related, requiring cooperation among all stakeholders, even at this challenging time.
There has never been a more important time to address the mobile gender gap and ensure women are not left behind. Connecting more women and helping them reap the benefits of mobile technology will support them and their families to navigate this global pandemic, and help achieve many of the UN Sustainable Development Goals.
GSMA Connected Women has a number of resources to support stakeholders seeking to reach women with mobile technology, including our top 10 recommendations for how mobile operators can reach women with mobile; recommendations for mobile operators, policymakers, regulators, internet companies and the development community to bridge the digital gender divide on p39-41 of our Mobile Gender Gap Report 2020; our website for inspirational case studies of how other stakeholders are successfully tackling this challenge. The GSMA has also just launched an Innovation Fund supporting  SMEs in Africa and Asia who have innovative solutions to address the key barriers to mobile internet adoption and use.