The problem
Rural communities in Liberia are already impacted by climate change due to their reliance on agroforestry as one of the few sources of income, and the increased pressure that forests are under due to climate change – an estimated 250,000 individuals are reliant on harvesting palm oil for income whilst Liberia accounts for 43% of the remaining Upper Guinea forests of West Africa. With the changing and increasing unreliability of rains, coupled with the lack of infrastructure for fruit processing, communities are forced to turn to alternative means of income, such felling trees for charcoal or logging. Climate change is increasing these pressures and accelerating forest clearance, as smallholders lack alternative income sources.
The company
J-Palm Liberia's overarching goal is to develop a sustainable model to create premium quality consumer goods for Liberians while simultaneously creating income-earning and employment opportunities for Liberians. J-Palm Liberia works to empower smallholder oil palm processors in rural communities by providing access to modern, more efficient processing technologies. J-Palm Liberia's mini mills reduce processing time by 75% and improve extraction rates by 53% for smallholders. J-Palm Liberia also purchases the palm kernels, which were previously viewed as a waste product, to process into Palm Kernel Oil (PKO), which is incorporated into its own brand of health and beauty products, or sold to other businesses.
Project description
J-Palm Liberia is developing two mobile blockchain apps to deliver transparency and traceability to Liberian wild-harvest palm oil supply chains. Using mobile technology, we can demonstrate that forests where palm trees grow wild are being protected whilst improving incomes and livelihoods for 7,500 palm harvesters, delivering a sustainable, no-deforestation palm product that makes communities more resilient to climate change.
Founder
Mahmud Johnson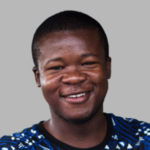 Message from the founder
Our goal at J-Palm has always been to build a business that helps local communities thrive economically, while preserving and enhancing the natural environment. The partnership with GSMA enables us to scale our work in important ways that build climate resilience and economic stability in rural communities in Liberia.
Organisation size
44 full-time staff and 40 part-time staff.