Mobile for Development Utilities Programme
Unlocking access to essential utility services through mobile
Our mission is to unlock commercially sustainable business models that leverage mobile to deliver affordable and improved energy, water and sanitation services in emerging markets.
In emerging markets, many people cannot access basic utility services that are essential to life. The reach of mobile connectivity is greater than the reach of basic utility services, such as electricity and improved water and sanitation services.
The Mobile for Development Utilities Programme promotes the use of mobile networks, infrastructure and payment systems to open new pathways for affordable and reliable utility services to reach the underserved. These innovations for service delivery boost industry and economic growth, for example by enabling entrepreneurial phone charging services in remote areas, or reducing water service providers' losses from water leakage or uncollected bills.
M4D Utilities seeks to drive the use of mobile to improve or increase access to basic utility services through the following activities:
The M4D Utilities Innovation Fund
Knowledge sharing and convening
Technical advisory to mobile operators
Market building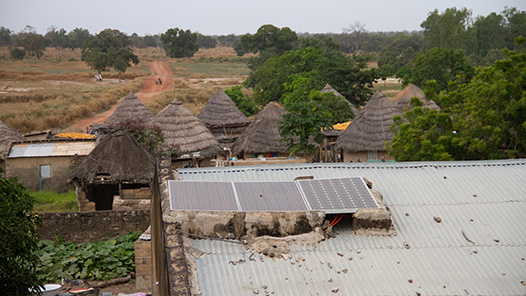 Energy
Globally 1.2 billion people lack access to electricity and 4.3 million people die prematurely every year from harmful fumes that come from a reliance on kerosene for cooking and heating. Current trends suggest Africa will not achieve universal access to electricity until 2080.
Energy access is critical for inclusive economic growth. This is supported by UN Sustainable Development Goal 7 to ensure access to affordable, reliable, sustainable and modern energy for all.
There is an opportunity for the mobile industry to help solve this energy challenge while growing their businesses. More than half of the people who lack access to electricity are covered by mobile networks. Mobile technology can unlock new models of energy services, such as mobile money for affordable and remote bill payments, mobile services to communicate with customers, and machine-to-machine connectivity to remotely monitor distributed services.
M4D Utilities has funded 21 innovators using mobile technology and infrastructure to provide new or improved energy services to the underserved in Africa and Asia, boosting industry and economic growth for communities and operators. For example, pay-as-you-go solar home systems enable local entrepreneurs to charge phones and lanterns for their communities, and off-grid energy companies anchor their businesses on powering telecom towers in order to viably power surrounding communities. In turn, mobile operators see increased revenue from regularly charged phones, adoption of mobile money, and increased brand loyalty. Through these pilots and wider research, we share valuable market insights about the opportunities and challenges of these innovative business models, focusing on the key role the mobile operators can play.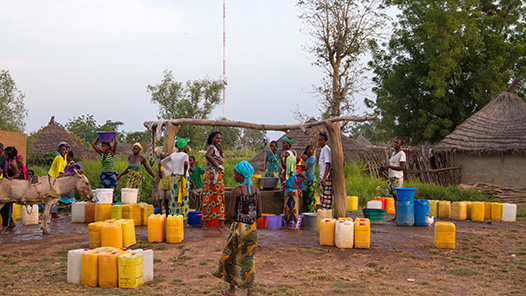 Water
663 million people have no access to improved drinking water, yet 262 million people without access live in areas covered by mobile networks. Water scarcity is a global issue affecting 40 percent of the global population and is on the rise. In Sub-Saharan Africa, an estimated one in three hand pumps are broken at any given time, forcing people to rely on unsafe or distant water sources, resulting in death from diseases. Women and children bear the primary responsibility for water collection in the vast majority of households, resulting in less time at school or earning an income.
Sustainable Development Goal 6 includes universal and equitable access to safe and affordable drinking water for all by 2030. The extensive reach and ubiquity of mobile networks and phones across emerging markets offer a significant opportunity for new service delivery models to address the key challenges water services providers are facing. These include affordability of services, low payment efficiency, inefficient operations and maintenance, limited customer data and low accountability and transparency.
M4D Utilities is funding 11 organisations leveraging mobile to improve the efficiency of current water services and extend their reach. For example, using sensors to remotely monitor water pumps and trigger timely maintenance. We share key learnings with mobile operators, service providers, innovators and funders about business models, impact and market opportunities.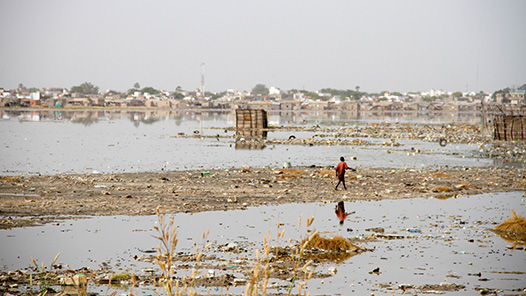 Sanitation
Globally 2.4 billion do not have access to improved sanitation facilities. It is estimated that the lack of access to sanitation costs the world approximately USD 260 billion annually, and diseases related to unsafe sanitation are responsible for 6% of global deaths.
Yet approximately 1.8 billion of those without access to sanitation have access to mobile networks. The potential market size for mobile to unlock new models of sanitation services is significant. Mobile will play a key role towards achieving Sustainable Development Goal 6; ensuring access to water and sanitation for all by 2030.
M4D Utilities promotes the key role that mobile can play in the sanitation value chain. Through the use of mobile services (calls, SMS, apps), mobile financial services and machine-to-machine connectivity, mobile can link decentralised points on the sanitation value chain (for example, containment to treatment), remotely monitor services, better connect stakeholders and improve information/finance flow.
M4D Utilities recently expanded its scope to include sanitation in order to drive mobile-enabled innovation in this space, publishing a study on 'The role of mobile on improved sanitation access,' and funding two sanitation service providers trialling mobile-enabled sensors for remote monitoring of public toilets for improved maintenance, mobile apps for logistics of toilet servicing and mobile payments for toilet subscription services.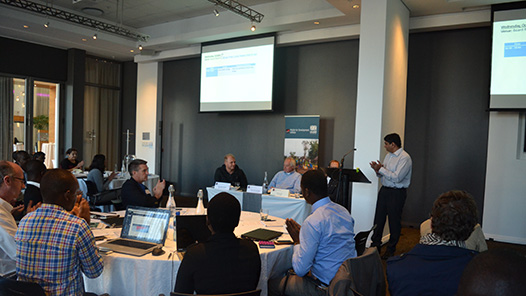 Engage with Us
We host regional working groups that bring our stakeholders together to build partnerships and identify best practices.
If you'd like to find out more about our convening opportunities, or more generally about our programme, please get in touch by emailing M4DUtilities@gsma.com – we'd love to hear from you.
THIS INITIATIVE IS CURRENTLY FUNDED BY THE UK DEPARTMENT FOR INTERNATIONAL DEVELOPMENT (DFID), USAID AS PART OF ITS COMMITMENT TO SCALING OFF-GRID ENERGY GRAND CHALLENGE FOR DEVELOPMENT AND SUPPORTED BY THE GSMA AND ITS MEMBERS