Around 70 per cent of world's population relies upon food produced by smallholder farmers[1]. However, many farmers experience poor access to services, markets and assets that impact their livelihoods and leaves them vulnerable to external events like climate change. Digital agriculture solutions are transforming how farmers interact with stakeholders in the agricultural value chain to ensure better and more equitable access to crop buyers, farming tools and equipment, and information. Yet, many farmers are still being excluded from the benefits that digital agriculture solutions can offer including female and elderly farmers, those with disabilities and farmers with low literacy levels.
The GSMA AgriTech and Assistive Tech programmes collaborated to investigate the inclusion of farmers with disabilities in the agricultural value chain and the role that digital agriculture solutions can play in their inclusion. Research in this area is very limited; however, through literature reviews and stakeholder interviews, we were able to unwrap some key findings.
Farmers with disabilities are disempowered by attitudinal, systemic and environmental barriers
We identified three types of barriers faced by persons with disabilities to their inclusion in farming activities. From the perspective of the Social Model of Disability, we categorised these barriers into systemic, attitudinal and environmental.
Systemic barriers
Systemic barriers are procedures, policies and practices that do not take farmers with disabilities into account and therefore exclude them from effective and equitable participation in value chain activities. Broadly, these barriers include the lack of consideration of disability inclusion in agricultural activities by agribusinesses but also government (e.g. through agricultural extension programmes), and the design of policies that exclude farmers with disabilities. For instance, policies discriminate against people with disabilities, and often restrict them from accessing loans and opening bank accounts[2]. Systemic barriers exist in part because agriculture is not always seen by organisations as an economic activity for persons with disabilities but also because many institutions, such as those providing financial services, do not trust persons with disabilities or have requirements that persons with disabilities cannot often attain (e.g. formal identification). As a result, programmes are often in inaccessible formats forcing farmers with disabilities to rely on others.
Attitudinal barriers
Attitudinal barriers are behaviours, perceptions or actions from communities or organisations that discriminate against farmers with disabilities. Specifically, we learned that in commercial relationships, lack of disability awareness creates several challenges for persons with disabilities. Their peers and communities do not know how to communicate with them and are not disability aware, making it difficult for farmers with disabilities to bargain and sell their products. Time and again, there is wide discrimination and stigma towards persons with disabilities as many people think that agriculture is not right for them, and there are still widely spread prejudices including the idea that farmers with disabilities produce lower quality products.
Environmental barriers
Finally, environmental barriers are characteristics of infrastructure (physical or digital) and tools that prevent persons with disabilities to participate in agricultural activities. Examples include the lack of accessible physical infrastructure for training, transporting, storing and marketing agricultural products, and of adapted tools for sowing, harvesting or performing other farming activities. Environmental barriers also include barriers to digital inclusion of farmers with disabilities.
Digital agriculture solutions offer potential to break some of the barriers to social and economic participation of farmers with disabilities; yet, digital exclusion is rife
Previous research conducted by the GSMA AgriTech programme shows that digital agriculture solutions offer smallholder farmers the opportunity to overcome some of the existing pain points they face, such as low productivity, stagnating incomes and financial exclusion. Applications of digital solutions in agriculture range from information dissemination in advisory services to farm monitoring using smart farming tools and predictive analytics.
In our research, we only found a limited number of digital solutions for the inclusion of farmers with disabilities. In Pakistan, for instance, mobile operator Jazz has partnered with a provider of a digital advisory solution called Bakhabar Kissan (BKK) to offer access to agricultural information in different formats to farmers. Importantly, to better address the needs of farmers with disabilities within its customer base, Jazz has nominated a farmer with disabilities as its brand champion who is responsible for providing feedback on user experience. Using digital agriculture solutions has proved impactful for all farmers, including farmers with disabilities, to benefit from more accessible services, such as relevant information and financial services.
By embracing disability inclusion as part of their core strategies, agribusinesses can play a fundamental role in the inclusion of farmers with disabilities
As outlined in our study of East African Brewery Limited (EABL) in Kenya and Oasis Agribusiness (Oasis) in Uganda, many barriers to the inclusion of farmers with disabilities could be addressed if agribusinesses considered disability inclusion as part of their core strategy. These two organisations have done so by working together with Organisations of Persons with Disabilities (OPDs), such as Sightsavers and Light of the World. EABL and Oasis identified different barriers that farmers with disabilities experienced in their value chain and implemented multiple changes, from introducing subsidised prices to increase the affordability of agricultural inputs for farmers with disabilities, to deploying technologies that can improve commercial interactions (i.e. electronic scales with audible feedback, physically-accessible storage facilities). Importantly, by working with OPDs, both EABL and Oasis were able to develop a holistic strategy to ensure that their services are more accessible for farmers with disabilities.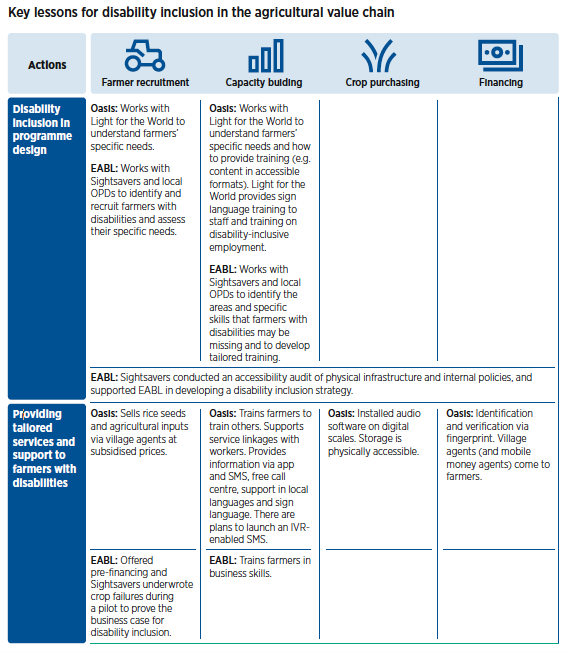 Farmers with disabilities need to be listened to and solutions need to be co-created with them
Our report presents findings of an exploratory research but, importantly, is evidence of the fact that more needs to be done to understand disability inclusion in agriculture and identify ways in which digital solutions can empower farmers with disabilities. To leverage the potential of digital agriculture as a driver of disability inclusion of farmers with disabilities, we need to address the barriers to their digital inclusion. For example, literacy and digital skills remain a critical barrier to the inclusion of persons with disabilities, including farmers[3]. Providing affordable mobile offerings and digital skills training are just two examples of how digital agriculture providers, operators and other stakeholders can support the digital inclusion of farmers with disabilities.
Through the Principles for the Digital Inclusion of Persons with Disabilities, the GSMA continues to work with mobile operators and digital players to ensure that disability inclusion is part of their strategy, and that more digital products and services are designed for and with persons with disabilities, and delivered to reach those who need them the most.
[1] ETC Group. (2017). Who will feed us? The industrial food chain vs the peasant food web.
[2] Ahlenbäck, A., Lee., H. and S. Coe (2020). Disability Inclusion Helpdesk Webinar: Mobile phone technology for disability-inclusive agricultural development, Disability Inclusion Helpdesk Research Report No. 17. London, UK: Disability Inclusion Helpdesk.
[3] Aranda-Jan, C (2020). The Mobile Disability Gap Report 2020. GSMA.
This initiative is currently funded by the UK Foreign, Commonwealth & Development Office (FCDO), and supported by the GSMA and its members.