Life on the 475m smallholder farms across low and middle income countries has always been challenging. With little access to improved inputs, formal markets or finance, smallholder agriculture yields fall far short of their potential. This affects individual livelihoods and impacts local food security. The impacts of climate change on rain fed agriculture, which accounts for over 95% of the farmed land in Sub-Saharan Africa, are increasingly felt through gradual shifts in local climates, increased incidence of crop pests and disease, and more frequent and intense extreme weather events. These impacts are providing additional challenges to an already vulnerable sector.
Emerging digital technologies are strengthening traditional responses to these challenges and enabling new ones. Satellite based remote sensing, IoT enabled sensors and open data repositories mean that more data than ever is available on our atmosphere and natural resources. Advances in computing and artificial intelligence are providing increasingly efficient methods for extracting value and developing services from this data that can support smallholder farmers. These services can be delivered through mobile phones that currently cover 90% of the population in most LMICs.
How digital technologies are enabling smallholder responses to climate change
Digital technologies are both key enablers of emerging climate resilience solutions such as weather index insurance and precision agriculture, and catalysts for existing services such as agri-advisory, early warnings and agricultural credit. Digital climate resilience services enable smallholders to better manage the impacts of climate change through the provision of vital information or financial services. Weather and climate services allow farmers to make better decisions based forecast weather and climatic conditions ranging from several hours to several years in advance. Data-driven agriculture services draw on remote sensing, weather and farm-level data to monitor agricultural activity and enable evidence based decision making. Agri digital financial services enable access to improved, climate-adapted technogies and provide a safety net against income loss due to unusually adverse weather conditions.
Game changing innovation occurs when several of these services are combined. SunCulture has merged elements of precision agriculture (IoT), innovative financing (pay-as-you-go) to make previously unobtainable assets – solar irrigation – accessible to farmers. Currently operating in Kenya, their approach facilitates continued innovation. Using Microsoft's Azure platform, data collected from their devices is merged with weather and agronomic data to provide tailored advisory messages to farmers. This approach has enabled SunCulture to secure $25m in funding and reach customers across Kenya, Ethiopia, Uganda, Zambia, Senegal, Togo and Ivory Coast.
OKO is another digital solution that has recently secured investment. OKO is one of a new generation of insurance companies that is leveraging satellite data and mobile technology to make agricultural insurance accessible to smallholder farmers in LMICs. In Mali, it works with Orange to offer weather index insurance through their USSD menu, and uses mobile money services for premium collection and pay-outs – enabling a fully digitised insurance service. For a farmer, crop insurance can mean being able to pay bills and purchase seed after a failed season. In a context where livelihoods are constantly on the edge, agricultural insurance provides a crucial safety net that was previously too expensive to offer small farms.
The weather data gap in low and middle income countries
Remote sensing data from satellites is becoming increasingly comprehensive as public and private space agencies operate larger numbers of satellites carrying more sophisticated instruments. This data, ranging from atmospheric observations to vegetation density maps, is the cornerstone for innovation in most modern weather- and agricultural services. Despite this game-changing nature of satellite data, its' value is greatly enhanced when complemented with ground-level observations. Ground-level data, which is used to refine satellite-based models and can unlock further service innovation, remains scarce.
Among the key data gaps that remain for digital climate resilience services are the location of farmers, which is crucial to providing site-specific services, and weather observations, which are key to improving the accuracy and resolution of weather forecasts. This gap in weather observations is particularly salient in tropical climates where weather events are highly localised and short-lived, meaning they escape satellite observation and the coarse weather station networks typical to LMICs. In Sub-Saharan Africa, for example, it is estimated that there is one weather station per 26,000km2 – eight times lower than the World Meteorological Organisation (WMO) minimum recommended level.
Observing rainfall using mobile networks: the role of CML to address the data gap
Ericsson and the Swedish Meteorological and Hydrological Institute (SMHI) are addressing the weather observations gap using data from mobile communications networks under the Ericsson Weather Data (EWD) initiative. Mobile networks use microwave signals to transmit data between mobile towers. As microwave signals are scattered during rainfall, received signals are reduced, and these reductions in signal strength can be converted into rainfall intensities. Since mobile networks cover over 90% of the population in most LMICs, this data can be transformative to the types and quality of climate services offered in these markets.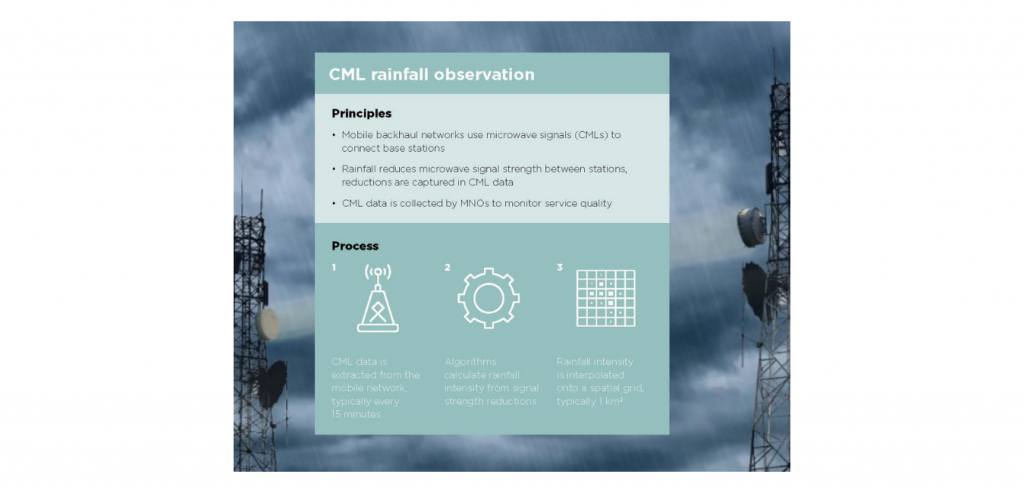 GSMA AgriTech works with mobile operators in Sri Lanka, Nigeria and Papua New Guinea to unlock the rainfall data held in their networks. Wageningen University and Research (WUR), the Royal Dutch Meteorological Institute (KNMI), TU Delft and Hyds are technical partners of the GSMA to this work, which refines and validates CML rainfall observation techniques and makes near-real time rainfall data services available to climate services providers.
In Sri Lanka, MNO Dialog Axiata, will build on its legacy in developing weather and agricultural services by leveraging the CML data from its network to enhance existing services and develop new ones. An initial application, in collaboration with insurer Sanasa, will focus on providing a rainfall insurance product to farmers in the tea value chain, a sector that accounts for 15% of the country's exports. The service will initially utilise data from automated weather stations (AWS) co-located with Dialog's base stations. In the second phase, the operator plans to use CML-derived data to scale up the service and reduce operating costs, by making it available to new regions without installing and maintaining additional AWS infrastructure. While still in early stages, the implications are clear and present a vital next step in the journey toward a more climate resilient future.
If you are an MNO interested in CML rainfall observation, or an agribusiness or agritech interested in gaining access to CML rainfall data from Nigeria, Sri Lanka, or Papua New Guinea reach out at jpriebe@gsma.com.
Find out more about digital services for smallholder climate resilience in the latest GSMA AgriTech report – https://www.gsma.com/mobilefordevelopment/resources/digital-innovation-for-climate-resilient-agriculture/
---
THIS INITIATIVE IS CURRENTLY FUNDED BY THE UK FOREIGN, COMMONWEALTH & DEVELOPMENT OFFICE (FCDO), AND SUPPORTED BY THE GSMA AND ITS MEMBERS.