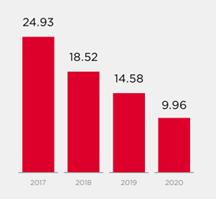 Continuing our blog series on Tanzania's digital economy, this time we look at the country's e-commerce potential. In our recent report Tanzania's digitalisation journey: Opportunities for value creation, we identified e-commerce as an untapped opportunity, despite the country presenting a considerably large consumer base due to its population size and mobile money penetration. In contrast with trends observed in many comparable markets, in recent years Tanzania has experienced a decline in the volume of e-commerce transactions. The exit of international digital platforms such as Jumia – the largest e-commerce platform in Africa – as well as the introduction of taxes on electronic transactions, have contributed to such a decline.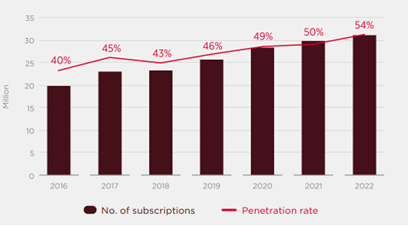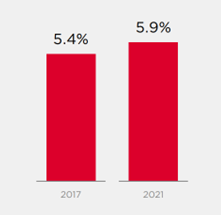 The internet penetration rate in Tanzania is on the rise, with half of the population having access to either mobile or fixed broadband (see Figure 2), yet only 5.9% of the adult population is estimated to have made an online purchase in 2021 (see Figure 3).
E-commerce readiness
E-commerce brings benefits to consumers by increasing choice and access to a variety of products and services, also boosting overall adoption of digital services. In addition, it benefits businesses, by enabling micro, small and medium enterprises to expand to new markets and increase revenue, also representing a key element for driving the digitalisation of small and micro enterprises.
To understand the challenges facing e-commerce in Tanzania, it is useful to assess a number of enabling factors: consumer capacity, business readiness, e-commerce policy landscape, logistics/delivery and payment modality.
Tanzania's weak e-commerce policy landscape and inefficient transport/logistics infrastructure appear to be the most urgent growth barriers that need to be addressed. The country is still lacking an overarching e-commerce roadmap or blueprint to guide strategic direction for e-commerce growth, with no dedicated expert institution mandated to support the development and expansion of the sector. Poor enforcement of consumer protection laws have also not helped build consumers' confidence in the ecosystem.
The country's transport infrastructure does not support multimodal transport networks. Inefficient home addressing systems and postal codes continue to be major challenges for last-mile delivery for service providers. Delivery processes are therefore slow and costly for customers, due to manual interventions required (e.g. multiple phone calls to customers to ascertain location).
Trust as a fundamental challenge to a thriving e-commerce sector
The sheer nature of e-commerce transactions and the absence of physical interaction makes the issue of trust highly critical. Participants in a roundtable on the opportunity for e-commerce in Africa hosted by Mobile for Development at MWC23, highlighted the need to continue working on building trust in digital commerce, not only at the payment layer, but more generally between consumer and merchant, and between merchant and technology provider, to interact and do business digitally.
Some of the major concerns raised by Tanzanians relate to issues such as the likelihood of deceptive information on goods and services sold, misleading advertising, inability to sufficiently verify the identity and authenticity of traders, and concerns that goods purchased will never arrive at the destination. In addition, consumers are concerned about tedious refund processes, no guaranteed money back in case of items purchased not meeting expectations, online scams, handling of personal information, and the absence of reliable dispute resolution procedures.
While there are sector-based regulations that support consumer protection such as in telecommunications and financial services, the country is in need of a robust consumer protection law. Existing provisions currently captured in the Electronic Transactions Act need to be more comprehensive. For instance, there needs to be clarity on mechanisms for seeking redress or handling complaints and disputes. There is also a need for strong consumer rights advocacy bodies in Tanzania.
Recommended actions for government to create opportunities for e-commerce to thrive
In our report, we offer a number of recommendations to the government with a view to strengthening the enabling environment for a vibrant e-commerce sector, benefiting the economy and society.
Prioritise the implementation of a national e-commerce strategy and action plan for effective coordination of e-commerce growth initiatives.
Enforce consumer protection laws that facilitate easy mechanisms for redress, and promote consumer education and sensitisation.
Review Tanzania Posts Corporation's processes to identify inefficiencies, and determine areas for improving logistics capacity. In addition, assess how to achieve an enabling environment for private logistics operators to thrive.
Work with relevant small and medium-sized enterprises (SMEs) and trade promotion agencies to raise awareness of the economic benefits SMEs can gain through digitalisation, and support the development of skills required to successfully start and operate an e-commerce venture.
This is part of a four-part blog series. Watch out for our fourth and final blog, where we evaluate digital policy constraints and enablers in Tanzania.
---
The Central Insights Unit is currently funded by the UK Foreign, Commonwealth & Development Office (FCDO), and supported by the GSMA and its members.