Between December 2021 and May 2022, the GSMA Mobile for Development conducted research on small rural accommodation businesses catering to tourists in Thailand to assess how digitalisation can make them more productive. This blog summarises key findings from our report, Digitalising rural MSMEs; Thailand's agriculture and tourism sectors. While our insights focus on Thailand, they are relevant to businesses in the rural tourism sector across low- and middle-income countries.
Rural tourism accommodation businesses in Thailand are micro and small enterprises and suffer from low productivity
Tourism accommodation businesses in Thailand are quite diverse, ranging from rental rooms in residences to homestays and farmstays, lodges, guest houses, rental condominiums, hotels and resorts of varying quality and sizes. According to the 2020 Accommodation Survey conducted by the Ministry of Digital Economy and Society, over 85 per cent of all accommodation businesses employ 1–15 people and are therefore micro and small businesses. Many rural accommodation businesses provide a secondary source of income for their owners, agriculture being the main occupation, which frequently means the resources available to run these businesses are limited. In addition, rural communities see less international tourism than cities in first-tier provinces such as Bangkok, Phuket, Chonburi, Surat Thani and Chiang Mai, where eighty per cent of tourists go, leading to unequal gains from the tourism sector.
These businesses took a disproportionate negative hit as the COVID-19 pandemic brought international tourism to a halt (Figure 1), and the Thai tourism sector is only gradually beginning to recover from the impact.
Figure 1: COVID-19 impact on tourism in Thailand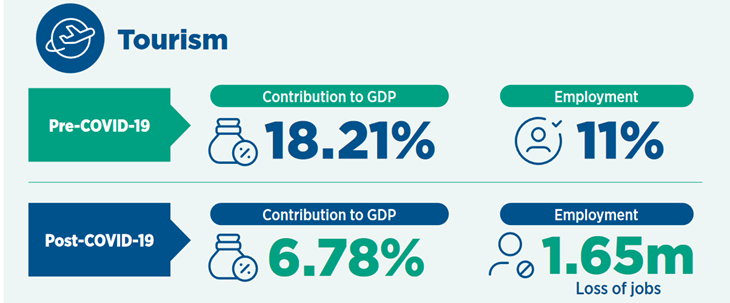 Digital tools can help improve the productivity and profitability of rural accommodation micro and small enterprises by making business operations more efficient and increasing access to markets
Several basic and intermediate digital tools can help improve the profitability and productivity of micro and small accommodation businesses in two main areas: business operations and access to wider markets (Figure 2).
Figure 2: Digital tools for tourism accommodation businesses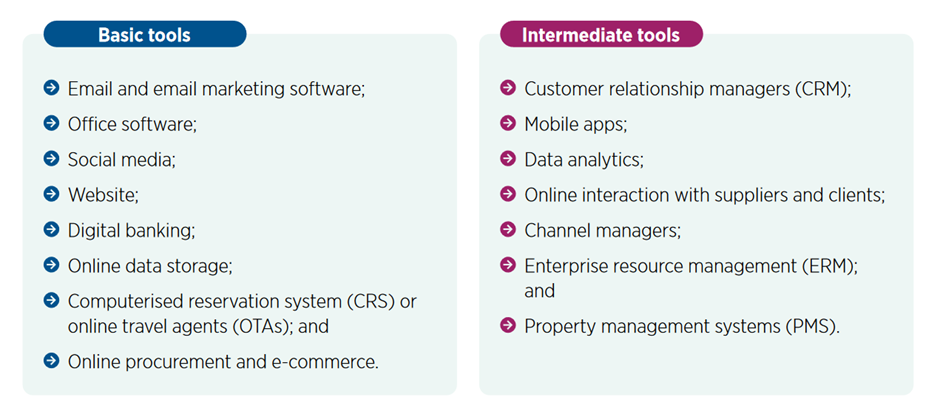 Digital solutions to improve the business operations of small tourism businesses include online payments and property management systems.
Digital payments: Online payments offer convenience and efficiency by easing payments for supplies and human resources and transacting with customers. In addition, transactions on digital wallets can enable credit risk scoring, which can help micro and small business owners that have traditionally struggled to obtain credit from banks, apply for loans.
Property management systems (PMS) are software solutions to manage a tourism accommodation business's operations end to end. HMS Thailand, for example, is a PMS that provides solutions such as operations, sales and financial management, a computerised booking system as well as a channel manager, that ensures that rooms listed on more than one website aren't double booked. While they significantly improve efficiency, property management systems are currently best suited to small and medium rather than micro-businesses. Tailored solutions specifically for managing the operations of micro accommodation businesses need to be developed and mainstreamed.
Market Access: Online marketing tools, which include social media marketing, computerised reservation systems (CRMs), and online travel agents (OTAs) allow tourists from around the world to book and pay for rooms online, and integrated with channel managers, ensure they aren't double booked. These solutions are the most frequently used digital and online marketing tools by tourism businesses. While historically listing a business with OTAs has been expensive, with between 10 to 20 per cent charged in commissions, it is becoming increasingly affordable. For example, Robinhood, a homegrown Thai food delivery application has announced its intention to expand into an OTA, offering small tourism accommodation businesses the opportunity to list their rooms and hotels on its platform for no fee. In addition, dedicated websites and email marketing also serve to increase market reach for business- owners with the knowledge to utilise these tools.
There is currently a large rural-urban gap in the use of digital tools by micro and small accommodation enterprises
However, according to our research, the use of digital tools by rural accommodation businesses is low due to the lack of access to or affordability of mobile internet, insufficient awareness of the digital tools available and insufficient digital literacy to utilise them. A perception that digital technology is expensive and resistance to change without demonstratable impact of the technology also hinders adoption.
With most international tourists to Thailand preferring to visit primary cities, rural accommodation businesses risk being further outcompeted unless they become more efficient and more visible, especially as younger generations of tourists rely increasingly on digital tools to plan and facilitate their trips.
To fast-track the digitalisation of rural accommodation enterprises to improve their profitability and productivity, targeted policy interventions need to be driven by the government at three levels: traditional enterprise, tourism tech. and ecosystem level
To enable faster digitalisation of rural micro and small accommodation businesses so that they are more competitive and profitable, the government needs to undertake the following actions:
Interventions to support traditional rural enterprises
At the traditional rural enterprise level, the Thai government needs to ensure access and affordability of mobile internet. It also needs to provide micro and small business owners with both digital marketing skills training and entrepreneurship training on how to use basic digital tools to improve business operations. A standard curriculum addressing both these trainings could be rolled out via community organisations, destination management organisations and in education institutes, and also made available online for free access.
The government also needs to reach the unbanked and underbanked population to increase access and use of digital payments. Statistics indicate that 18 per cent of Thailand's population is unbanked, and 45 per cent is underbanked, which means it is underserved with financial products such as credit cards, insurance, savings and pensions [1]. Higher use of digital financial services can significantly improve business operations and enable access to credit.
Targeted support for tourism techs
To support tourism techs. in delivering solutions to micro and small rural accommodation businesses, the government needs to assess the impact of and endorse and invest in technology providers that are having a demonstratable impact. It also needs to incentivise investment in building digital solutions tailored to micro-enterprises and encourage innovation through partnerships with academia.
Ecosystem-level initiatives
Policy action at the ecosystem level could have a transformative impact on the tourism sector overall, leading to gains for rural tourism enterprises. Thailand already has a tourism data platform; accelerating its development by integrating a wide range of relevant data will enable both the public and private sector to develop innovative solutions in tourism for both businesses and tourists.
In addition, showcasing community-based tourism more effectively and systematically on official websites and through VR technology deployed at key interest points frequented by tourists will help drive traffic to rural communities, especially with in-destination tourism being a growing trend.

Finally, providing digital payment solutions for tourists and providing travel information via online and mobile channels is likely to further improve the tourist experience and encourage rural tourism.
To find out more about this research, read our report here or please contact us at centralinsights@gsma.com
THIS INITIATIVE IS CURRENTLY FUNDED BY THE UK FOREIGN, COMMONWEALTH & DEVELOPMENT OFFICE (FCDO), AND SUPPORTED BY THE GSMA AND ITS MEMBERS.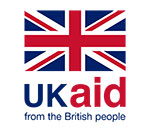 ---
[1]World Economic Forum. (18 Jan 2022). South-East Asian SMEs are missing out on the digital revolution. Here's how to get them on board.