This blog summarises and expands on key themes discussed during the 2022 GSMA Mobile360 APAC session titled 'Southeast Asia – Mobile and Frontier Tech for the SDGs' held on 3 August. To watch the recording, use the link at the end of this blog.
---
Building digital nations was this year's theme at Mobile 360 Asia Pacific in Singapore. At the occasion, the GSMA launched its seventh annual Digital Societies report, which looks at the concept of "digital nations" as the aspiration of governments to integrate digital technologies and services into every sector of the economy.
In this context, the Central Insights Unit of GSMA Mobile for Development co-hosted a session with the Foreign Commonwealth and Development Office (FCDO) on digital innovation in Southeast Asia. The region is experiencing high demand for mobile data, with an estimated six-fold growth expected in data traffic on smartphones between 2021 and 2027.
Frontier technology is also powering new digital services and enabling digitalisation in the public sector, from digital health to e-government, but not all countries and communities are benefiting equally. Despite mobile broadband covering 96 per cent of the total population in Southeast Asia, 39 per cent of the population covered do not yet subscribe to a mobile internet service. This is what GSMA calls the usage gap.
Figure 1 – The usage gap in Asia Pacific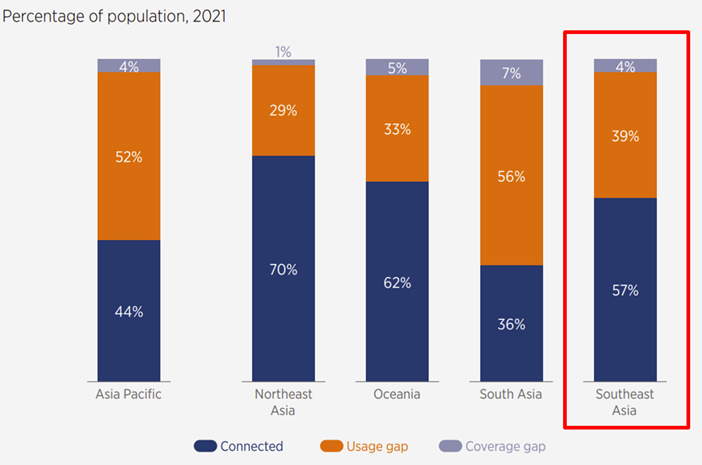 Source: GSMA
The session included panellists from two public sector agencies – Thailand's Digital Economy Promotion Agency (DEPA) and Malaysia's Digital Economy Corporation (MDEC) – and two private sector service providers – Philippines' mobile operator Globe Telecom, and mom&pop, a start-up digitising the business processes of small retailers in Myanmar, Cambodia and Thailand. Moderated by Elinor Buxton, regional director of the UK Science and Innovation Network (SIN) at the FCDO, panellists debated the roles the private and public sector can play in achieving inclusive digital transformation in Southeast Asia and ensuring that everyone can benefit from a digital society.
The discussion highlighted two specific areas to focus on:
• Stimulating the digitalisation of key sectors of the economy; and
• The need for partnerships between the private and public sector
Stimulating the digitalisation of key sectors of the economy
Pre-existing inequalities are making digital transformation less inclusive in Southeast Asia. The persistent rural-urban gap and gender gap, which affect countries in the region in different ways, are reflected in the low uptake of digital services in specific sectors.
Digitalising the agriculture sector is a prominent opportunity across Southeast Asia. In Thailand, for example, where 33 per cent of the population is employed in agriculture, only 21 per cent of farmers have ever used any ICT-based solutions in their business. 40 per cent of Thai farmers also live below the national poverty threshold. To address the rural-urban gap, the government must have digitalisation at the heart of rural development initiatives.
DEPA sees public-private partnerships as essential in order to reach farmers. Thailand has a thriving tech ecosystem and large corporations such as CP Foods are actively engaged in developing agritech solutions for farmers. Challenges to digitalisation arise from the demand side and include digital skills and affordability of technology. For this reason, DEPA is taking an active role in linking farmers with solution providers, in aggregating demand and in offering training for digital agriculture solutions.
"It is almost impossible to reach farmers individually: We can offer financing, training and shared access to tech solutions like drone services. This way we support the private sector by developing the ecosystem."

Chinawut Chinaprayoon, DEPA
Besides agriculture, the digitalisation of MSMEs in other sectors such as retail will play an important role in achieving inclusive digital transformation. According to mom&pop, there are 110,000 informal neighbourhood shops in Cambodia, 350,000 in Myanmar and 400,000 in Thailand. Most of them are paper-based businesses, and many of them are run or managed by women. The mom&pop platform generates data on sales and inventory, supporting the formalisation of informal businesses and gender inclusivity.
"If small, paper-based businesses become digital, then they can link to and even compete in the digital economy, it's as simple as that."

Brett Joyal, CEO, mom&pop
Another important sector that should be targeted by government and private sector solution providers is tourism, a key contributor to the GDP in several Southeast Asian countries. In the region, the level of digitalisation of accommodation small businesses (1-15 people), which make over 80 per cent of total tourism businesses, is low. Challenges related to affordability of digital products and services and digital skills prevent these MSMEs from deploying even basic tools like online travel agents (OTAs) and CRM systems.
Our GSMA study finds that formalising and professionalising small business is possible but it requires targeted policy interventions, for example by providing business owners with both digital marketing skills training and entrepreneurship training on how to use basic digital tools to improve business operations.
Digitalisation is increasingly becoming a driver for sustainability in the economy and society. Environmental sustainability and climate adaptation of local populations have been areas of focus for mobile operator Globe Telecom in the Philippines, one of the countries in the world most vulnerable to natural disasters. This kind of work requires effective cooperation with government, as shown by the ISDApp, a community app deployed in partnership with environmental agencies and local government units that allows fisherfolks to access useful weather information.
"What is most important for us is the usability and relevance of our services to our customers. We also want to contribute to the economy, therefore sustainability and the environment must be a priority."

Apple Evangelista, Globe Telecom
Working in partnership between private and public sector
To foster a digital economy, governments in Southeast Asia are launching and updating national strategies. In July 2022, Malaysia's Ministry of Communications and Multimedia launched through the MDEC Malaysia Digital with the objective to accelerate the growth of the ecosystem within nine focus areas and through an inclusive approach that has at its core the trust of citizens and businesses (see Figure 2).
"Supporting digitalisation requires a shift in mentality from government and innovative policy frameworks. The digital economy is the economy."

Gopi Ganesalingam, MDEC
Figure 2: Malaysia digital national strategic initiative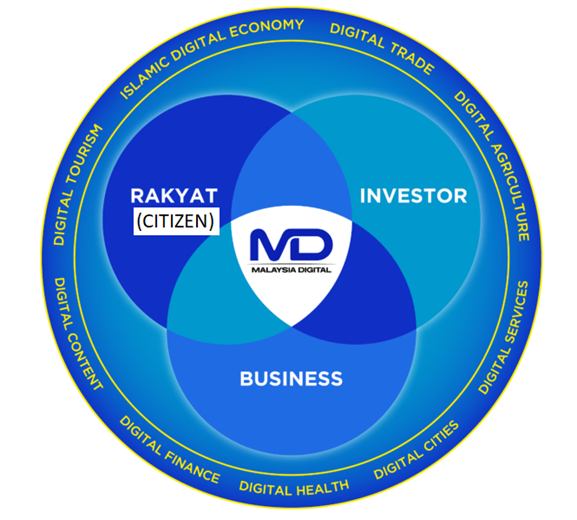 Source: MDEC
Given the fast pace of digital transformation, it is challenging for policy frameworks to react and adapt, as noted by the panellists at Mobile 360 Asia Pacific. Certain obstacles are also persistent, especially in relation to data sharing, which make digital innovation less trustworthy for people and businesses. Analysis conducted by the World Bank shows that ASEAN countries, as a group, remain at an early stage in the development of a regulatory framework for protecting personal data.
The unintended consequences of digitalisation, such as personal data breaches, are a risk that both public and private sector practitioners need to consider carefully. Public private partnerships can help to build trust of end users and gain scale. In the Philippines, for example, Globe Telecom struck a partnership with the Department of Education to distribute an online safety module that is now being implemented and embedded in the school curriculum. The partnership has made the rollout of the programme more effective.
"Working in consultation with key stakeholders, such as national government agencies, has been very important for a sector such as education, allowing Globe to go nationwide with our online safety module."

Apple Evangelista, Globe Telecom.
Consumer trust can be an issue for start-ups, which need to convince target users with low digital skills and awareness of the benefits of their products and services. In mom&pop's experience, trust can be built through ongoing iteration, continuous refinement of use cases and through championing products and services within communities (typically the more tech savvy early adopters). The start-up does not engage with governments in Myanmar and Cambodia but would consider the opportunity to work with governments to scale up.
"We launched with the assumption that we won't get support from government. Our focus has been to address very specific business owner needs, and we constantly refine our use case to keep it relevant. To collectively accelerate development in Southeast Asia we have to be bold, and we need to be willing to fail."

Brett Joyal, CEO, mom&pop
As highlighted in our panel, government support has proven fundamental for the scale-up of digital financial services in the region, as best shown by the example of PromptPay in Thailand. A QR-based proxy payment service developed by Thai banks and Vocalink, PromptPay has benefited from the government's drive to boost financial inclusion and digitalisation. After a slow start in 2017, the combination of an enabling regulatory environment and changing consumer behaviours caused by the pandemic boosted the demand for digital payments, pushing PromptPay to reach over 60 million users in less than five years.
To conclude, the panel discussion highlighted the range of ways in which digitalisation in Southeast Asia can improve key sectors of the economy, the demand-side challenges of digital adoption for small businesses, the role of digitalisation in building resilient cities and economies and the role of enabling policies and public-private partnerships in accelerating the process of digitalisation and reducing the usage gap.
To watch the recording of the session below:
THIS INITIATIVE IS CURRENTLY FUNDED BY THE UK FOREIGN, COMMONWEALTH & DEVELOPMENT OFFICE (FCDO), AND SUPPORTED BY THE GSMA AND ITS MEMBERS.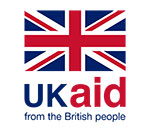 ---