Over the past year, we have worked alongside key mobile network operators, platform vendors and third parties within the mobile money ecosystem to define harmonised mobile money APIs for the industry. Harmonised APIs will reduce complexity and fragmentation in this fast-paced industry, beneficial to all mobile money ecosystem players. The reasons for and benefits of creating a harmonised API for the industry include:
Rapid partner on-boarding: Partners will have a single API reference set, leading to a turnkey approach when connecting to providers.
Providing an underpinning API to support other industry initiatives: Initiatives such as interoperability and payments can be supported by harmonised APIs, as history has shown that these only work effectively with a common interface.
Ease of support and maintenance: Harmonised error codes will significantly reduce complexity for third parties and providers when troubleshooting API transaction failures. A consistent approach to versioning provides an effective means to prevent proliferation of conflicting APIs.
Raising the capability of the industry as a whole: Harmonised APIs will provide support for advanced functionality such as multi-wallets and high-volume batch payments. Providers will instantly be able to benefit from these APIs.
To gain feedback on the harmonised mobile money APIs, the GSMA Mobile Money team partnered with Tigo Tanzania and Telepin to hold a hackathon in Dar es Salaam, Tanzania, in late July. The hackathon provided an opportunity for third parties working in the mobile money space to provide feedback on the harmonised APIs, and to test and build solutions around some of its use cases.
During the two-day event, nine teams from Tanzania, Kenya and Ghana competed, representing banks, aggregators and tech companies. Each team was encouraged to build potential solutions based on the mobile money APIs using the following use cases:
P2P transfer with recipient lookup: Create a customer smartphone app to send P2P transfer requests.
Cash-in/cash-out: Create a customer smartphone app and an agent smartphone app which can cash-in and cash-out.
Merchant-initiated payment: Build a merchant website which enables internet payments or a merchant smartphone app which enables in-store payments.
Aggregator disbursement: Develop an aggregator system to take payment requests from business systems.
Bill payment and lookup: Create a customer smartphone app to retrieve bills from a utility company, view and manage bill history, and pay bills.
Manage account: Create a customer smartphone app to manage customer's mobile money account. Retrieve and display transaction history and account balance.
Participants could build a solution for one use case, or combine use cases to create a more impressive solution. Criteria for judging each solution included: commercial viability, functionality/use of the APIs, user experience, impact for end users, and innovation.
The judges—who included Tigo Tanzania's Head of Mobile Financial Services, Ruan Swanepoel, Kinu's CEO and co-Founder, Jones Mrusha, and GSMA's Mobile Money Services Director, Gunnar Camner—assessed a broad range of solutions, including agent apps, consumer apps, ecommerce solutions, merchant payment options and more.
The winning team, Jumo, produced a virtual checkout 'Lane Zero' using the harmonised APIs. Jumo's seamless physical merchant payment solution using QR codes was recognised for its user experience and functionality. The runner-up team was WP Malipo, who used the harmonised APIs to plug into WordPress to provide an online shopping experience using mobile money. Finally, Ecobank was also recognised for providing the most insightful feedback after the hackathon. All the judges and organisers were impressed with the level of engagement and the high quality of the entries.
GSMA would like to thank partners Tigo Tanzania and Telepin, as well as Kinu and Buni for hosting the hackathon in their space within the Tanzania Commission for Science and Technology building. We'd also like to thank all participants who helped to make this event a success. You can view posts and photos from the event by looking up the event hashtag #MMLF16.
As a result of the hackathon, we were able to gather real-time feedback on the usability and functionality of the harmonised APIs. This feedback has been essential for ensuring the published harmonised mobile money APIs are as robust as possible. GSMA will publish the harmonised mobile money APIs this autumn and we will be keeping the dialogue open as the work continues. We would like to get all parties engaged with implementation.
If you would like further information regarding the GSMA's work on harmonised mobile money APIs, please contact mobilemoney@gsma.com. You can also view a video of the day courtesy of Tigo Tanzania, here.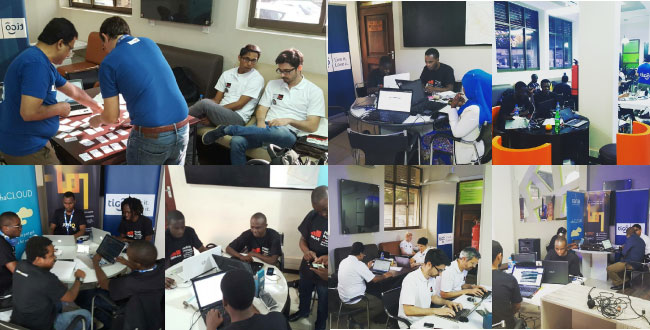 Photos courtesy of Tigo Tanzania and Kinu