Customer and operator demand for eSIM has never been higher, and its growth is accelerating. Soon eSIM will be part of the mobile industry's day-to-day business, thanks to digitisation strategies, along with the need to facilitate the use of IoT devices. Therefore, knowing how to capitalise on the opportunities it brings for operators (MNOs/MVNOs) and equipment manufacturers (OEMs), means your business won't miss out on this market.
Here we will be looking at data from GSMA Intelligence on the state of the current eSIM market, predictions for the future, and outlining the key benefits and actions to take for both MNOs/MVNOs and OEMs, so they can fully leverage the business potential of eSIM.

The eSIM boom
The eSIM market is on the rise, judging from the statistics in GSMA Intelligence's report from March 2021, 'eSIM: State of the consumer market and the road ahead.'
First, if we take a look at the eSIM in consumer devices, the report shows that at the end of 2020, 110 eSIM devices were available to consumers – that's double the amount of two years ago. From smartphones (the lead) and wearables, to tablets and laptops. What's more, all major OEMs across all categories of consumer devices are on board. For example, in the smartphone market, Apple, Huawei and Samsung have launched eSIM smartphones. As the report states, 'This is a key development, as Samsung, Huawei and Apple in aggregate account for about half of global smartphone shipments'. In fact, it reveals the latest data from the Trusted Connectivity Alliance, which shows that eSIM shipments grew 83% yoy (vs 50% growth in 2019), and eSIM profile transactions are up 300% yoy (this means the amount of consumers who have transitioned to eSIM).

*For each category of consumer mobile device, a majority of OEMs have launched multiple eSIM models (i.e new models or upgrades of previously-launched models). Excludes eSIM consumer devices manufactured by OEMs but commercialised by operators. Source: GSMA Intelligence report from March 2021: "eSIM: State of the consumer market and the road ahead"
The report also tells us there are currently 40+ eSIM smartphones, while 40% have 5G technology enabled. It goes on to say that 'Since 2018, all new smartphone models launched by Apple and Google have eSIM capability' – a strong indication that eSIM is the future of smartphones. This is a prediction that's helped by the decline of retail prices, which means eSIM adoption can increase beyond high-end consumer segments and into developing markets, where affordability is limited.
It's a view that's also supported by the proliferation of eSIM tariffs from MNOs/MVNOs, creating demand for eSIM devices. The GSMA Intelligence report mentions, 'At the end of 2020, commercial eSIM services for smartphones had been launched in at least 69 countries around the world – a threefold increase compared to 2018.' However, it also discloses that, 'Discussions with leading eSIM vendors indicate that this figure is even higher.'
Furthermore, most major markets are on board, so in places like North America, Europe, and the top 30 markets, eSIM is nearly ubiquitous. In total, so far, 175 MNOs worldwide have launched an eSIM service for smartphones.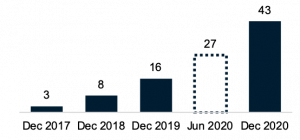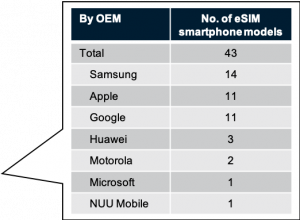 Source: GSMA Intelligence report from March 2021: "eSIM: State of the consumer market and the road ahead"
GSMA Intelligence forecast that by the end of 2025, there will be 2.4 billion eSIM smartphone connections globally. That is 33% of the total number of smartphone connections. By the end of 2022, it estimates that there will be half a billion eSIM smartphone connections – 10% of the market.
So both MNOs/MVNOs and OEMs don't want to miss out on the eSIM market opportunity. Operators shouldn't delay their eSIM implementation, as then they might fall behind competitors and risk losing market share.
Next, we'll uncover how to grab the opportunities eSIMs bring, and the ways to make the most of them for your business.

Operators – your opportunities to capitalise on
GSMA Intelligence conducted a survey of 100 operators for the report, asking them to rate the potential benefits of eSIM (put forward by GSMA Intelligence), based on how important they are to their businesses. The two that came out on top are key to how operators can capitalise on the opportunities eSIM brings.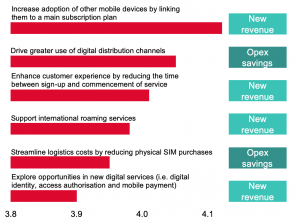 Source: GSMA Intelligence Operators in Focus Survey 2020 (global, 100 operators)
Let's start with the most important benefit of eSIM to the operators in the survey: 'the increased adoption of other devices by linking them to a main subscription plan.' The opportunity here is new revenue from extending customer offerings, such as services for tablets, laptops and wearables. Since eSIM facilitates connectivity in IoT devices, especially those with limited user interfaces and smaller sizes, without the need for a companion device. Such as trackers and smartwatches for kids.
So, how do you capitalise on this? Design new mobile tariffs around 'number of devices' or 'number of users', linking them to a main smartphone subscription plan. Building on what some operators have started to offer: multi-device and multi-user packages under a single contract and single invoice – ideal for families.
The second most important benefit of eSIM to the operators in the survey was to 'Drive greater use of digital distribution channels.' The opportunity for MNO/MVNO businesses here, is to create new efficiencies and reduce costs, as digital channels are more streamlined with a degree of automation, requiring less production, materials, staff and logistics than in-store, and its physical point-of-sale displays.
So, how do you capitalise on this? Well, digitising the customer journey is a key part of the push to digitise the whole of your business, so it's more cost-effective, efficient and future-proofed. As the GSMA Intelligence report states, 'Digitisation is a must for companies. It means applying a digital mindset to technology, customer relationships and business models… eSIM changes the customer acquisition journey and subscription delivery model to digital…As the use of online and digital channels escalates among consumers, operators need to adjust their smartphone and subscription distribution plans to increasingly support a fully digital customer experience.'

OEMs – your main opportunity to capitalise on
The global survey of 100 operators conducted by GSMA Intelligence for its report 'eSIM: State of the consumer market and the road ahead,' revealed that operators are calling for OEMs to prioritise eSIM. The report claims that 'This should serve as a wake-up call for OEMs that have yet to introduce eSIM in their smartphones.'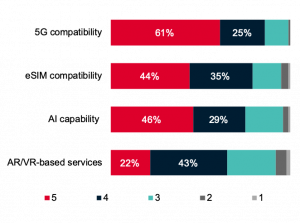 Source: GSMA Intelligence Operators in Focus Survey 2020 (global, 100 operators)
The opportunity here is creating demand for new devices, since operators are explicitly asking for them and will promote specific tariffs to their subscribers. How you capitalise on it, is to launch more 5G smartphones with eSIM capability, as well as new devices in IoT, which both need the flexibility and small size that eSIM offers.
The 'GSMA Intelligence Consumers in Focus Survey' in 2020 shows there is a growing global interest among consumers to switch to 5G devices in most markets. So it makes sense to push the transition to eSIM and 5G at the same time, across all price ranges, to drive a wider customer reach.

How are GSMA helping the eSIM ecosystem, and your business?
GSMA understand that a global, standardised approach to eSIM management is critical to ensure an efficient and interoperable global ecosystem. Which is why we continue to update and release new eSIM specifications, to create the universal standard. Such as technical and compliance specifications, as well as test certificates. Also, most eSIM consumer devices available on the market use the GSMA's eSIM specifications.

eSIM Discovery – the fully digital and universal remote provisioning method
To support businesses with eSIM adoption, the GSMA Services division launched GSMA eSIM Discovery, GSMA eUICC Identity Scheme, and GSMA eUICC Security Assurance.
GSMA eSIM Discovery is the eSIM remote provisioning method the industry has defined and requested. It is the only fully digital solution available, so forms part of the important digital transformation of the consumer journey discussed earlier. This seamless method is efficient and cost-effective, as there's no need for barcode printing, additional point-of-sale packaging costs, or customer service support, since the set-up happens automatically for the end user, without them having to do anything.
Not only that, but it's sufficiently flexible for both consumer and consumer IoT device types, so key for pairing devices.
If you'd like to find out more about GSMA eSIM Discovery, please contact our team here , or visit our website To discover more ways to capitalise on the business opportunities of eSIM, read the full GSMA Intelligence report "eSIM: State of the consumer market and the road ahead, by signing up here.
Chris Li,
Product Management, GSMA eSIM Services